Ole K Aabø-Evensen is one of the founding partners of Aabø-Evensen & Co, a Norwegian boutique M&A law firm. Ole assists industrial investors, financial advisors, private equity funds, as well as other corporations, in friendly and hostile takeovers, public and private M&A, corporate finance and other corporate matters. He has extensive experience from all relevant aspects of transactions, both nationally and internationally, and is widely used as a legal and strategic adviser in connection with follow-up of his clients' investments. Aabø-Evensen is also the author of a 1,500-page Norwegian textbook on M&A. He is recognised by international rating agencies such as The Legal 500 (rated a leading individual in M&A), Chambers, European Legal Experts and, during the past 12 years, he has been rated among the top three M&A lawyers in Norway by his peers in the annual surveys conducted by the Norwegian Financial Daily (Finansavisen). In 2012, 2013, 2017, 2018 and in the 2019 edition of this survey, the Norwegian Financial Daily named Mr Aabø-Evensen as Norway's No. 1 M&A lawyer. He is also the former head of M&A and corporate legal services of KPMG Norway. Aabø-Evensen is the head of Aabø-Evensen & Co's M&A team.
1 What trends are you seeing in overall activity levels for mergers and acquisitions in your jurisdiction during the past year or so?
Entering 2019, the Norwegian M&A market increased by 4.3 per cent in the first quarter of 2019, compared with the first quarter of 2018. This trend continued throughout the first half of 2019. As a result, the M&A volume in the first half of 2019 was up approximately 13.1 per cent compared to the same period in 2018.
At the same time, if you look at the market statistics for the 12-month period ending 30 June 2019, this, in fact, showed 310 deals at the end of June 2019, compared with 303 deals for the 12 months' period ended 30 June 2018, and the majority of this increase relates to a clear uptick in deal volumes for the first half of 2019 and not to the second half of 2018. At the same time, looking at the aggregate reported value of the Norway M&A market for this 12-month period you'll find €26.4 billion in value per 30 June 2019, which is a slight decrease compared with the €26.8 billion for the preceding 12-month period. Still, these market reports also show a clear increase in the average deal sizes, being increased from €337.7 million for the second half of 2018 to €347.7 million for the first half of 2019.
Despite concerns about an economic slowdown, we witnessed an increase both in number and values on M&A-deals during the first half of 2019. So far into the third quarter of 2019, we have in fact seen a 11.3 per cent increase in the number of announced transactions compared with the same period in 2018. It remains to be seen whether this simply reflects the normal ebb and flow of deal activity. The outlook for the Norwegian economy seems currently fairly stable for the months to come even if global M&A figures show that trade wars are having an impact on the activity level. Still, I continue to be fairly optimistic that the current trend for Norway will continue, at least on a short-term basis.
2 Which sectors have been particularly active or stagnant? What are the underlying reasons for these activity levels? What size are typical transactions?
Sectors with the highest level of activity in the first eight months of 2019 were technology, media and telecoms (TMT), industrials and services. These three sectors together represented 51.26 per cent of deal volume in this period. The consumer and retail sector was also quite active during the first eight months of 2019.
The TMT sector has emerged as the most popular sector for M&A over the past three years. This can be explained by Norway's highly developed infrastructure (energy, technology and transport) and by digital disruption continuing to put pressure on technology players to acquire new technology for seizing new routes to growth. Within this sector, there also seems to be an increasing drive towards creating larger global footprints to maintain margins. Geographical expansion to secure supply chains and increase customer reach also seems to have accelerated the cross-border deal activity.
Another reason for the increased deal activity is that the majority of executives at the moment, despite concerns of trade wars and growing uncertainties, remain rather bullish about their own performance and growth potential. Generally, you may say that this trend underpins Norwegian deal activity.
In terms of deal size, the Norwegian M&A market is dominated by small and medium-sized transactions. For the first half of 2019, 74 per cent of deals did not disclose the deal size, 39 per cent of deals had a reported deal value of less than €20 million and 28 per cent of deals had a value of between €20 million and €199 million. However, 11 per cent of the deals had a deal value exceeding €1 billion, and 22 per cent were between €200 million and €1 billion.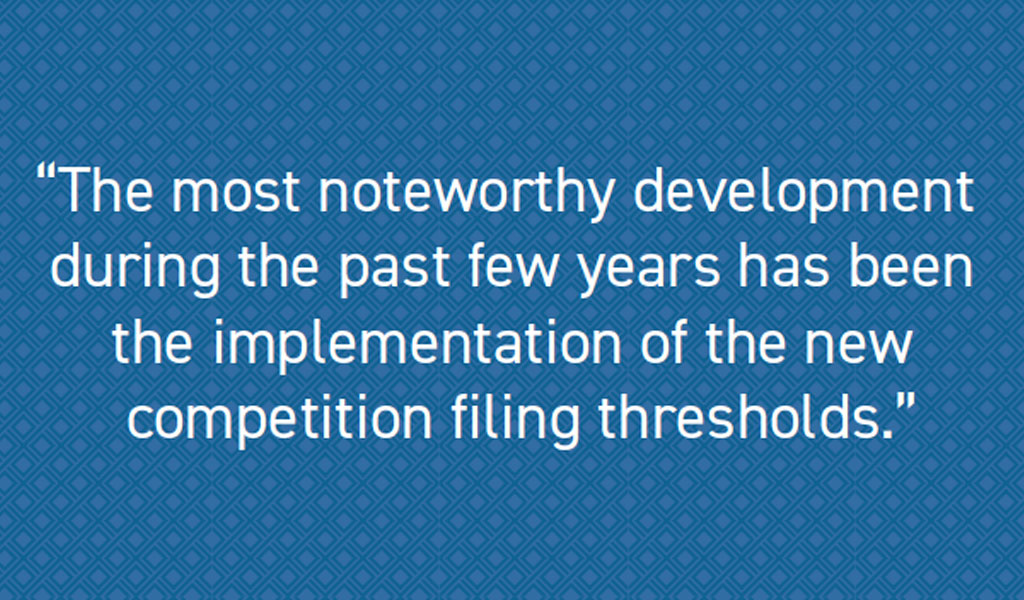 3 What were the recent keynote deals? What made them so significant?
The most notable deal announced in the Norwegian market in 2019 so far is ExxonMobil divesting its Norwegian oil and gas assets to VAR Energy, a Norway-based energy company for €3.6 billion in total consideration.
Another keynote deal was the €3 billion acquisition of a 50 per cent stake in Eidsiva Energi AS by Hafslund E-CO AS, a Norwa-based power company produced by a merger between Hafslund and E-CO Energi AS. Both of these deals were, of course, significant due to the size of the purchase price.
4 In your experience, what consideration do shareholders in a target tend to prefer? Are mergers and acquisitions in your jurisdiction primarily cash or share transactions? Are shareholders generally willing to accept shares issued by a foreign acquirer?
The answer to that question is very simple: shareholders prefer cash. I think that if you look at MergerMarket's figures for first half of 2019, you'll find that approximately 74 per cent of the deals did not disclose what type of settlement the parties had agreed, but for 22 per cent it was cash, while only three of the deals offered equity as settlement and 1 per cent offered cash and equity as settlement.
In 2018, 14.3 per cent of the total public M&A deals offered a consideration of shares, or cash and shares. This was a decrease from 2017, in which 37.5 per cent of the announced public M&A transactions offered a consideration of shares or cash and shares.
The reason that sellers normally prefer cash over shares is because of difficulties evaluating the future value of such consideration in a volatile macroeconomic environment compared with the certainty of cash. I would not say that Norwegian shareholders are not willing to accept shares issued by a foreign acquirer as consideration in an M&A transaction, but the acquirer may find getting its shares accepted challenging, especially if the shares are not publicly traded on a stock exchange or other regulated market. If a buyer persuades a seller to accept shares in a non-listed company as consideration, the buyer will usually have to ask the seller to be part of the acquiring group's management team post-closing. Alternatively, the buyer can provide the seller with a realistic exit plan (typically an initial public offering or a trade sale) within a foreseeable period.
5 How has the legal and regulatory landscape for mergers and acquisitions changed during the past few years in your jurisdiction?
The most noteworthy development during the past few years has been the implementation of the new competition filing thresholds from 1 January 2014, which have substantially increased the thresholds for having to notify the Norwegian competition authorities of any M&A transaction. In many ways, this has contributed to making it easier and faster to execute and complete M&A transactions under Norwegian law, since the great bulk of Norwegian M&A transactions normally falls below the new increased thresholds. It is also worth mentioning that in 2016, the Norwegian parliament resolved to abolish the former Norwegian substantive test, which was based on a substantial lessening of competition test. Instead, the parliament resolved to align the Norwegian test with the same significant impediment of effective competition test as applicable under EU rules. This means that, in future, Norway will apply the same consumer welfare standard as applied by the EU Commission, instead of the total welfare standard previously applied under the Norwegian merger control regime. Taking effect from 1 April 2017, the previous power held by the King Council to intervene in merger control cases has been abolished and these powers are now transferred to an independent appeal board for handling merger control cases.
In March 2018, the parliament also adopted a new National Security Act, which grants the government powers to intervene and stop acquisitions of shares in a company holding investments in sectors considered vital from a Norwegian national security perspective. This act has now entered into force with effect from 1 January 2019.
With effect from 1 January 2019, the Norwegian interest limitation regime has now been amended so that interest payable on bank facilities and other external debt within consolidated group companies has become subject to the same interest deduction limitation regime as interest paid to 'related parties'. The new amended rule only applies if the annual net interest expenses exceed 25 million kroner in total for all companies domiciled in Norway within the same group. Further, two revised 'escape rules' aiming to ensure that interest payments on loans from third parties not forming part of any tax evasion scheme still should be tax deductible has been implemented. The previous interest deduction limitation rules will continue to coexist with the new rules, but so that the scope of the old rules only apply to interest paid by Norwegian enterprises to a related lender outside the consolidated group (typically where the related lender is an individual). The new Act on Alternative Investment Fund Managers should also be mentioned. The act imposes a completely new set of disclosure obligations for sponsors acquiring control over a Norwegian target company if such target's shares are listed on a stock exchange or, for non-listed target companies, fulfil certain criteria with regard to number of employees, turnover or assets. Subject to such criteria being fulfilled, it will also be necessary to issue a special notification to the Norwegian Financial Supervisory Authority if an alternative investment fund's portion of shares reaches, exceeds or falls below certain thresholds. These funds and their sponsors will, also, for a period of 24 months post-closing, be caught by anti-asset stripping rules aimed at limiting certain distributions of assets, funds and so on, from the target to its new owner, which would typically be carried out for the purpose of repaying the new owner's acquisition financing.
6 Describe recent developments in the commercial landscape. Are buyers from outside your jurisdiction common?
Since the end of 2016, the oil-induced slowdown has started to loosen its grip, and activity in the Norwegian economy has continued to rise throughout 2018 and into 2019. During the same period, we also witnessed increasing oil prices and sustained positive momentum in the stock markets, with the OBX Index at all-time high levels. At the same time, since late 2014, the drop in oil prices to some extent also reformed Norwegian M&A activity by forcing smaller firms to selling non-core assets in an attempt of dealing with the downturn. Technological changes also seem to contribute to companies selling non-core and slow growth businesses to fund investments in their core portfolios. Technological changes that reduce the competitiveness of an asset under one owner could be of value to another.
As a result of strengthening oil prices, we have, for the past few years, witnessed a clear bounceback in the high-yield bond market and bidders are once again considering high-yield bonds as a means of financing new acquisitions. At the same time, the trend with increased activity from alternative lenders and funds offering to replace or supplement traditional senior secured loans by B-term loan facilities (unitrance loans, etc) seems to continue. As a result, bidders doing deals in the Norwegian market nowadays have a much wider variety of financing combinations available than ever, in particular on larger transactions.
Another notable commercial development is that the use of warranty and indemnity insurance as a tool for bridging the liability gap between sellers and buyers in connection with M&A transactions, or to provide the sellers with an opportunity for a clean exit, continues to rise. Buyers may also propose such insurance to gain a potential competitive advantage in bidding processes.
The share of cross-border transactions continues to be relatively stable. During the first half of 2019, approximately 41 per cent of the buyers in Norwegian M&A deals were foreign. If you compare these figures with the first half of 2018, you will find that foreign buyers in 2018 took a 3 per cent higher share of the total Norwegian M&A volume than for first half of 2019. This is also more or less consistent with what is found when looking at deal activity among the 500 largest Norwegian companies, in which Norwegian buyers accounted for 69 per cent of total transactions, up 16 per cent from the first quarter of 2019.
7 Are shareholder activists part of the corporate scene? How have they influenced M&A?
So far, shareholder activists have not played any major part on the corporate scene in Norway. However, 'operational activism', as a reaction by shareholders against the management's method of running of listed and unlisted companies, does occur, but not as frequent as in many other jurisdictions.
A few examples of hedge funds trying to intervene against the management of Norwegian companies exist, but these funds have not really managed to influence the M&A scene. It is also not common for activists to seek to interfere with the completion of announced transactions in Norway. One example to the contrary is the DNO Initiative, which consisted of 450 minority shareholders who tried to stop the acquisition and subsequent merger by RAK with DNO unless RAK accepted certain compromises that they proposed. These shareholders actually succeeded in the way that RAK had to agree to these compromises in exchange for their support.
I also think that the trend of increased activism that many other jurisdictions are experiencing could become more prevalent in the Norwegian market during the next decade. This is because business is steadily becoming more global and because people in general have a tendency to try and copy some of the methods for earning money that are used in other larger jurisdictions. Shareholder activism is actually just a way of trying to earn money. However, to what extent my prediction will materialise will most likely depend on how good the Norwegian companies' managements are at maintaining the profitability of the companies they're managing. The best protection against such campaigns will be good corporate governance and making sure that the business is creating returns for its shareholders that are above the relevant industry benchmark. Poor governance, a high number of related-party transactions at questionable values, too lucrative remuneration packages for poor performances and an unwillingness among the management to conduct necessary turnarounds of the businesses to increase profitability will, on the other hand, increase the chances for activists' interference being successful.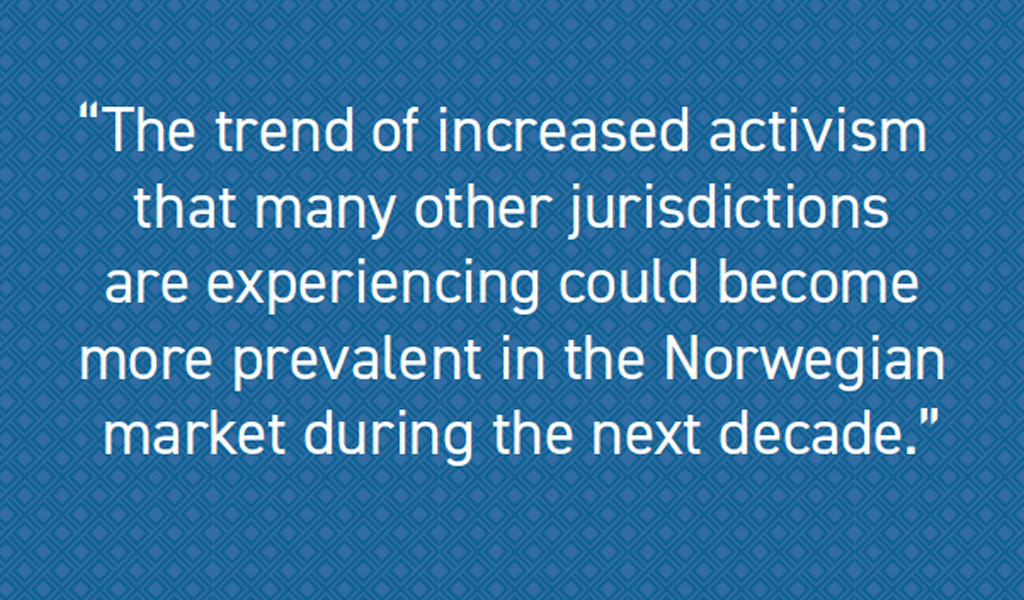 8 Take us through the typical stages of a transaction in your jurisdiction.
Norwegian M&A transactions have tended to follow the structures used elsewhere, with intermediaries playing a key role in particular for medium-sized and large transactions. Intermediaries could include members of the acquirer's board or its outside legal counsel, accounting firm, investment banker or a broker or finder. Private equity sponsors may often also approach the target owners directly. Between smaller corporations, contact often starts from one CEO or one controlling shareholder to another.
Small to medium-sized deals involving non-listed companies and where the contact is initiated by a potential buyer will often follow a traditional pattern in which the buyer, after initial discussions to establish the owner's interest, starts by proposing a term sheet or letter of intent. Such documents are typically aimed at creating a consensus on the main terms of the deal and to grant the potential buyer due diligence access to the target's books and records, and potentially also grant the buyer exclusivity for a limited time period to negotiate a final sale and purchase agreement (SPA). During the due diligence, the buyer will normally want to take control of the drafting process and will produce a draft SPA for the seller to review. After the due diligence, which in theory could last from one to six weeks depending on the complexity of the target's operations, the parties will seek to finally negotiate the SPA and if the parties reach an agreement, the document will be signed. After this, the parties will, depending on the deal size, have to notify the relevant competition authorities and ensure that any other conditions to closing that the parties have agreed to are fulfilled prior to completion. Sometimes the parties may want to negotiate slight variations and introduce various other heads of terms, process agreements, among other things, before reaching a final agreement. Typically, the seller's counsel could also insist that the parties sign a conditional purchase agreement before the buyer is granted due diligence access. Such conditional purchase agreements will typically have the aim of limiting or qualifying the buyer's ability to withdraw from the transaction owing to findings in the due diligence. The seller may also insist on taking control of the drafting, even if this is still less common for this type of smaller deal.
Medium-sized to large transactions involving non-listed companies are very often conducted as a structure sales process and, for these type of transactions, the sellers and their advisers tend to take more control of the process (preparing draft sales documents, etc). Such processes seem to follow a similar route as in most other jurisdictions, with indicative offers from various bidders that have been invited by the seller's advisers, followed by due diligence and mark-up of the sale and purchase agreement and final bids. Thereafter, negotiation of legal documentation will take place, and sometimes a confirmatory due diligence and then completion.
If the prospective target is a listed company, the takeover processes will take a completely different form. If a listed target is controlled by certain key shareholders, the bidder may, however, very often approach them via intermediaries and seek to enter into an irrevocable undertaking under which the shareholders agree to accept a public tender offer launched by the prospective bidder. Alternatively, the parties may enter into a conditional SPA. Examples of such conditions could be that the buyer achieves control over more than 90 per cent of the target's issued shares in a subsequent public tender offer process, and that the target grants the buyer due diligence access prior to issuing a public takeover offer to acquire all of the target's issued shares.
In most cases, a prospective bidder will also seek to enter into an agreement with the listed target's board that allows the bidder due diligence access or additional information about the target. In such an agreement, the bidder will also want to obtain the target's board support for a proposed voluntary tender offer. These support agreements, typically called transaction agreements, will contain provisions on how to conduct the due diligence process and the timetable for issuing a public bid to acquire all of the target's issued shares and such agreement will also document the terms of such tender offer in detail. If the bidder is able to enter into such a transaction agreement with the target's board, the bidder will normally, following its due diligence review, issue a voluntary, but sometimes also a mandatory, tender offer to the target's shareholders, in which the shareholders are asked to accept the offer being made to them by the bidder. A voluntary tender offer gives the bidder more flexibility than a mandatory offer, since the voluntary offer can be made subject to the satisfaction of preconditions, while under Norwegian law, a mandatory offer cannot be made subject to any conditions. However, if a bidder acquires more than a third of the votes in a Norwegian listed target, then the bidder must make a mandatory offer for the outstanding shares. The bidder's obligation to issue a mandatory offer is, with certain exceptions, also repeated when the bidder passes 40 per cent and then 50 per cent of the voting rights. As a result, a bidder will generally start by issuing a voluntary tender offer that will be subject to the bidder being able to achieve acceptance from more than 90 per cent of the shares and voting rights in the target. The reason for this is that the bidder will then be able to squeeze out the remaining minority shareholders by a forced purchase at a redemption price.
When going after a publicly listed company, a bidder can never can be sure if the target will grant due diligence access. As a result, it is also quite normal that the bidder's legal and financial advisers will be engaged to conduct some type of pre-bid due diligence of publicly available information. If the target's board is not willing to recommend that the shareholders accept a bid from the bidder, or if the bidder assumes that the target will not grant such access, a prospective bidder may sometimes decide to go hostile and issue a voluntary offer without at first having obtained any support from the target.
To increase its chances of success, a bidder can also seek to gradually build a stake in the target through off or on market share purchases outside the offer process. Lately, we have also seen an increasing number of takeovers of publicly listed companies being conducted as a partly structured sales process, organised by the target's board or a controlling majority shareholder. In such partly structured processes, prospective bidders are invited to provide indicative offers, before the target's board select a limited number of bidders that are granted due diligence access.
A takeover of a publicly listed company under Norwegian law is more regulated. The prospective buyer of listed targets and the targets' boards will have to observe detailed rules comprising, among other things:
insider dealings rules;
mandatory offer thresholds;
disclosure obligations with regard to ownership of shares and other financial instruments;
limitations on the content of the offer documents;
filing and regulatory approval of the offer documents;
the length of the offer periods;
employee consultations; and
limitations on type of consideration offered.
9 Are there any legal or commercial changes anticipated in the near future that will materially affect practice or activity in your jurisdiction?
The most imminent change expected is certain amendments to the Norwegian takeover rules proposed by a government appointed committee in a report issued in early 2019 concerning the rules governing voluntary and mandatory offers, with a particular focus on the current securities trading acts limited regulation of the pre-offer phase. In its report, the committee proposes, inter alia, a new requirement that a bidder must carry out certain preparations before it announces that it will launch an offer to acquire a listed company. The committee also proposes new content requirements for the notification that a voluntary offer will be made, including information on matters of importance for the market's assessment of the offer and for the formation of the price. It is proposed to clarify that the Norwegian Takeover Supervisory Authority (now Oslo Stock Exchange) shall publish such notification immediately. Furthermore, a new requirement is proposed that the bidder must present a voluntary offer no later than four weeks from the publication of the notice announcing that an offer would be issued. At the same time, it is proposed that the Takeover Supervisory Authority may grant an exemption from this deadline in special cases. The committee proposes that the minimum length of the offer period in voluntary offers be extended from at least two to at least four weeks. It is currently unclear when the parliament can be expected to adopt these amendments into Norwegian legislation. However, we do not expect the proposed changes to be implemented into Norwegian law until 1 January 2020 at the earliest.
It is also worth mentioning that, in recent years, several new directives, regulations and clarifications have been proposed and adopted within the European Union. Some of these may eventually influence the regulatory framework for public takeovers in Norway. Following a solution in June 2016 of certain constitutional obstacles under Norwegian law that prevented the implementation of certain EU rules relating to the capital markets, considerable effort has been made to work on the implementation and currently there is a pipeline of new legislation that either has been adopted or currently is waiting to be adopted by the parliament. Consequently, most of these EU initiatives will come into effect during the next few years, following which the regulatory framework in Norway that relates to the capital markets will again be aligned with what applies within the EU.
10 What does the future hold? What activity levels do you expect for the next year? Which sectors will be the most active? Do you foresee any particular geopolitical or macroeconomic developments that will affect deal sizes and activity?
Deal activity is currently ahead of 2018, but behind the record level of 2017. Technology and digital disruption continues to drive deal activity, particularly within the TMT sector, and we continue to observe increased divestment activity among corporations in order to invest in new growth opportunities. The incentives for high M&A deal activity will remain relatively strong in the Norwegian market but with some growing uncertainties. However, capital continues to be inexpensive and plentiful. In addition, presence of large cap deals, relatively high CEO confidence and increasing transaction pipeline all seems to indicate that the M&A market most likely will continue to be strong in the coming months, though trade wars and protectionism may threaten cross-border deal activity.
For the moment, the TMT sector is the most active sector for M&A in Norway and I expect this to continue during the next 12 months. I also expect that we will continue to see strong momentum for new deals within the industrial sector and services sector. A lot of cash is still waiting to be invested and, despite the fact that we have seen an increasing number of private equity exits over the past three to four years, there still seems to be an exit overhang in some private equity sponsor's portfolios approaching end of lifetime for the funds holding such investments.
Provided that we do not get any unpleasant surprises with regard to the oil and gas prices in the near future or further escalation in the ongoing trade wars, I expect that we probably will see some upswing in interest for assets within the energy sector during 2019–20.
The Inside Track
What factors make mergers and acquisitions practice in your jurisdiction unique?
Traditionally, Norwegian courts have used principles of reasonableness, good faith or fair dealing in their interpretation of contracts, to avoid unjust solutions based on a literal interpretation of a contract. The past 10 to 15 years have seen the Norwegian Supreme Court take a more literal approach, particularly when interpreting contracts between business parties, but even today, you could meet a seller that insists that the acquisition agreement should not cover more than a couple of pages.
What three things should a client consider when choosing counsel for a complex transaction in your jurisdiction?
Consider if the counsel involved on your project are skilled negotiators with the necessary experience and industry insight from previous complex M&A transactions and that the law firm has shown that it is able to handle such transactions.
Ensure that the law firm is able to provide you, as a client, with sufficient senior attention from an experienced partner to help you through the transaction.
Ensure that the counsel involved are able to show a mix of sound commercial acumen and in-depth knowledge of the legal and regulatory framework for such transactions, including the project management side of such transactions.
What is the most interesting or unusual matter you have recently worked on, and why?
I think that some of the transactions that I was involved in during the credit freeze back in 2008–2009 might qualify, because they involved acquiring assets in distress, which in general makes it a bit more exiting. I could probably also mention Gjensidige's acquisition of Citibank's consumer bank business in Norway, mainly because it involved a carveout of an existing business from a large global banking conglomerate and involved some fairly complex transitional issues. In 2016, I also assisted Aker ASA and Solstad Offshore ASA in what was considered by most commentators to be a high-profile hostile takeover and merger of Rem Offshore ASA, which was quite an interesting experience. The 2019 structured sales process of The Scottish Salmon Company, a Jersey domiciled company listed on the Oslo Stock Exchange, was also an interesting process to take part in.
Ole K Aabø-Evensen oka@aaboevensen.com
Aabø-Evensen & Co Advokatfirma - Oslo - www.aaboevensen.com