Atul Gupta is a partner in Trilegal and has been with the firm since 2006. He is a senior partner in the employment practice, which he helped establish, and which he will head. Atul focuses his practice on advising clients on high stakes employment law issues – both on the contentious and non-contentious side. He guides clients on a wide range of advisory matters.
Atul and his team have successfully established Trilegal's credentials in the space of industrial relations, effectively handling several mandates involving complex trade union dynamics and disputes. Atul has also established strong and impressive credentials in the firm's white-collar practice and handles several complex and sensitive investigative mandates every year.
Atul is the lawyer of choice for several major international and domestic clients, who bank on his in-depth experience, rigour, responsiveness and authority in handling their complex labour and employment matters. Atul is also the preferred partner on large corporate transactions with a significant human capital element, as he successfully merges his employment law expertise with a corporate law background to provide clients with practical and commercial advice on the most effective strategies to deal with employee and benefits transfers and integration.
Atul has been ranked as 'Band 3' by Chambers in 2018 and 2019 and has been recognised as a leading lawyer by the 2014 to 2017 Chambers Asia Pacific guides. He has also been elected as a member of the Indo-French Chamber of Commerce and Industry's HR committee and the Confederation of Indian Industry's National Committee on Industrial Relations. Atul counts various high-profile companies as his clients and has several publications to his credit. He also conducts a credit course in India's leading law school NALSAR, Hyderabad.
1 What are the most important new developments in your jurisdiction over the past year in employment law?
In India, employers find it challenging to properly comply with the large number of labour and employment laws that often overlap and sometimes also contradict each other. Over the past one year, the government's efforts to streamline Indian labour laws have picked up pace.
The government is working on four different labour codes that would replace about 44 central laws. These codes deal with the subjects of wages, social security, health and safety and industrial relations. Of these, the Code on Wages Bill 2019 (Wage Code) has seen the most progress. The Wage Code amends and consolidates the Payment of Wages Act 1936, Minimum Wages Act 1948, the Payment of Bonus Act 1965 and the Equal Remuneration Act 1976, and received presidential assent on 8 August 2019 after being passed by both houses of Parliament. The Wage Code remains to be notified by the government in the Official Gazette to become binding law, but that event may not be very far away.
Some of the significant changes under the Wage Code include revisions that make the provisions on equal remuneration gender neutral as well as the decriminalisation of all offences (except where it is a repeated similar offence within five years). It also allows for the compounding of the first offence, which means that the employer can pay a composition fee to settle the matter and avoid lengthy court proceedings.
The Wage Code has also set out a new definition of 'contract labour' that expressly excludes individuals who are regularly employed by the contractor under mutually accepted conditions of employment and who get periodic increments in pay, social security benefits, among others. This definition allows organisations to not treat the employees of service providers (that hire employees for their business needs and not just for a client project) as contract labour, thereby easing a significant compliance burden.
At the same time, the Wage Code also makes certain changes that employers will find cumbersome. For example, obligations relating to payment of wages and deductions from wages have been extended to all employees, even individuals in supervisory and managerial roles without any wage threshold. In comparison, the existing Payment of Wages Act 1936 currently only applies to individuals whose wages don't exceed 24,000 rupees per month. This provision will create difficulties for employers while structuring pay and benefits agreements – especially with senior employees. Organisations may now find it hard to offer various education loans, retention incentives or other benefits that involve payments (or repayments) from employees through payroll deductions and this change also impacts the validity of clawback provisions that are common in senior employee contracts.
Since the rules corresponding to the Wage Code have not been formulated yet, it is hoped that the rules will not provide for multiple records and registers under each of these laws.
In a separate new development, the Employees' State Insurances (Central) Amendment Rules 2019 came into force on 1 July 2019, easing the financial burden of compliance on employers. Among other provisions, the Employees' State Insurance Act 1947 (ESI Act) provides for benefits to an employee in case of sickness, maternity, temporary or permanent physical disablement and employment injury. The ESI benefit is funded by both employer and employee and only those employees earning up to 21,000 rupees a month are covered under the statute. With this amendment, the contribution rates have come down – monthly employers' contribution has reduced from 4.75 per cent to 3.25 per cent and employees' contribution has reduced from 1.75 per cent to 0.75 per cent. This development reduces the financial burden upon the employers as well as employees, who would be able to take a larger portion of their wages as take-home pay.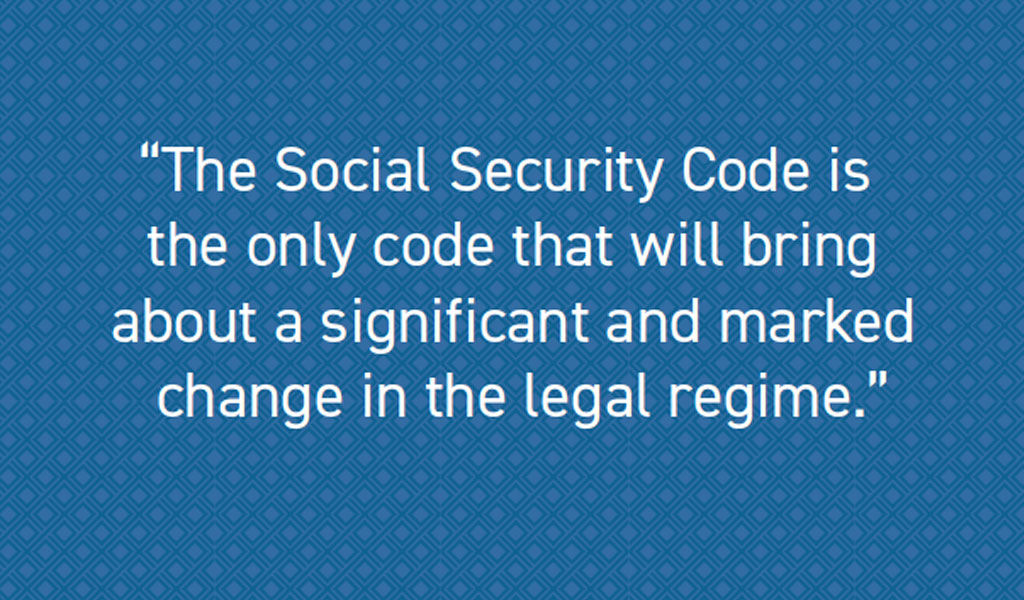 2 What upcoming legislation or regulation do you anticipate will have a significant impact on employment law in your jurisdiction?
The Occupational Safety, Health and Working Conditions Code 2019 (the OSHW Bill) was introduced into the lower house of Parliament in July 2019. This bill consolidates the provisions on health, safety and working conditions under 13 different legislations relating to factories, contract labour, interstate migrant workmen, building and other construction workers, among others.
The OSHW Bill would apply to establishments and employees based on varying applicability criteria, such as the employee headcount, nature of work performed by the worker and others. For instance, the OSHW Bill would not apply to establishments with less than 10 employees. This feature has already drawn criticism from trade unions who argue that different thresholds is against the 'spirit of codification' and that it tampers the rights of individuals outsourced on contract or those who may be working from home.
Another important proposal under the OSHW Bill is that of a singular registration and return for an establishment instead of compliance with multiple registration and returns obligations. Currently, six out of the 13 labour legislations covered under the OSHW Bill provide for a separate registration. In 2018, India surged by 23 places in the World Bank's global Ease of Doing Business Index and is currently ranked at 77. This proposal, if implemented, would promote ease of doing business and bolster India's rank globally.
Additionally, the OSHW Bill proposes several progressive changes such as ensuring that the workplace is free from hazards, providing free annual health checks, disposing hazardous and toxic waste including e-waste and ensuring that employees receive a letter of appointment upon joining.
Further, the OSHW Bill permits women to work during night-time hours (ie, between 7PM and 6AM), provided the employer complies with safety, holidays, working hours or other conditions which would be prescribed by the government. Currently, women in India cannot work during night-time hours, except in limited locations or industries (like IT or IT-enabled services (ITES)) who have been exempted from these restrictions. If enacted, this would be a positive step towards increasing diversity at workplaces.
The upcoming Social Security Code also deserves a mention here, since this promises to completely overhaul the Indian social security system. While most of the codes being proposed by the government are largely an exercise in consolidation and streamlining, the Social Security Code is the only one that will bring about a significant and marked change in the legal regime – from the extension of social security to gig workers and the unorganised sector to the complete portability of underlying benefits irrespective of the employer or employment status – this code could pave the way to actually make social security accessible to all citizens.
3 How has the #MeToo movement impacted the investigation or settlement of harassment or discrimination claims in your jurisdiction?
India has a special law only to deal with workplace sexual harassment claims and not with other forms of harassment. This law also only applies in situations where the victim is a woman. Other grievances (such as those associated with general workplace harassment or discrimination) tend to be inquired into as per an organisation's internal grievance redressal policies. The Sexual Harassment of Women at Workplace (Prevention, Prohibition and Redressal) Act 2013 (SH Act) requires all establishments with 10 or more employees to set up an internal committee (IC) to inquire into workplace sexual harassment complaints in a time-bound manner. The IC must be headed by a senior woman employee, have two other employees from the organisation (who are preferably committed to the cause of women or who have experience in social work or legal knowledge) and an external member from a non-government organisation (or an association committed to the cause of women or a person familiar with issues relating to sexual harassment). At least half the members should be women and the tenure of a member should not exceed three years at a time. Even though the SH Act has been around since late 2013, many organisations have struggled or continue to struggle in identifying the right members and creating ICs for their offices throughout the country.
With the #MeToo movement, there has been an increase in the number of reported workplace sexual harassment cases in India. Therefore, the first and most direct impact of the #MeToo movement has been that organisations have been compelled to create ICs out of apprehension of negative publicity or prosecution for non-compliance with the SH Act. In most cases, women have been forced to speak out openly about the harassment they faced since their organisations did not have effective internal redressal mechanisms and creating an IC is the first step in this direction.
However, creating an IC is only the beginning. There are increasing instances of victims resorting to social media to air grievances about the procedures being followed by the organisation or the IC not being fair or equitable. According to an Indian National Bar Association survey, 53.3 per cent of the responses stated that the members of the IC did not have proper knowledge of the due process, with 65.2 per cent of the respondents stating that the organisation did not adhere to the process prescribed under the SH Act. The #MeToo movement has therefore also compelled organisations to take a more proactive and involved approach towards employee and IC trainings compared to reactive approaches or ones simply meant to check the compliance box. Good organisations are investing well in ensuring they have the right systems, protocols and trainings in place to ensure their employees and the IC members in particular, are well-equipped to deal with such complaints.
It must be noted that the rules under the SH Act do not permit the parties to be represented by lawyers in the internal IC proceedings. However, with increased awareness caused by the #MeToo movement and on account of the high stakes involved, there also is an increasing trend of employees actively seeking advice from external lawyers in the background to help them prepare for IC proceedings. This has caused IC proceedings to often run longer than anticipated and get more complicated. More than anything else, this further makes it imperative for IC members – whose day jobs are often completely different – to be properly trained in the legalities associated with such proceedings.
The #MeToo movement has also created challenges when it comes to investigating such allegations. Under the SH Act, complaints have to be made in writing to the IC and individuals are obligated, at all times, to maintain confidentiality of all parties and proceedings involved. Anonymous complaints are not recognised. However, social media posts (or reports submitted via corporate hotlines) are often anonymous and simply name the accused employee and not the victim. Any investigation into such complaints without the victim coming forward are very likely to be struck down, compelling more organisations on insisting that formal mechanisms under the SH Act be followed for raising sexual harassment grievances.
Even if the victim identifies herself, posts on social media about their grievances often disregard these rules, resulting in cross-litigation – with the accused individual often publicly threatening or initiating legal proceedings for defamation and the victim approaching law enforcement agencies in connection with the alleged harassment. While this plays out in a public setting, the organisation's reputation takes a beating. The biggest challenge organisations face in such situations is to convince the parties to allow its IC to inquire into the matter on merits, as the law intended. The pressure on ICs to ensure that such proceedings are conducted in a fair, unbiased and procedurally sound manner is also significantly higher, resulting in increased reliance on expert legal guidance.
In fact, the next trend is going to be formal demands from the victims for large value compensation to be awarded to them by the IC. For context, the SH Act permits a conciliation between the parties, provided monetary settlement is not the basis for such settlement. However, where there is no conciliation and the IC completes an inquiry and finds the accused guilty, it can award monetary compensation to the victim to be paid by the accused. Victims are beginning to wise up to this and we anticipate that more ICs will need to also deal with demands for compensation from the victim, as part of the proceedings and their recommendations.
The government, too, has been taking active measures to ensure that the SH Act is duly followed, in part due to the added attention brought about by the #MeToo movement. The Ministry of Women and Child Development has initiated an online portal titled 'SHe-Box', where anyone can register a complaint about sexual harassment faced at a workplace (both public and private) and the ministry forwards the same to the relevant organisation's IC. Additionally, the complainant and the ministry can follow up on the progress of the inquiry by these committees. State governments in Telangana and Mumbai are pursuing similar initiatives to ensure compliance with the SH Act.
Overall, compliance with the SH Act has become top priority for most organisations. Companies are, in fact, required to include a statement in their board's report, confirming that the company is compliant with the provisions relating to the constitution of an IC under the SH Act.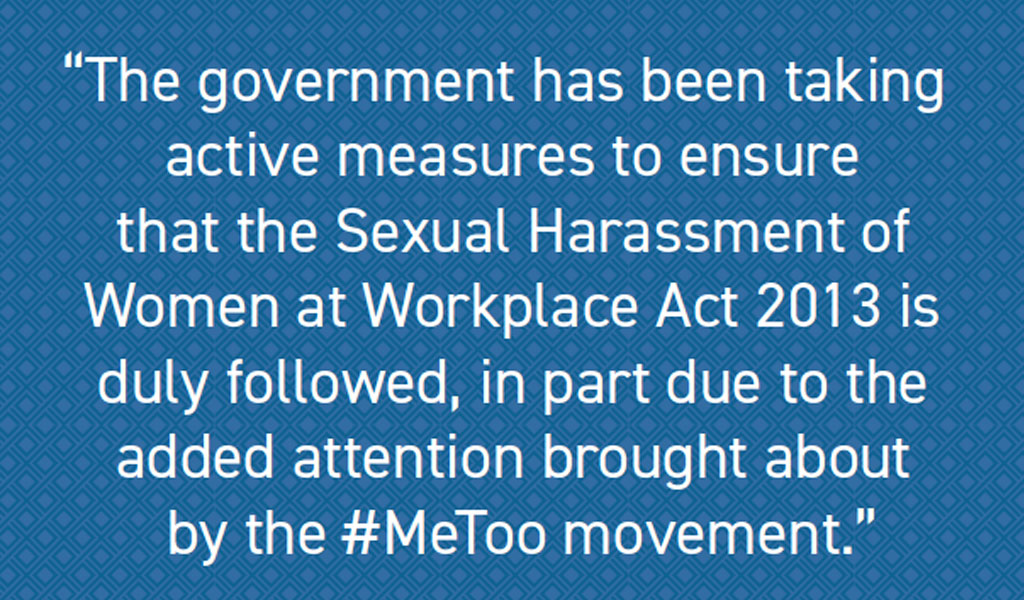 4 What are the key factors for companies to consider regarding the enforcement of restrictive covenants against departing employees?
It is common to see companies include post-separation restrictive covenants such as non-compete, non-solicitation, non-hire and non-disclosure clauses in employment agreements. Organisations must understand that not all such covenants are enforceable under Indian law to the extent they apply after the employee's exit.
Indian courts have consistently held that non-compete covenants are void for being in restraint of trade under the Indian Contract Act 1872, irrespective of the restraint being partial or argued as reasonable. Limited circumstances in which non-competes may work is if they apply to promoter level employees, who are selling their goodwill in the business and agree not to compete within reasonable limits. Such arrangements have to be assessed on a case-by-case basis however and carefully structured. Since non-competes are unenforceable, organisations can also examine alternate strategies like prescribing a longer notice period and garden leave provisions for key executives to help protect its interests.
On the other hand, non-solicitation provisions extending post-employment can be enforced. A provision preventing an ex-employee from soliciting other employees or customers is valid under Indian law, provided also that it is reasonable both in terms of scope and duration. Success in enforcing non-solicitation provisions can, however, be fairly fact-dependent and require reliance on strong evidence. It can often be difficult to gather evidence that conclusively demonstrates breach of such provisions, but the fact that these provisions are legally enforceable can be of significant strategic importance and help organisations seek injunctive relief to begin with. Overtly broad provisions may also be difficult to enforce – eg, a recent judgement has stated that merely approaching a customer does not amount to solicitation, but it must be proved that a pertinent action was taken by the customer based on such an approach.
Non-hire provisions run the risk of being treated as anticompetitive, but courts in India have consistently favoured and enforced confidentiality provisions that extend beyond the duration of employment as well. Any relief is generally conditioned upon the court ascertaining if the information in question was protected or confidential in nature itself.
Despite the fact that some restrictions may not be enforceable or may be difficult to enforce, it is always advisable for organisations to include such covenants in their contracts – at least for key employees. These can have a deterrent effect and careful drafting of such provisions, along with necessary precautions to allow the unenforceable portions to be severed or blue-pencilled, if necessary, can go a long way in safeguarding an organisation's interests.
5 In which industry sectors has employment law been a hot topic recently? Why?
The Indian IT sector is one of the largest employers in the country and has traditionally been fairly low-key in terms of controversial employment law issues, large scale agitations or disputes. However, that narrative is changing quickly. Employees working for IT and ITES organisations are now less hesitant to raise formal disputes against their employers and the recent year or so has seen increased activity towards unionisation at the industry level. Compared to the manufacturing sector where unionisation is commonplace, the IT, ITES and related knowledge-based industries have remained union-free so far. Traditionally considered as comprising of better educated knowledge workers (compared to blue-collar workers in factories), they have managed this through good pay and benefits, comfortable, amenity-packed offices and campuses, and flexible work policies.
However, an increasing spate of mass terminations and long working hours coupled with lacklustre pay hikes has changed the trend. Major IT hubs like Bangalore, Hyderabad, Chennai and Pune are seeing increased union activity, with FITE (Forum of Information Technology Employees) and the KITU (the Karnataka State IT/ITES Employees Union) getting formally registered as trade unions and opening local chapters in major IT hubs.
These unions – comprised of employees from varying IT companies – are now 'espousing' the grievances of their fellow workers before labour authorities, thereby raising the status of an individual dispute to an 'industrial' dispute. They are increasingly lobbying for implementation of laws that hitherto applied primarily to the manufacturing sector, such as the Industrial Employment Standing Orders Act. Therefore, unionisation in this sector creates a significant risk of companies having to concede the amount of flexibility and control they currently enjoy in rolling out new policies or changing and increasing the clout employees have on organisational management.
Additionally, while not specific to any particular industry, the crèche provisions under the Maternity Benefit Act 1961 have been a moot topic among employers across sectors. In 2017, the Maternity Benefit Act 1961 was amended to state that every establishment with 50 or more employees should provide for a crèche facility. However, the manner of instituting or maintaining a crèche facility was not specified under the amendment, which led to widespread confusion over compliance with this law in the absence of any specific guidelines for adherence.
Recently, the Karnataka Maternity Benefits (Amendment) Rules 2019 have being notified. While these rules have certainly helped limit the ambiguity around crèches, they are also being argued as being too wide and onerous. For instance, these rules state that the crèche must provide access to an outdoor play space for children, which is safe, secure, well-maintained and exclusively available for the use of the children during operating hours. In crowded cities, and with most offices being in closed multistorey buildings, it would be quite difficult for organisations to comply with such a requirement. The rules further create questions as to whether the obligation to provide crèche extends to fathers as well. The Maternity Benefit Act itself is designed to extend benefits only to women, and no other benefit therein is available to men, including benefits like adoption leave. Even breaks for crèche visits must statutorily only be extended to women. To that extent, the Karnataka crèche rules continue to leave organisations confused about various aspects of compliance.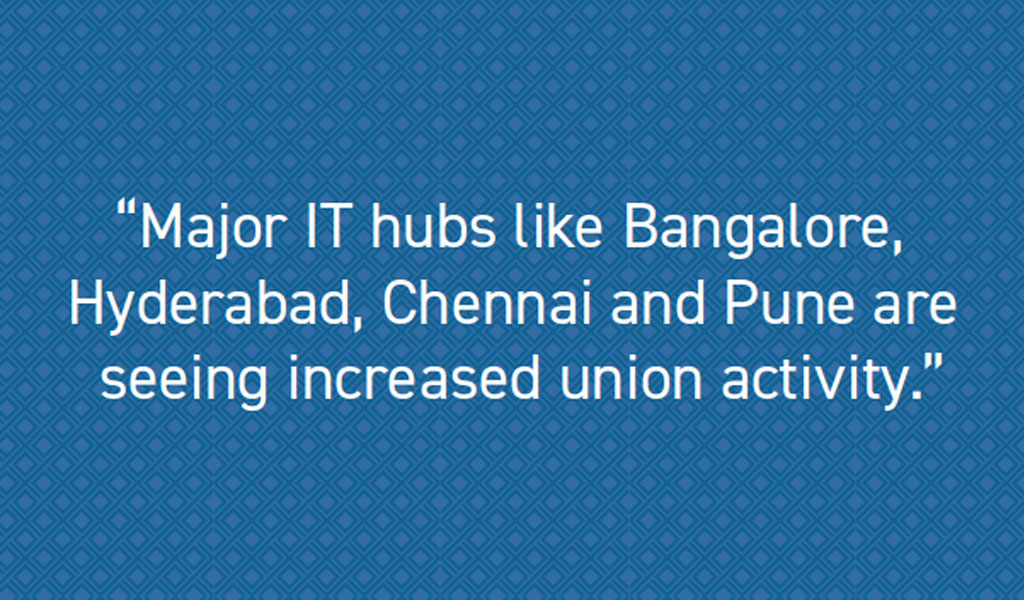 6 What are the key political debates about employment currently playing out in your jurisdiction? What effects are they having?
As mentioned earlier, the Wage Code has been a high-profile legislative change on employment laws that is expected to be notified soon. Among its various provisions, a key feature of the Wage Code, which has been debated extensively, is the provision allowing the central government to stipulate a 'floor wage' (which may vary based on geographical areas), based on advice from the Central Advisory Board. Under the current system, state governments stipulate minimum wages for different categories of employees and industries. Through the Wage Code, while state governments will retain the authority to determine their own minimum wages, these cannot be lower than the floor wage set by the central government. This provision has been met with some pushback, as it takes away a state's autonomy in determining the wages for its workforce based on its own regional and economic conditions.
The floor wage has not yet been notified (as the law itself is pending notification), but there has been extensive discussion on what this may be. Figures ranging 18,000 rupees per month to 9,500 rupees per month have been discussed. The labour ministry has clarified that the floor wage will reflect a 'living wage', which will allow for more than just sustenance. However, concerns have been raised that the floor wage must not be conservative in favour of workmen, on the premise that the wages eventually fixed by states will exceed it. Further, it is feared that the floor wage might be worse than the market wage rates and this may defeat the purpose of the erstwhile minimum wages.
To try and achieve balance, the Wage Code has revised the composition of the Central Advisory Board to now also include five representatives of state governments nominated by the central government.
The Inside Track
What are the particular skills that clients are looking for in an effective labour and employment lawyer?
Clients are looking for legal advisers who have a deep knowledge of the law and industry practices but also the ability to put that across in an uncomplicated and practical manner, while covering all bases. Most clients today are looking for prompt and practical advice that is solution-oriented. Further, ensuring that advice is balanced, fair and mindful of the conflicting needs is important. There is a significant human element involved in labour and employment advice, which our advice reflects and our clients value tremendously.
What are the key considerations for clients and their lawyers when handling employment disputes?
Indian laws are pro-employee and dispute resolution can often be a time-consuming and expensive exercise – both for the organisation and the employees concerned. It is therefore important to analyse the dispute on merits and come up with strategy early in the process – which can vary based on multiple factors. Where the claims are not high stakes, it is important to conduct a cost–benefit analysis to determine if alternate courses of action such as a mediation or settlement make more sense, even if the case is strong on merits. Legal costs and management time are important factors to consider and should be a key consideration in disputes.
What are the most interesting and challenging cases you have dealt with in the past year?
One such matter was our advice to Bank of Baroda on their three-way merger with Vijaya bank and Dena bank. This is the first three-way merger of nationalised banks in India and our role involved advising Bank of Baroda on all employment law-related legal aspects arising from the merger.
Another interesting matter we worked on related to the Volkswagen Group's India 2.0 strategy, wherein we provided a comprehensive report on labour law issues associated with the consolidation of their existing corporate structures and business in India with Skoda. This was especially interesting since Volkswagen and Skoda operated multiple factories and offices, dealt with multiple unions and the terms and conditions of service varied quite significantly amongst these entities.
Atul Gupta atul.gupta@trilegal.com
Trilegal - Bangalore - www.trilegal.com