With a broad commercial shipping, superyacht and marine insurance practice, Kevin Cooper's clients include major international shipowners and builders, charterers, cargo owners, salvors and shipyards, and their respective insurers. After Oxford University, Kevin served in the British Navy for 10 years. Having previously worked at another firm in its London, Shanghai and Monaco offices, he joined MFB in June 2018.
Kevin's admiralty practice involves high-value multi-jurisdictional cases such as the collision between the container vessel MSC Joanna and the hopper dredger W D Fairway in Tianjin, the grounding and subsequent collision of the Khalijia 3 in Mumbai, the Altantik Confidence sinking and the Norman Atlantic ferry fire. He also handles a wide range of charter party, cargo claim and shipbuilding matters.
Kevin's earlier experience as a criminal court advocate in the navy is now employed acting as an advocate in arbitration and mediation proceedings.  He also advises on corporate ethics, crime and regulatory matters, especially anti-corruption policies and procedures.
Kevin is dual-qualified as a solicitor and a barrister, regularly chairs and speaks at shipping sector events and has particular industry contacts in the passenger vessel sector and, regionally, in Norway, Italy, Spain, Portugal, Turkey and the Americas. He speaks French, German, Swedish and Mandarin Chinese.
Each year, the shipping industry faces new challenges resulting from changes in global politics and economics. 2019 is no exception, with political uncertainties, environmental measures, new technologies and cyber threats being the major drivers of influence.
Political uncertainties
Global relations between countries always play a significant role in market changes. The trend towards globalisation, which dominated economics and trade for decades, has arguably peaked. Major political shifts towards inward-looking, protectionist sentiment, such as the US Trump administration and Brexit, have resulted in less predictable geopolitical, economic and trade policies being adopted, creating uncertainty in the global trade environment that fuels the shipping industry.
The fluctuating international sanctions landscape is a case in point, particularly under the US Trump administration. Although international sanctions are designed to aid international law and foreign policy objectives in matters such as terrorism and human rights abuses, it is clear they are becoming increasingly politicised. As a result, shipping businesses and insurers face tougher challenges to manage their exposures to risks in markets affected by sanctions.
For example, the United States' decision to reinstate sanctions against Iran in 2018 not only affects Iranian oil exports, a key source of Iran's economy, but also international shipping companies, banks and insurers doing business with Iran. It should be noted that the United States granted waivers for eight countries, including China, to permit the import of limited amounts of Iranian crude oil until 2 May 2019. However, its recent refusal to extend the waivers has accelerated tension in an already stressed oil market that is dealing with lower global supply due to agreed production cuts by OPEC. Consequently, international trading relations are becoming increasingly strained, particularly between the United States and China, with the latter being the largest consumer of Iranian oil. In the past year, the two major nations have been engaged in an escalating trade warfare, imposing retaliatory tariffs that have had a significant impact on shipping trends.
The recent attacks on six oil tankers (and a US spy drone) near or in the Strait of Hormuz in May and June 2019 has presented security concerns for shipping stakeholders, in particular, owners and charterers. With the Strait of Hormuz an important gateway for global oil exports, a significant number of oil tanker owners, in particular, will be wary of taking bookings from the region and are likely to face increased insurance premiums to load cargo from a politically dangerous area, as well as potential issues under their contracts.
Brexit also looms; as time passes with the UK being granted recurrent extensions to leave the EU, the latest extension being 31 October 2019, the picture grows increasingly muddled. However it plays out, it should continue to shape how shipping stakeholders operate and manage trade in Europe.
Liner consolidation and alliances
The topsy-turvy nature of the shipping market over the past few decades has resulted in considerable price volatility, especially following the 2008 financial crash. In order to drive down their operational costs to achieve cost savings and offset depressed freight markets, shipping lines have invested in larger vessels to obtain maximum economies of scale. This growth is also a major driver for global alliances, as carriers seek to fill their ever-larger container ships and obtain the potential economies of scale that they offer by pooling their volumes on particular trade routes.
While the larger carriers have been able achieve cost savings to improve competitiveness, smaller carriers have not been able to compete in this way and this has led to many being squeezed out of the market or seeking consolidation through mergers and shipping alliances.
2019 is likely to see the continuation of this pattern, with further consolidations and insolvencies. The alliance restructuring and larger vessel deployment are also impacting the ports, as they are having to adapt to the increased requirements from the progressively larger vessels and mega-alliances.
Environmental measures
Efforts to curb the carbon footprint and improve the environmental performance of international shipping have increased in the past year. In particular, the International Maritime Organization (IMO) has pushed forward with its ambitious objective of imposing a global cap on sulphur emissions. The cap requires all ships to use fuels with a maximum of 0.5 per cent sulphur content as of 1 January 2020. Despite concerns over implementation issues, transitional costs, sufficient availability of compliant fuels and the likely high cost of such fuels, taking the preparatory steps to ensure compliance has become a core focus for many shipping operators and oil refiners. In the IMO's Marine Environment Protection Committee's (MEPC) last meeting before the global cap takes effect, the MEPC approved and adopted a comprehensive set of guidance to assist with consistent implementation. The MEPC also addressed other key environmental topics, including the reduction of greenhouse gas emissions from ships and the reduction of marine plastic litter.
A key area of interest for shipowners preparing for the IMO's 2020 global sulphur cap is fuel oil non-availability reporting (FONAR), which may be necessary if, despite best efforts, a ship is unable to obtain compliant fuel. While FONAR is not expected to result in an exemption from compliance, it will be key evidence in assessing whether the non-availability of compliant fuel is sufficient reason for a ship not having it. Tension could arise under time charterparties in complying with the requirements of FONAR. Unlike a voyage charterparty, where owners are responsible for fuel, it is the charterers who supply fuel to the ship under a time charterparty but the owners still remain responsible for compliance with the sulphur regulations. In that case, the evidence required for the FONAR will be under the control of the charterers, as it is the charterers who are in communication with bunker suppliers and brokers. Therefore owners will be entirely dependent on charterers to provide the paper trail to demonstrate that 'best efforts' have been made to find compliant fuel.
Among other notable areas of international legislation is the IMO's Hong Kong Convention for the Safe and Environmentally Sound Recycling of Ships, which has not yet come into force but is aimed at ensuring that ships, when being recycled after reaching the end of their operational lives, do not pose any unnecessary risks to human health, safety or the environment. The early implementation of its principles by the EU has thrown up a number of practical issues that are still being resolved, such as the availability of suitable recycling yards. In an effort to overcome this, in December 2018, the European Commission published its latest list of suitable ship-recycling facilities that are considered to be compliant under its regulations, adding six new yards and taking the total up to 26 facilities. The list includes 23 facilities located in the EU and, for the first time, three located in non-EU member states, with two being in Turkey and one in the United States.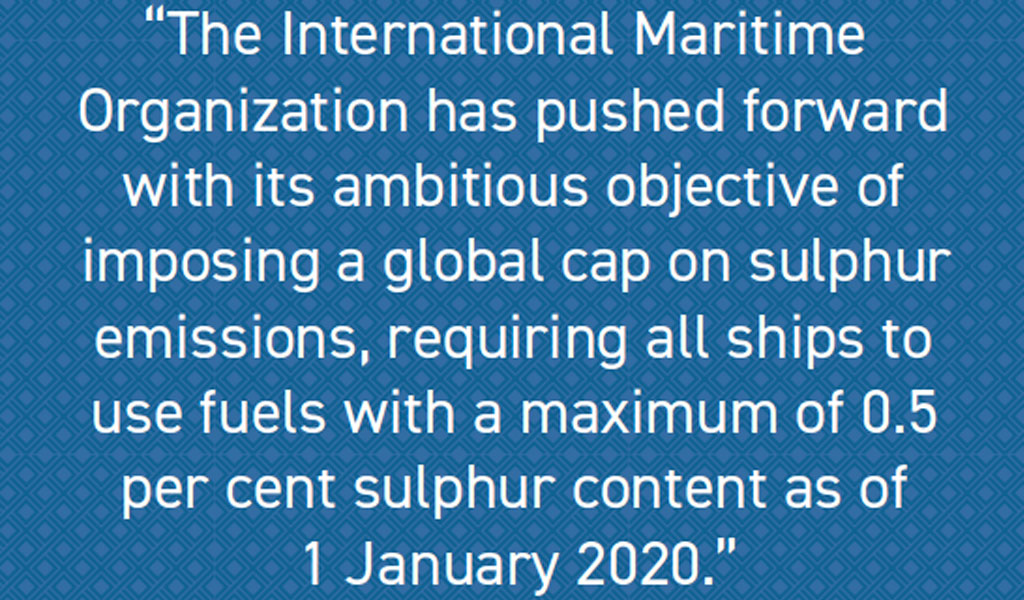 New technologies
Interest in autonomous and remotely controlled vessels is fast gathering pace, with the first commercial projects already under way. The first fully electric and autonomous containership is currently under construction in Norway. From completely unmanned vessels, to vessels remote-controlled from land, to vessels with automated processes and decision support systems, the field is a wide one.
The potential benefits of autonomous vessels are attractive to the marine industry. Crewless vessels not only reduce crew wages and expenses but can also eliminate systems once needed to make the vessel liveable for the crew, simplifying vessel design and creating more space for cargo. Autonomy can also offer the potential for reducing human error, thereby reducing costs related to accidents and insurance. Also, by enabling operations that do not put human lives at risk, the number of human tragedies would decrease.
Nonetheless, there are many challenges that will need to be addressed before this technology can be put fully into operation. For example, although risk of human error is reduced, new risk factors will emerge, such as possible technological failures and inadequacies. Cyber threats could also present new forms of piracy. Although the changing risk picture will affect existing market players such as shipowners, charterers, banks and insurers, new parties will enter the picture, including suppliers of autonomous systems and onshore operators controlling or supervising vessels.
Continued development of digitalisation and e-commerce are likely to have major implications for shipping logistics. For example, blockchain technology is touted to replace the shipping systems of bills and transactional documents. Blockchain systems are based on an open-source, decentralised, peer-to-peer structure, supposedly making it inherently impossible for any one entity to gain control of the systems. In any shipping transaction, all manual and paper-based operations (certificates issuance or validation, bills of lading, cross-border payments, etc) could be digitised onto the platform and permitted parties would be able access the platform securely and easily.
Although the technology is still at an embryonic stage in the maritime industry, big shipping players have been looking to invest and adopt it in recent years. For example, in November 2018, five shipping lines and four terminal operators formed a consortium called Global Shipping Business Network, to develop a blockchain platform to digitise the industry and transform documentation transfers. It will be very interesting to see how this new technology affects the industry over the coming years.
Anti-corruption
Following global support expressed by countries and international organisations, the IMO's Facilitation Committee has recently agreed to include marine corruption in its work programme. In 2018, the Maritime Anti-Corruption Network (MACN), together with leading maritime associations, engaged the IMO on the consequences and risks facing the maritime industry regarding maritime corruption. According to MACN's anonymous reporting system, up to 28,000 incidents of maritime corruption incidents have been logged up to now.
During the 43rd meeting of IMO's Facilitation Committee in April 2019, a paper on this topic was presented by the Marshall Islands, with numerous countries and international organisations expressing their support for a proposal to develop guidelines to assist all shipping stakeholders in embracing and implementing anti-corruption practices and procedures. As a result, the IMO has agreed to start work on an official guidance document that addresses maritime corruption; the document is expected to be completed by 2021.
Cybersecurity
Cybersecurity practices have also gained prominence in recent years as there is increasing concern that as the maritime industry becomes more reliant on technology, the exposure to cyber-attacks will increase, leading to potential business disruption and financial loss.
In 2017, the IMO Maritime Safety Committee approved various measures intended to enhance maritime security, including adopting a resolution that requires shipowners and operators to incorporate cyber risk management in their ships' safety management systems by January 2021. This was followed by the third edition of BIMCO Guidelines on Cyber Security onboard Ships in 2018, which provides additional guidance for shipping companies in carrying out appropriate risk assessments and suggests appropriate measures.