Adam Hemlock is a partner in Weil's antitrust practice. He represents clients in civil and criminal antitrust investigations and litigations, as well as commercial disputes. He is recognised as a leading antitrust lawyer in a variety of industry publications, including Chambers USA and The Legal 500.
Adam regularly represents clients in criminal antitrust investigations by the US Department of Justice, and has served as lead coordinating counsel for clients under investigation in multiple jurisdictions by other international governmental agencies. Adam also defends clients in cartel class action lawsuits across the US, as well as private antitrust litigation, including disputes regarding exclusivity; bundling and tying; joint ventures; and group boycotts. Additionally, he has substantial experience counseling in the antitrust/IP area, including regarding the antitrust legality of patent pools, standard setting activities, and technology transactions among competitors.
Adam is currently a vice-chair of the cartel and criminal practice committee of the ABA Antitrust Section, and previously served as vice-chair of the IP Committee. He is an adjunct professor at Columbia Law School, where he teaches a class on international antitrust cartels.
1 What kinds of infringement has the antitrust authority been focusing on recently? Have any industry sectors been under particular scrutiny?
The US Department of Justice's (DOJ's) Antitrust Division focuses its criminal enforcement efforts on hardcore cartels involving price-fixing, bid rigging and market allocation. Historically, it has obtained most of its largest fines from foreign-based companies involved in international cartels. The DOJ's enforcement activity has levelled off since the historic levels of criminal fines and penalties in the earlier part of this decade. However, earlier this year, the DOJ announced that it has over 90 pending grand jury investigations, and criminal fine levels should be expected to rise as those investigations reach maturity. 
The DOJ has continued its recent focus on anticompetitive agreements among employers. It has pursued investigations into how companies hire and compensate their employees and the existence of no-poach agreements. For several years now, the DOJ has indicated a willingness to criminally enforce the Sherman Act with respect to naked no-poaching cases when companies agree not to hire away each other's employees. The DOJ's continued efforts in this area have resulted in its intervention in multiple civil no-poach cases to shape the arguments and legal standards in this area. Clients should be cognisant of the DOJ's emphasis on hiring practices particularly as the law, and which types of employment practices are to be considered unlawful on their face, develops. The DOJ has also continued its enforcement efforts on cartels in the freight forwarding industry, the ready mix concrete and cement industries, collusion in online markets, the packaged seafood industry and the electrolytic capacitors industry.
2 What do recent investigations in your jurisdiction teach us?
The DOJ's cartel enforcement efforts are increasingly global in nature owing to the international economy and the DOJ's efforts to coordinate with agencies in other jurisdictions. Its investigations often reach conduct abroad that can impact US markets. To meet the unique challenges of investigating international cartels, the DOJ has pushed for increased cooperation among government enforcers. Just this year, Australia's competition regulator and the US Federal Bureau of Investigation (FBI) committed to a 'memorandum of cooperation' to solidify the relationship between the competition law enforcement agencies in Australia and the United States. Under the new agreement, Australian enforcement bodies can confer with the DOJ, the FBI and other American organisations to locate witnesses sought by Australian regulators.
DOJ officials have also recently urged other foreign competition authorities to go beyond 'soft' commitments to exchange information in overlapping investigations, and to move towards convergence on procedural commitments to due process in resolving and remedying antitrust violations, including closer coordination on and harmonisation of leniency policies. The DOJ also announced its intention to change its own practices to minimise the risk of imposing penalties on corporations that are duplicative of penalties imposed in other jurisdictions for the same conduct. Further, some DOJ officials have also recognised the increasing burdens on companies that seek leniency in international antitrust investigations and how cross-border leniency programme obligations may impact the incentives of companies willing to self-report cross-border cartels. These considerations and other changes proposed by the DOJ can benefit multinational corporates burdened by overlapping investigations in various jurisdictions with varying enforcement procedures and legal standards. In any event, as more and more enforcement regimes adopt leniency programmes, companies must fully understand and evaluate the costs of coordinated leniency applications that span the globe and the burdens of such applications on the ordinary course of business.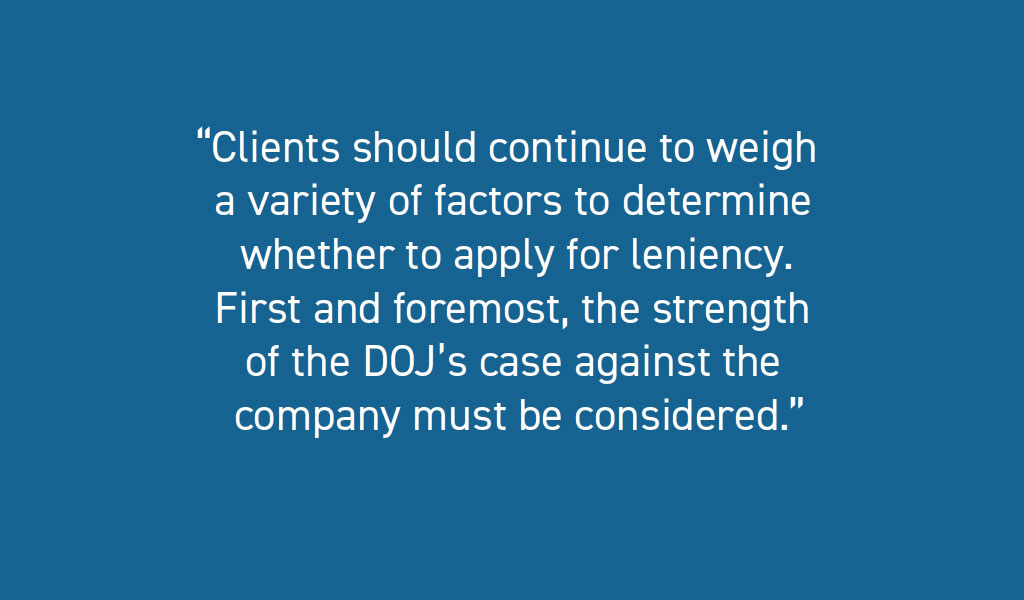 3 How is the leniency system developing, and which factors should clients consider before applying for leniency?
The leniency programme continues to be the cornerstone of the DOJ's enforcement efforts and its primary means of detecting cartel activity. A successful leniency applicant can entirely avoid criminal liability for the reported conduct, as well as benefit from mitigated damages in any follow-on civil private damages suit arising out of the same conduct. The Antitrust Criminal Penalty Enhancement and Reform Act (ACPERA), which protects leniency applicants in private suits, is set to expire in 2020 and will be reconsidered by the United States Congress in the coming year. The law, which is intended to complement the DOJ's leniency programme, allows leniency applicants to pay single damages, rather than treble damages, in civil suits in exchange for cooperation with private plaintiffs. The imminent expiration and reconsideration of the law has sparked debate among stakeholders across the antitrust field about the efficacy of the statute. The DOJ held a roundtable programme with antitrust practitioners and others to examine and better understand how ACPERA operates in practice. The DOJ has recognised that the spectre of civil litigation, and its impact on ongoing criminal investigations, has increasingly impacted the choice of companies to apply for leniency.
In any event, it is unlikely that the leniency programme, a repeatedly recognised asset to the DOJ, will disappear even with continued debate over the ACPERA statute and benefits of the DOJ's leniency programme. Indeed, the DOJ has confirmed that leniency applications continue to be filed consistently across a wide range of industries. As such, clients should continue to weigh a variety of factors to determine whether to apply for leniency. First and foremost, the strength of the DOJ's case against the company must be considered. The applicable statute of limitations, and federal law limiting the DOJ's jurisdiction over foreign conduct, can act as potential full-stop defences to criminal liability, and therefore counsel must promptly evaluate their applicability in each case. This is especially important because, in the United States, being a leniency applicant does not fully protect a company from liability from private lawsuits, such as the purchaser class actions and private state Attorneys General cases that are typically filed against corporates following disclosure of a criminal investigation by the DOJ. This means that a company may potentially avoid civil exposure if it decides not to report its conduct to the DOJ. Another key consideration in whether to seek leniency is whether other companies with knowledge of the sensitive conduct may choose to self-report to, and cooperate with, the DOJ. That is because only one company can enjoy full leniency in the United States, and the benefits to 'second in' cooperators are far less substantial than those for the 'first in' leniency applicant.
4 What means exist in your jurisdiction to speed up or streamline the authority's decision-making, and what are your experiences in this regard?
The pace with which the DOJ moves can be influenced by many factors outside the control of defence counsel or the corporation. Investigations can become a low government priority for any number of reasons and, as a result, at varying stages of the process the government may become less (or more) active in requesting documents, interviewing witnesses, and scheduling meetings. Other factors, such as the pace of cooperation with foreign authorities and the speed with which cooperating corporates and individuals provide assistance to the DOJ's attorneys, can also materially impact the pace of an investigation. In recent comments, DOJ officials have recognised that expediting interventions into civil cases that involve ongoing criminal investigations and staying civil discovery will assist in protecting government investigations.
If it is otherwise helpful to increase the pace of an investigation, there are some things a company can do to ensure that it is not the bottleneck. On the substance of the conduct, that means getting a firm and thorough grasp of the relevant conduct as soon as possible. When responding to a grand jury subpoena, that means understanding the organisation — including its people, documents and data — inside and out. In addition to being prepared for the questions the DOJ's attorneys are likely to ask, it is equally important to be responsive and not to create unnecessary delay by taking too long to get back to them with answers. This can, for example, undermine the company's credibility and cause the DOJ's attorneys, in turn, to slow down or take more aggressive positions. But our typical experience has been that just being responsive and well prepared goes a long way to keep an investigation moving along and maintaining trustworthiness with the agency.
5 Tell us about the authority's most important decisions over the year. What made them so significant?
The DOJ's continued emphasis into no-poach agreements continues to have important implications for the way companies hire and retain their employees. In October 2016, the DOJ Antitrust Division released its 'Antitrust Guidance for Human Resource Professionals.' The manual explained that 'agreements among employers not to recruit certain employees or not to compete on terms of compensation are illegal.' The DOJ then later announced that any unlawful agreements that began after the date of the announcement in the 2016 Guidelines, or that began before but continued after the announcement, could be pursued criminally. While the Division has not yet brought a criminal case challenging a no-poach agreement, officials have said that several are under investigation and acknowledged that some companies have approached the DOJ for leniency in this sector. The DOJ, as noted previously, has also waded into the civil arena in no-poach cases, filing briefs to state that where participants in a labour market are vertically related (eg, franchisor-franchisee), alleged no-poach agreements could conceivably be analysed under the more lenient 'rule of reason' standard.
6 What is the level of judicial review in your jurisdiction? Were there any notable challenges to the authority's decisions in the courts over the past year?
In the United States, cartel violations are investigated by the DOJ and FBI through federal grand juries, which are granted subpoena power to obtain documents and witness testimony. If the DOJ concludes that a violation has occurred, it can negotiate an agreement with the company to plead guilty to a Sherman Act violation and pay a fine. All plea agreements are subject to federal court review and approval.
If a defendant is unwilling to accept a plea agreement, the DOJ must seek an indictment from the grand jury and subsequently prosecute the case to trial in court. At trial, the DOJ bears the burden of proving to a jury, beyond a reasonable doubt, that a violation has occurred. In practice, it is rare for corporate defendants facing cartel claims to go to trial in light of the substantial fine exposure and the reputational implications and stigma associated with a potential criminal conviction. Still, high profile trials continue to occur. For example, the former CEO of Bumble Bee Foods is scheduled for trial this year owing to his alleged role in a price-fixing conspiracy in the packaged seafood industry.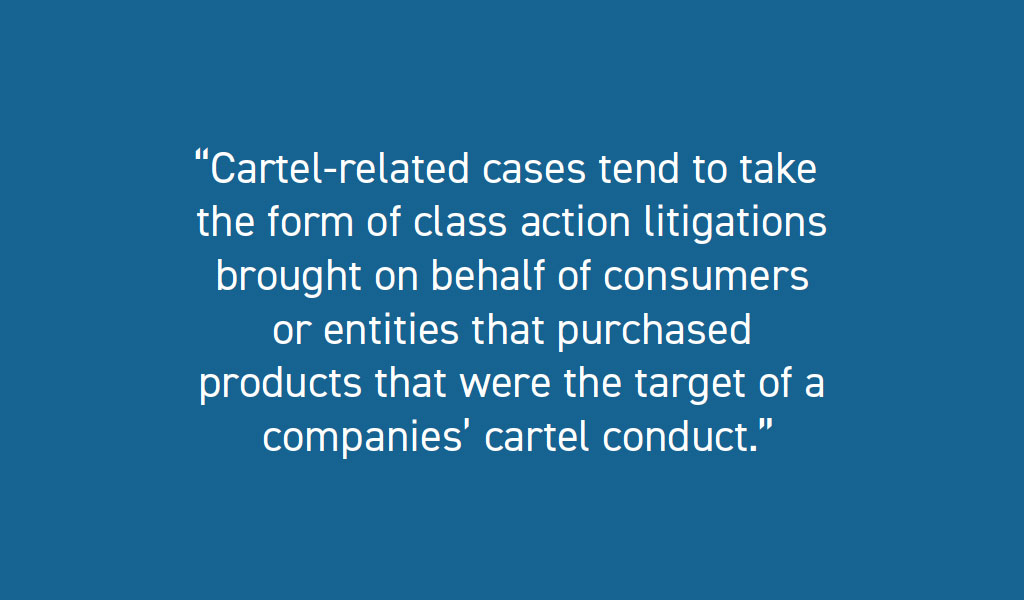 7 How is private cartel enforcement developing in your jurisdiction?
Private damages antitrust litigation in the United States has remained at historically high levels in recent years. Cartel-related cases tend to take the form of class action litigations brought on behalf of consumers or entities that purchased products that were the target of a companies' cartel conduct. Because civil cases, especially large class actions, can take many years to resolve, private cartel litigation can remain very active even in times when government cartel enforcement is relatively inactive.
Most private damages claims that follow a criminal plea will result in a settlement of the claims by the company. The potential exposure on private antitrust damages claims in the United States is very high for three main reasons: (1) any jury award of damages is automatically trebled, by law; (2) each defendant in a cartel case is jointly and severally liable for the total damages caused by the conspiracy; and (3) plaintiffs are entitled to attorney's fees and costs in the event of a judgment in their favour. As a result, settlements can be very large in these cases, often exceeding the size of the criminal fine imposed by the DOJ. Lawsuits filed by state Attorneys General can also add to the cost of private antitrust litigation in the United States, though not by a meaningful amount.
The American jurisprudence on the key legal issues at play in private antitrust litigations — such as standing, injury, class certification — is fairly well settled. Still, the law continues to develop, though it is difficult to describe the trend overall as more defendant-friendly as opposed to plaintiff-friendly. Recent efforts by courts to impose a more rigorous analysis of the requirements for certifying a class action have yet to slow down the pace of new class action complaints. The extent to which the US antitrust laws can reach foreign conduct also remains a somewhat unsettled issue. Finally, heightened pleading requirements that may limit other types of federal litigation do not have a meaningful impact on private antitrust cases brought against corporates that have entered into criminal pleas, which act as prima facie evidence of an antitrust violation in a private action.
8 What developments do you see in antitrust compliance?
Vigorous and effective compliance programmes are the best way to prevent cartel problems before they happen, or otherwise to uncover them as soon as possible so that the company can minimise its criminal and civil litigation risk. Late last year, the DOJ publicly signalled that it is considering whether corporate compliance programmes should impact the Division's view of an appropriate fine in a plea agreement. While the United States Sentencing Guidelines appear to account for the existence of a strong compliance programme as a factor in corporates cartel fines, the DOJ has typically refused to credit such programmes when negotiating plea agreements.
Irrespective of changes the DOJ may make, companies have responded to the large fines and massive civil exposure in the United States by implementing stronger compliance regimes. With the DOJ having brought several massive international cartel investigations for conduct occurring all around the world, large multinational companies in particular have become more vigilant in putting in place worldwide antitrust compliance programmes. This requires implementation of a worldwide infrastructure for training and educating employees, which requires meaningful time, money and human resources. Such programmes are more effective if there is a strong message from senior management and a top-down approach to introducing compliance into the corporate culture. In recent years, large companies that have themselves experienced (or witnessed in their industry) the massive fines and civil litigation costs that can result from antitrust liability in the United States have shown an increased willingness to make the investments necessary to put in place a strong global compliance regime. These efforts should pay dividends in the years to come.
9 What changes do you anticipate to cartel enforcement policy or antitrust rules in the coming year? What effect will this have on clients?
Although high-level individuals in the Antitrust Division have stated that the Division's leniency policy is critical to the success of the DOJ's criminal enforcement programme, many stakeholders in the field differ in opinion over the success of the ACPERA statute. Although leniency applicants have increased year-to-year since 2016, some commentators have expressed concern over the civil exposure and glut of class actions that inevitably follow the outing of a leniency applicant. How the DOJ responds to comments on ACPERA as the statute comes up for renewal will affect the decision of companies to self-report conduct to the DOJ.
The Inside Track
What was the most interesting case you worked on recently?
We represent the largest manufacturer of water treatment chemicals in the United States in various class and private cartel litigations consolidated in the District of New Jersey. The case presents very challenging class certification and damages issues for the plaintiffs in a complex relevant market. The DOJ obtained a plea agreement from only one market participant, yet the plaintiffs have sued eight separate defendants. The case reflects an opportunity to dismiss the notion that a single plea serves as a licence to recover from every competitor with respect to all their sales.
If you could change one thing about the area of cartel enforcement in your jurisdiction, what would it be?
I continue to believe that individual prosecution for cartel behaviour should be further limited to only highly culpable individuals, and that many individual prosecutions are not prudent. This is especially the case with prosecutions of some foreign nationals who may have engaged in their behaviour with limited understanding of US laws and within the context of their domestic business culture. This is not to say that cartel behaviour is excusable – but imposing meaningful jail time on certain individuals may not achieve deterrence, where other means of creating incentives for individual and corporate behaviour might be more effective.
Adam Hemlock adam.hemlock@weil.com
Weil, Gotshal & Manges LLP - New York - www.weil.com