Fay Zhou is a partner and head of Linklaters' competition/antitrust practice in China. Her practice includes advising multinational and Chinese clients on competition law and other regulatory issues, including obtaining merger control clearance for proposed mergers and acquisitions, handling investigations on cartel activities and abuse of dominance, and counselling clients on competition law compliance. Fay is frequently consulted by Chinese enforcement authorities on frontier issues and legislative initiatives. Fay's recent awards include, Competition Lawyer of the Year 2017 by China Law and Practice, 40 under 40 by Global Competition Review and 100 Women in Antitrust by Global Competition Review.
Xi Liao is a counsel of the Linklaters Zhao Sheng joint operation and head of the Zhao Sheng competition and antitrust team. He represents multinational companies, Chinese SOEs and domestic firms on various aspects of competition and antitrust law, including Chinese and multi-jurisdictional merger filings, investigations and compliance programmes, and behavioural counselling. Xi was listed by Who's Who Legal in the survey of Future Leaders in 2017–2019 and shortlisted for Rising Star – Competition Law by China Law and Practice in recent years.
1 What kinds of infringement has the antitrust authority been focusing on recently? Have any industry sectors been under particular scrutiny?
Following the institutional reform plan announced in March 2018, the State Administration for Market Regulation (SAMR) is now the unified antitrust enforcement agency that is responsible for cartel enforcement under China's Anti-Monopoly Law (AML). SAMR has taken over jurisdiction over cartels from the National Development and Reform Commission (NDRC) and the State Administration for Industry and Commerce (SAIC). The decade-long distinction between price-related and non-price-related cartels is no longer existent under the new regime.
Starting from 2013, the legacy enforcement agencies NDRC and SAIC ramped up enforcement and vigorously pursued cartelists in a wide range of consumer-facing and industrial materials and services sectors. NDRC's enforcement actions involved, among others, LCD panel, jewellery, insurance, concrete, automobile, shipping, ports, pharmaceutical, medical devices, chemicals and paper. In the meantime, SAIC focused its enforcement efforts on public utility sectors (eg, water, electricity, gas, heat and telecommunications). NDRC and SAIC both imposed sanctions on diverse companies, including multinational, state-owned and domestic private companies. The types of cartels targeted are predominantly hardcore restrictions (ie, price-fixing, market allocation and output restriction) and, to a lesser extent, joint boycotting.
Cartels have remained at the top of SAMR's enforcement priorities since its formation. Enforcement priority areas are anticipated to include sectors important to economic development and relating to the public's livelihood, such as healthcare, technology, intellectual property-heavy sectors and automobile (following active enforcement activities over the past years). In particular, over the past year, SAMR has been actively pursuing anticompetitive conducts in relation to active pharmaceutical ingredients (APIs), which concern drug safety and patient affordability and attract wide attention from the public.
2 What do recent investigations in your jurisdiction teach us?
A notable feature of cartel enforcement in China is the comparatively speedy investigation and decision-making process. While some cases involving international cartels have reportedly lasted several years, most cases have had final decisions announced within a few months of the launch of the formal investigation.
There are other noteworthy features of the cartel investigation process in China. Although the authority has confirmed that parties under investigation have a formal right to engage external counsel and generally allows lawyers to participate in investigations, attorney-client privilege protections are not available. As a result, communications with external counsel are not protected from disclosure. Information considered privileged in other jurisdictions could, in principle, be requested by the authority in China. Moreover, there is also no formal mechanism for limiting the scope of investigation. The AML provides that parties under investigation have the right to be heard, but in practice they may only be given a limited window to put forward a defence.
Companies engaging in anticompetitive conduct are subject to an increased risk of detection, as investigations may stem from various sources both inside and outside China. As in other jurisdictions, leniency applications and complaints from stakeholders (eg, competitors, customers and suppliers) are the most important sources of investigations. In addition, SAMR conducts broader sector inquiries aimed at evaluating whether the sectors are functioning properly and whether companies are engaging in anticompetitive practice. In such sector inquiries, the authority first sends generic questionnaires to a variety of market players and subsequently targets certain companies for follow-up inquiries or even formal investigations. For example, it is understood that in 2014 and 2016 SAMR's predecessor NDRC issued questionnaires to dozens of pharmaceutical and medical device suppliers, requesting detailed information such as corporate details, sales model and policies, pricing, patents and internal documents.
Cartel investigations normally consist of dawn raids, interviews with the relevant people, information requests and evidence collection, notice of alleged infringements and proposed penalties, hearing (if any) and defence, and reaching a decision. In cases involving international cartels, the authority may also seek to cooperate with its counterparts in other jurisdictions by coordinating investigations and exchanging information and views.
Through active enforcement, SAMR has grown to be confident and its antitrust jurisprudence and investigative skills have become increasingly sophisticated. In particular, SAMR has developed task forces to carry out dawn raids and follow-up investigations, including a range of specialised experts in law, technology and accounting. They have also been using increasingly high-tech investigative techniques, including forensic IT techniques, to quickly recover deleted emails. In addition, against the background that it is becoming commonplace that business communications take place on WeChat (a popular messaging application), investigations have increasingly targeted the group chat record of WeChat as evidence of unlawful collusion between competitors.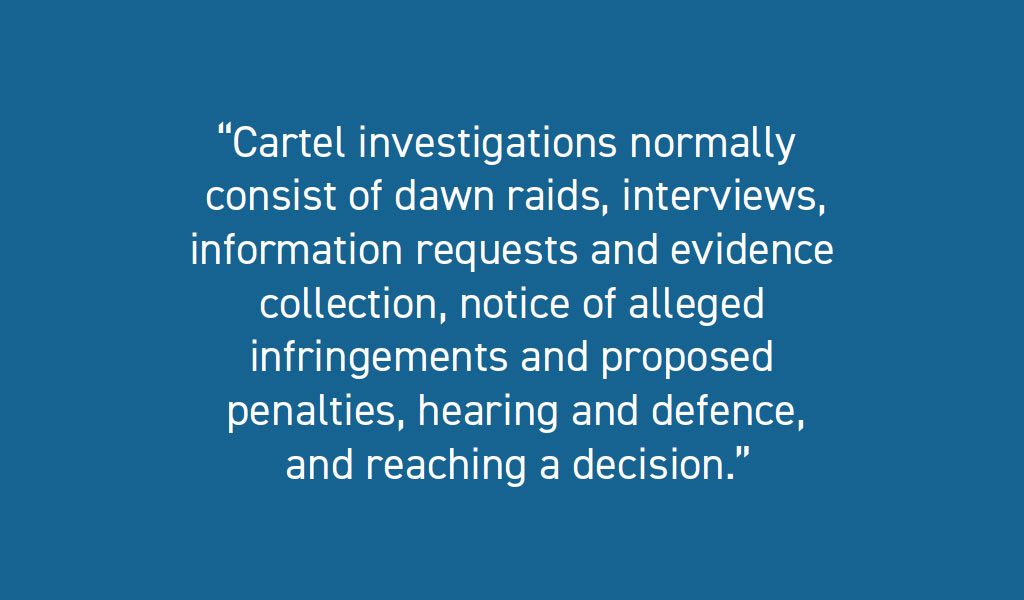 3 How is the leniency system developing, and which factors should clients consider before applying for leniency?
The AML and implementing regulations lay out a general framework for companies participating in a cartel to apply for leniency. The draft Guidelines on Application of Leniency Regime in Horizontal Monopoly Agreement Cases (the Draft Leniency Guidelines), which SAMR and its predecessor NDRC have mulled over in the past few years, seek to provide further guidance on a number of key issues.
According to the Draft Leniency Guidelines, a leniency application can be made to the authorities before or after an investigation is officially launched. The applicant should submit a report with details about the cartel arrangements and provide important evidence in the case. 'Important evidence' refers to evidence that is not yet known to the public but is sufficient for the authorities to launch an investigation, or, if an investigation has already been launched, evidence that can add significant value to the determination of the cartel conduct.
Importantly, the Draft Leniency Guidelines provide that only a maximum of three firms can be granted leniency in the same case, but the authorities have discretion to grant leniency to additional applicants in complicated cases where many undertakings are involved and the applicants provide different but important evidence. The authorities will determine the chronological order of multiple leniency applications and inform each applicant of its position. When an applicant fails to fulfil its obligations mentioned above, it can be moved down in the queue or even disqualified altogether.
The first applicant is entitled to full immunity if the application is made before the investigation is launched, and will otherwise receive a fine reduction of at least 80 per cent. The second applicant will receive a partial immunity with credit for a reduction of 30 per cent to 50 per cent of the fine. The third and subsequent applicants (if any) will receive reductions of no more than 30 per cent of the fine.
Since leniency applicants with a lower ranking are entitled to lesser immunity or even ineligible for immunity altogether, the timing of lodging the application is critical and a company should promptly reach out to the authority once it has decided to apply for leniency. Further, in the case of international cartels, companies also need to carefully coordinate the strategies before the authorities and the timing of application in the relevant jurisdictions.
As detailed below, SAMR is understood to be working on the Draft Leniency Guidelines. It is yet to be seen how the above proposed leniency mechanisms and rules may be refined in the final version.
4 What means exist in your jurisdiction to speed up or streamline the authority's decision-making, and what are your experiences in this regard?
Compared with vertical restraints and abuse of market dominance, hardcore cartels (eg, price-fixing, market allocation and output restriction) are widely considered to more anticompetitive and thus are subject to greater scrutiny. For this reason, the draft Guidelines for Business Operators' Commitments in Anti-Monopoly Cases (the Draft Commitment Guidelines) propose that undertakings engaging in hardcore cartels are not entitled to offer commitments and apply for suspension of investigation. However, with that said, in some investigations into alleged arrangements between competitors, it appeared that the authorities suspended the investigations following the commitments proposed by the companies under investigation. How the final version of Commitment Guidelines will offer more clarify in this aspect will be noteworthy.
Companies may seek to expedite the decision-making process by fully cooperating with the authorities. More specifically, a company under investigation may proactively engage with the authority and swiftly respond to the authority's requests.
5 Tell us about the authority's most important decisions over the year. What made them so significant?
There is a significant recent development that goes beyond the cartel theory of harm, and that will have a far-reaching impact on all infringements of conduct rules (including vertical monopoly agreements and abuse of market dominance) – SAMR is increasingly ramping up penalties by way of widening the fine calculation base and confiscation of illegal gains.
First, SAMR is increasingly calculating fines based on the infringing company's total turnover instead of relevant (affected) turnover. China, like many other jurisdictions, calculates antitrust fines based on the infringing party's turnover. The AML broadly provides that an anticompetitive agreement or abuse of a dominance conduct is subject to a fine equivalent to 1 per cent to 10 per cent of the turnover of the infringing party in the preceding fiscal year. Nevertheless, so far there has been no clear guidance on the scope of 'turnover'. In previous cases, SAMR and its predecessors almost always based antitrust fines on the infringing party's relevant turnover (ie, the turnover generated from the relevant products within the geographic scope that was affected by the infringing conduct).
However, a more expansive approach was adopted in several recently published cases (including the glacial acetic acid cartel case and the chlorpheniramine maleate API abuse case), where the fines appeared to have been calculated based on each infringing company's 'turnover in the preceding year'. A relevant public announcement made by one infringing company appears to affirm that the base turnover was the infringing company's total turnover rather than its affected or relevant turnover. Similarly, it was reported that SAMR is currently investigating China Mobile for alleged abuse of market dominance with respect to the sales of 4G mobile phones, and could levy fines calculated on the basis of the telecoms giant's total turnover.
Another indication of more severe penalties is that illegal gains were disgorged over and above the imposition of fines in two recent cases (against suppliers of glacial acetic acid and chlorpheniramine maleate API, respectively), while previously the norm for NDRC and SAIC investigations was that only fines were levied. The cumulative use of fines and confiscating illegal gains in these two cases demonstrates SAMR's hardened stance in curbing cartels and other anticompetitive conducts.
It is worth watching whether SAMR will adopt the 'total turnover' approach and confiscate illegal gains on a case-by-case basis or across the board in future enforcement activities. If this indeed reflects a shifting paradigm, soaring penalties are expected to provide greater deterrence against contraventions and have huge impact on companies' risk assessment and response strategies in compliance programmes and investigations.
6 What is the level of judicial review in your jurisdiction? Were there any notable challenges to the authority's decisions in the courts over the past year?
Cartel enforcement in China operates under an inquisitorial rather than adversarial system. In other words, SAMR, as the administrative enforcement authority, investigates an alleged conduct and renders a decision on whether it indeed amounts to an infringement. While, under the AML, SAMR's decisions are appealable in court, in practice we have rarely seen undertakings challenging a penalty decision on cartels. The lack of appeals against administrative decisions against cartels could be explained by the various challenges and uncertainty a potential plaintiff could face. From a substantive perspective, cartels are treated as 'per se' unlawful (with very limited possibility of exemption), and thus it poses a significant challenge for a company to defend a cartel. From a procedural perspective, the authorities have relatively broad investigatory powers and discretion during the investigation and decision-making process under the relevant regulations, which sets a high bar for companies under investigation to challenge a decision based on procedural flaws.
In a rare case in 2018, the Beijing Second Intermediate People's Court upheld the decision of the court of first instance, which in turn ruled in favour of the provincial antitrust enforcement agency in Anhui province in relation to its penalty decisions against three cartelists in 2016. The Anhui enforcement authority found that the three companies had acted in concert to raise prices and partition the market for payment ciphers. Notably, the three parties argued that they raised prices and allocated the market at the request of the local banking regulator. The enforcement authority rebutted such defence, which was affirmed by the court of first instance and the appellate court. The appellate court held that whether the local banking regulator had abused administrative power to organise a cartel among the three infringing companies was a separate issue, and should not affect whether the companies' concerted action constituted a cartel or alleviate their liabilities.
In the same way, the consultation draft of the Provisions on the Prohibition of Monopoly Agreements proposes that, where a company engages in monopoly agreements as a result of the instruction from a local government agency, it would still be liable for the anticompetitive conduct. If a company can prove that it is not culpable, it should be entitled to mitigated or reduced penalties, but a full exemption is not available.
The above approach may put companies between a rock and a hard place. A company would end up either (1) not complying with the instruction, which may lead to other unfavourable consequences; or (2) following the instruction but contravening the AML (although a mitigated or reduced antitrust penalty may apply). Presumably, a company would only be free of liability if it refuses to follow the instruction and does not engage in the anticompetitive conduct at all. It is understood that this proposed rule is intended to grow companies' compliance awareness and to prevent companies from taking advantage of government mandates to facilitate anticompetitive conduct, and in the meantime, to encourage companies to engage in timely communications with the antitrust enforcement authorities.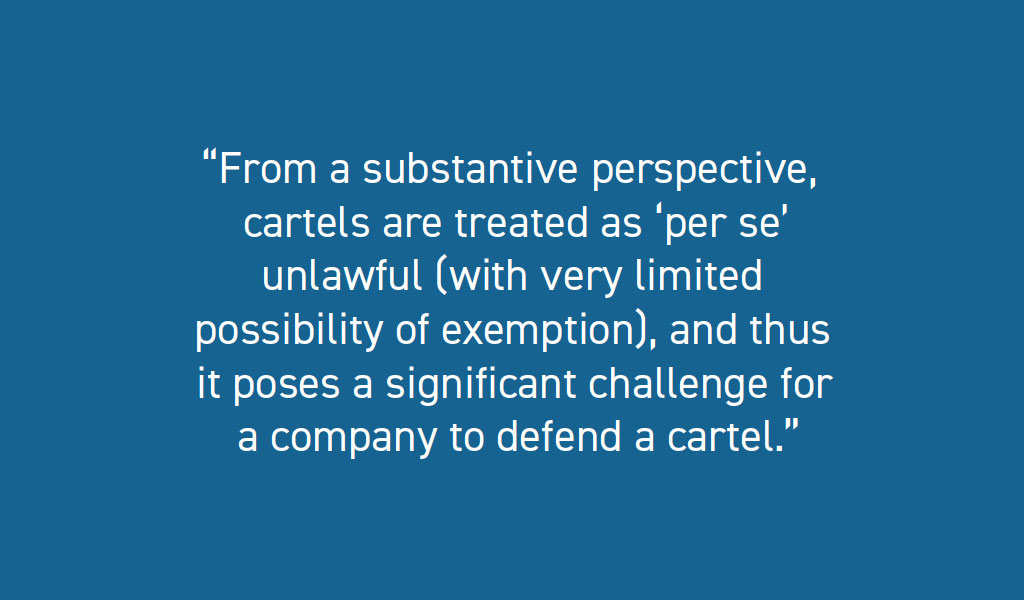 7 How is private cartel enforcement developing in your jurisdiction?
A notable feature of civil litigation involving cartels is that the plaintiff does not need to establish that the alleged cartel arrangement is restrictive of competition; rather, it is up to the defendant to produce evidence to prove that it is eligible for one of the limited exemptions provided under article 15 of the AML. However, there is an extremely high evidentiary bar to justify that a cartel should be exempt.
There is a paucity of lawsuits launched before the court by a private claimant directly without a prior administrative decision. This may be because cartels are increasingly in disguised forms, and it could be very difficult for a third entity (not including the participants themselves) to uncover a cartel. In a rare case of this kind, Lou Binglin v Beijing Sea Food Wholesale Trade Association (2014), Lou Binglin was a member of the trade association and he claimed that the trade association had orchestrated a cartel by fixing and changing the members' prices for scallops. The appellate court, Beijing Higher People's Court, found that the trade association had indeed dictated the price and further formulated incentive and penalty measures to facilitate implementation.
There are also rare precedents where a private claimant has brought a follow-on action against cartel participants after the NDRC or SAIC has imposed a penalty. To succeed in a follow-on damage claim, the plaintiff needs to not only establish the causal link between its losses and the defendant's collusive behaviour, but also substantiate and quantify the losses (eg, what the price would have been in the market absent the cartel). There is also a lack of detailed rules on the private plaintiff's right to gain access to the administrative authorities' file.
8 What developments do you see in antitrust compliance?
Multinational companies have increasingly realised that China's cartel enforcement has unique features in both substance and procedure, which warrants particular attention and a tailored approach. When designing and implementing compliance programmes for China, multinational companies also have a growing awareness that that their global antitrust compliance policy should not be simply transplanted to the China context without necessary adaption.
We share the view that effective antitrust compliance guidelines should be tailored to reflect the characteristics of China's cartel enforcement. For example, on substance, the guidelines ought to define clear boundaries for employees when attending trade association activities. In China, industry associations historically were quasi-governmental entities and nowadays still play an important role in many sectors. In cartel enforcement over the past years, there have been a number of occasions where collusion between competitors was found to have been conducted under the auspices of industry associations. Additionally, the guidelines should highlight to employees the risk of inadvertently engaging in inappropriate coordination and information exchange with competition via WeChat, an increasingly commonplace channel for business communications. As regards how to respond to investigations, the guidelines should remind employees of the lack of legal privilege protection or a clearly defined scope of investigation at the time of at the initial stage.
9 What changes do you anticipate to cartel enforcement policy or antitrust rules in the coming year? What effect will this have on clients?
As the SAMR integration of antitrust enforcement power has completed at the central level and is nearing an end at the local level, the coming year is expected to see robust legislative activities. To meet the pressing need for guidance for the new agency's enforcement activities, the relevant regulations and guidelines of three legacy enforcement agencies are being streamlined and updated. SAMR has published three sets of regulations for public comment, including one covering monopoly agreements. These draft regulations seek to codify settled views and practices and propose new rules, and are expected to be finalised during the course of 2019.
In addition, SAMR is anticipated to continue to push forward the promulgation of the antitrust enforcement guidelines that have been under development over the past few years, which aim to provide further guidance relating to intellectual property, the automotive sector, leniency, settlement, exemptions and fine calculation. In relation to this, SAMR, in all likelihood, will continue to work on the Draft Leniency Guidelines (see above), building on the past enforcement practices and comments provided by various stakeholders. These antitrust enforcement guidelines will provide more clarity on key aspects of the cartel enforcement procedure, including leniency applications, liability exemptions and calculation of fines and illegal gains, as well as substantive guidance on cartel enforcement in the automotive sector and the intellectual property context. Once enacted, these new rules will continue to shape the cartel enforcement and compliance landscape in China.
Multinational companies are advised to closely follow the developments, carefully examine their business practices, thoroughly assess potential risks and take necessary remedial and precautional actions.
The Inside Track
What was the most interesting case you worked on recently?
We have assisted clients in the shipping sector in responding to multiple investigations alleging potential cartel activities. The investigations involved the interplay of laws and applicable exemptions in China and other major antitrust jurisdictions. In addition, proceedings and liabilities of different natures (civil and criminal) are intertwined. The work was both interesting and challenging as it required us to provide highly strategic advice considering a range of options during the investigations to secure the best outcome for the clients.
If you could change one thing about the area of cartel enforcement in your jurisdiction, what would it be?
It would be a welcome development if a company under investigation were given access to SAMR's files. It is important for a company and its counsel to have an opportunity to access the materials, in sufficient detail, based on which the authorities pursue the case. Only with the access to such files will the company be able to properly understand the facts and evidence underlying the authority's allegations and effectively exercise its right of defence.
Fay Zhou fay.zhou@linklaters.com
Linklaters - Beijing - www.linklaters.com
Xi Liao xi.liao@linklaterszs.com
Linklaters Zhao Sheng - Shanghai - www.zhaoshenglegal.com