Geert Goeteyn, a partner in Shearman & Sterling's Brussels office, advises on all areas of EU competition and merger law. He is qualified to practise law in Belgium, as well as in England and Wales, and he holds an LLM in European law. Geert advises clients on complex merger cases, cartel-related issues and abuse of dominance cases.
John F Cove, Jr, a former trial attorney with the Antitrust Division of the United States Department of Justice, is a partner in Shearman & Sterling's San Francisco office. John's practice focuses on representing clients in price-fixing, boycott and monopolisation cases, direct and indirect purchaser class actions, and unfair competition actions in US federal and state courts. He has also represented clients in federal grand jury investigations of alleged cartel activity and other criminal offences, in pre-merger reviews before federal and state antitrust authorities, and in investigations and proceedings by competition authorities outside the US.
Introduction
Vigorous cartel enforcement remains the focus of both the US and EU antitrust authorities. However, while both authorities are determined to hold cartel participants to account, there is a clear disparity of view between EU and US law on the extent to which parent companies that are not themselves involved in the cartel, can nevertheless be held liable for cartel behaviour of their subsidiaries.
The US treats different legal entities even within the same corporate group as distinct for the purposes of antitrust liability. In accordance with the general position in the Bestfoods (1998) case, a parent company is generally not liable for the conduct of its subsidiaries unless certain limited exceptions (such as fraudulent conduct justifying a piercing of the corporate veil or alter ego liability) are applicable. The EU, by contrast, uses the legal concepts of 'single undertaking' and 'single economic entity' (SEE) to presumptively establish parental liability for a subsidiary's antitrust infringement under certain circumstances. The general difficulty in rebutting such presumption, together with the European Union Court of Justice's (CJEU) findings in its April 2017 Akzo Nobel ruling (Akzo Nobel II), means the approach to parental liability for antitrust infringements at the EU level is excessively broad, particularly when compared with the US regime.
The conflicting approaches between the EU and US regimes also affect the predictability for companies faced with multi-jurisdictional antitrust investigations. This updated article will discuss the differing approaches to parental liability across the EU and US, before noting the practical considerations for companies to bear in mind as a result when faced with international antitrust investigations.
Parental liability in the EU
General concepts
Liability for infringements of article 101 of the Treaty on the Functioning of the European Union focuses on the concept of 'undertaking', requiring that all unlawful agreements 'between undertakings' fall under such provision. Contrary to the US approach, where there is no distinction between a legal entity and undertaking, in EU antitrust law the concept of 'undertaking' is a distinct legal construct and is defined by reference to an entity's economic activity, rather than its legal status under national, corporate or fiscal law. Therefore, under EU law, multiple corporate entities may be considered to belong to the same corporate group to form an SEE, and thus a single undertaking, 'if [they] form an economic unit within which the subsidiary has no real freedom to determine its course of action on the market'.
On this basis, the CJEU has held in particular that 'the parent company and its subsidiary form a single economic unit and therefore form a single undertaking'. It is within this context that the issue of parental liability under EU law arises. According to EU law, even if it did not participate itself in the infringement in question, the ultimate parent of a corporate group may be held liable for it where it can be considered to be able to exert decisive influence over the conduct of its subsidiary directly involved in the infringement.
Until recently, the EU concept of undertaking and parental liability had been assessed within the context of public enforcement of EU competition law (private enforcement being enforced at the level of each member state). However, in the Skanska case earlier this year, the CJEU harmonised the concept of 'undertaking' and ruled that the concept cannot have a different scope with regard to the imposition of fines by the Commission as compared with actions for damages. The Skanska case means that a member state court ruling on private damages claims deriving from anticompetitive conduct must apply the EU concept of undertaking in the same way as for public enforcement of competition law, irrespective of its national law on liability. Responsibility for both private and public enforcement of competition law is therefore attributed to the highest possible level within the corporate chain.
Application in practice
The key question to determine for the purposes of identifying parental liability in EU antitrust law is therefore when a parent company and its subsidiary can be found to form an SEE, and therefore a single undertaking for the purposes of EU antitrust law, such that the former can be liable for the conduct of the latter.
The departure between the EU and US approaches started in the Stora case (2000). The CJEU here took the same approach as in US law, holding that the mere ownership of a subsidiary is not sufficient to impose parental liability for that subsidiary's wrongdoing. However, the CJEU also established that a parent company of a wholly owned subsidiary is presumed to exercise decisive influence over the commercial policy of its subsidiary, and that such influence, among other circumstances, is what determines the existence of parental liability.
The notion of 'decisive influence' is therefore a determinative factor in identifying an SEE forming a single undertaking and thus a parent company's liability. Case law following Stora has clarified this notion and the elements the Commission must demonstrate to create a rebuttable presumption of parental liability. However, despite the rebuttable nature of such presumption, few have escaped liability by successfully rebutting it in practice.
Decisive influence is generally identifiable where a subsidiary does 'not decide independently upon its own conduct on the market, but carries out, in all material respects, the instructions given to it by the parent company, having regard in particular to the economic, organizational, and legal links between those two legal entities'. In its 2009 case Akzo Nobel I, the CJEU went further and established that such decisive influence can be presumed where the parent company wholly owns the subsidiary: 'it is sufficient for the Commission to prove that the subsidiary is wholly owned by the parent company in order to presume that the parent exercises a decisive influence over the commercial policy of the subsidiary'. By relying upon such presumption, the Commission (conveniently) need not prove that decisive influence has actually been exercised by the parent entity over a subsidiary before establishing such parent entity's liability.
Following the establishment of this presumption in Akzo Nobel I, case law has continued to significantly extend the CJEU's approach. The same presumption applies even where an entity is almost wholly owned, or where the parent company is an institutional investor. In Goldman Sachs (2008), the General Court (GC) confirmed that the presumption could also apply to financial investors, such as investment banks or private equity companies, if they hold more than a 'pure financial investment'. In this case, Goldman Sachs owned less than a 100 per cent shareholding but was presumed to have exerted strategic influence over its subsidiary's market conduct by exercising voting rights regarding strategic decisions such as the appointment of top management and the approval of business and management plans. On that basis, the GC concluded that Goldman Sachs was in a similar position to that of a sole owner and was consequently held liable for the alleged cartel activities of the portfolio company in which it had invested.
The presumption also allows for a corporation to be liable for conducts of other entities within a corporate family, even where there is no legal ownership: on this basis, the CJEU in Knauf Gips (2010) held that 'the legal structure of a group is not decisive where that structure does not reflect the effective functioning and actual organisation of the group'.
In cases involving 50:50 joint ventures (JVs), neither parent is presumed to actually exercise decisive influence. It is therefore incumbent on the Commission to demonstrate the parent companies' liability by showing that the subsidiary did not act independently of its parent. As a result, a JV may be considered one undertaking, comprising the JV entity, with each of the parent companies actually exercising decisive influence over such entity.
Finally, in Akzo Nobel II the CJEU considerably extended the concept of parental liability in 2017 by holding a parent company liable for the antitrust law breaches of its subsidiaries, despite the fact that the Commission was time-barred from fining certain of the subsidiaries directly involved. In other words, although liability of a parent company is being understood as ultimately derived from the conduct of its subsidiaries, the CJEU's decision in this case effectively prevented the parent company from benefiting from its subsidiaries' defences.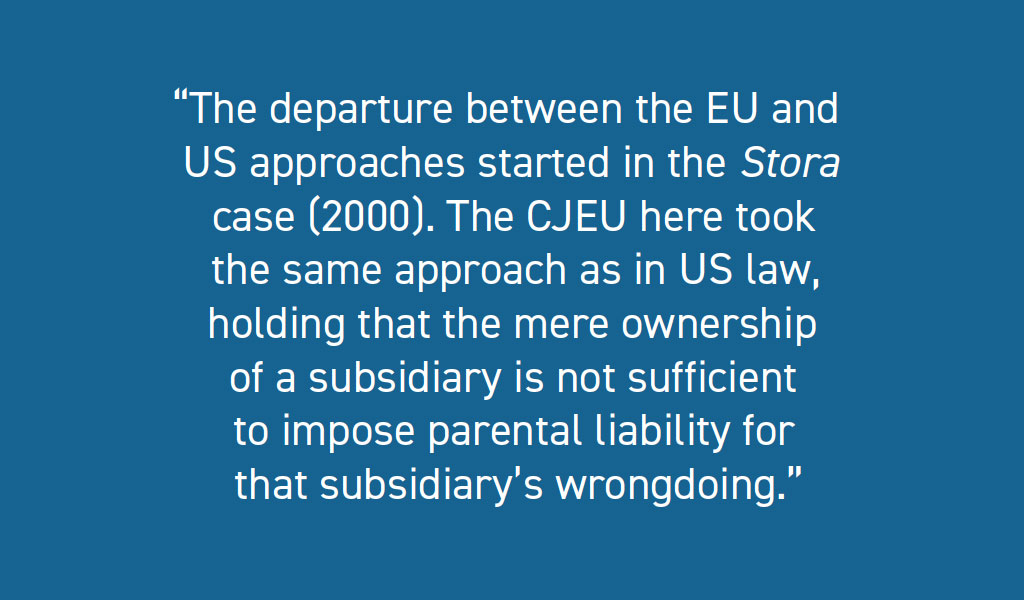 Criticisms of the EU approach
There have been numerous criticisms of the continuous broadening of the concept of parental liability for EU antitrust law infringements. In his 2010 opinion in ArcelorMittal, for example, Advocate-General Bot condemned the application of the presumption of parental liability as amounting to a breach of a parent entity's rights of defence. In particular, he noted that a mere 100 per cent shareholding of a subsidiary cannot 'in itself presume the actual exercise of a power to issue instructions constituting connivance in the commission of the infringement', but that the Commission must 'produce further evidence capable of showing that the subsidiary had no autonomy, in order to preserve the fundamental rights recognised to undertakings' (ie, their rights of defence and presumption of innocence, the former in particular being 'unquestionably [affected]' by the requirement for parent companies to rebut the presumption of liability). As a result, the Commission would be encouraged to 'undertake, in each case, a nuanced assessment of the economic, legal and organisational links between the parent company and its subsidiary' such that 'automatic' establishment of parental liability on the basis of shareholdings alone can be avoided.
Such criticisms appear all the more relevant following AkzoNobel II. In our opinion, the position of the Commission as upheld by the CJEU in this case may be regarded as an unduly broad expansion of the parental liability concept in EU antitrust law, in particular as it arguably allows the Commission to circumvent the rules that time-bar it from imposing fines. Even if, theoretically, the judgment's suggestion that the existence of individual factors that may justify assessing a parent entity's liability separately to that of its subsidiary may be acceptable, the CJEU gave no further discussion on the specific factors that may apply in any given case. Conversely, it would seem more sensible to take the approach suggested by Advocate-General Wahl in Akzo Nobel II (not followed by the CJEU), namely that, insofar as a parent entity's liability is directly derived from the conduct of its subsidiary, a parent should be able to rely on the fact that its subsidiary benefits from a time-bar defence. In this way, a parent's liability should go beyond that of its subsidiaries if, and only if, the parent is itself directly involved in an infringement. Such an approach would not only be objectively justifiable, but would also appear in line with consistent previous EU case law that a parent's liability derives from the conduct of its subsidiary.
The above views suggest that more should be done to rein in the EU antitrust law approach to parent company liability, or at least provide further clarity on when the broadened approach outlined in such ruling would be justified. Inspiration in this respect may be drawn from practices in certain member states, which have traditionally been reluctant to take an (overly) broad approach to parental liability in their own antitrust laws. For example, the French courts impose a stricter standard to be satisfied for a presumption of parental liability, requiring more concrete evidence of decisive influence even in situations of 100 per cent-ownership (thereby more akin to the Advocate-General Bot approach in ArcelorMittal discussed above). Such an approach would ensure that a greater balance is struck between deterring antitrust infringements through the imposition of fines on entire corporate groups, and ensuring that such fines are only imposed where justified in light of the parties' conduct and the relationship between parents and subsidiaries. The need to strike a correct balance is even more pressing in the light of the CJEU's decision in the Skanska case, which effectively extended the application of the concept of parental liability to private damages actions.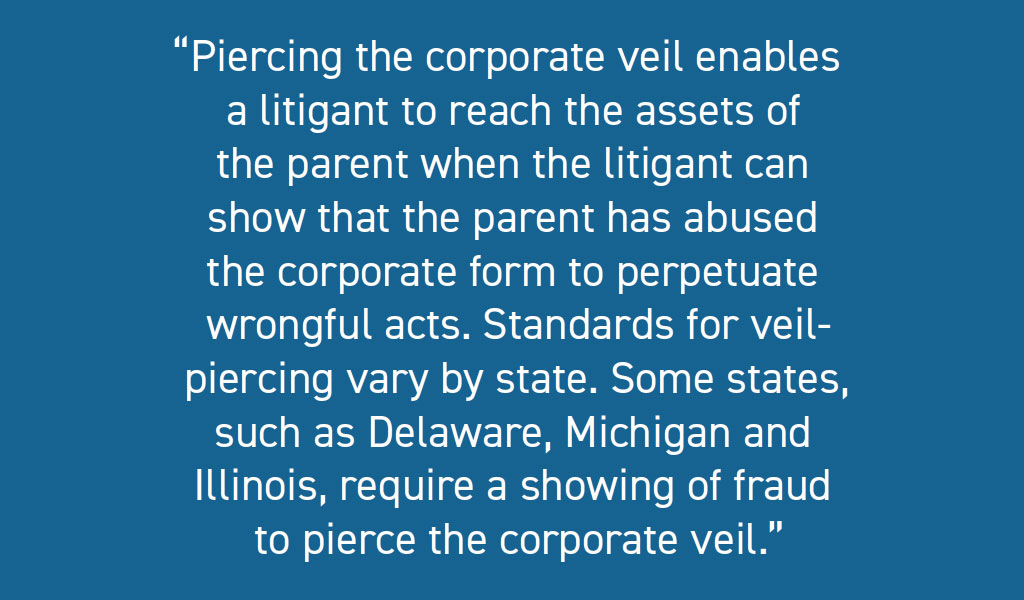 Parental liability in the US
The principle of corporate separateness
United States v Bestfoods remains the leading case on parental liability law in the US. In Bestfoods, the US Supreme Court held that it is a 'general principle of corporate law deeply "ingrained in our economic and legal systems" that a parent company is not liable for the acts of its subsidiaries'. The Court held that a corporation and its shareholders are 'generally to be treated as separate entities', even when the parent entity wholly owns the subsidiary, or has the power to appoint directors of the subsidiary or a general supervisory power over the subsidiary's business operations. The Court recognised that 'directors and officers holding positions with a parent and its subsidiary can and do "change hats" to represent the corporations separately', despite their common ownership. Thus, a parent corporation cannot be held liable for an antitrust violation of its subsidiary based solely on its ownership interest.
Exceptions
There are, however, exceptions to this general principle, most notably, the distinct but related doctrines of piercing the corporate veil and alter ego liability.
Piercing the corporate veil enables a litigant to reach the assets of the parent when the litigant can show that the parent has abused the corporate form to perpetuate wrongful acts. Standards for veil-piercing vary by state. Some states, such as Delaware, Michigan and Illinois, require a showing of fraud to pierce the corporate veil. In other jurisdictions, such as West Virginia and Ohio, a plaintiff must demonstrate: (1) that the parent and subsidiary shared a 'unity of interest' to such an extent that the individuality of each corporation has ceased; and (2) that failing to disregard the separate identities of different corporations would result in fraud or injustice. Some courts will also consider the financial arrangement between the two corporations (see, for example, Joslyn Mfg Co v TL James & Co, 1990). Delaware courts are particularly reluctant to pierce the corporate veil; as the Delaware Court of Chancery explained, 'Delaware public policy does not lightly disregard the separate legal existence of corporations', and will only disregard an entity's separate legal existence upon a finding of fraud, contravention of law or other public wrong (see MicroStrategy Inc v Acacia Research Corp, 2010).
In evaluating a corporate parent's liability under certain federal statutes, some courts have required a lesser showing, holding that a parent may be held liable as an 'operator' even if the high standards of veil piercing are not established. Even in these cases, more than 'simple ownership and the general authority or control that comes with it' must be shown. At a minimum, the plaintiff must show 'active involvement' in the activities of the subsidiary that are the subject of the controversy (see Certain Underwriters at Lloyd's, London v St Joe Minerals Corp, 1996).
Unlike veil piercing, an alter ego determination does not make one entity vicariously liable for the acts of another. Rather, it results in disregarding the separateness of the entities as a legal fiction, treating them as one and the same entity. To establish an alter ego claim, a plaintiff must show that there was such a unity of interest and control between the parent and the subsidiary that they cannot as a factual matter be considered two separate entities (Rohmer Assoc Inc v Rohmer, 2007). This analysis can be intensely fact-bound. In In re Chocolate Confectionary Antitrust Litigation (2015), for example, the court conducted an in-depth alter ego analysis of the intra-enterprise relationships in three different families of corporate defendants. With regard to one family, the court concluded that the corporate parent was subject to potential liability for the actions of its subsidiary under an alter ego theory, but that the plaintiffs had failed to make the required showing as to the other two corporate parent defendants, based largely on the lesser degree of control that those parents exercised over both their subsidiaries' operations and intra-enterprise financial transactions such as dividends.
Of course, a parent company may be directly liable for its own participation in a cartel. To state a claim against parent corporations for direct liability, plaintiffs must set forth facts establishing the parent corporation's actual participation in the alleged conspiracy. In McCray v Fid Nat Title Ins Co (2012), for example, the US Court of Appeals for the Third Circuit affirmed a lower court's dismissal of all antitrust claims against parent defendants because plaintiffs failed to show that the parent entered into agreements, or that their subsidiaries were the parents' alter egos. Similarly, in In re Pressure Sensitive Labelstock Antitrust Litig (2005), the US District Court for the Middle District of Pennsylvania dismissed all claims against parent defendants, even though the court found sufficient allegations that their subsidiaries conspired to fix prices, because plaintiffs failed to demonstrate parents' direct participation in the conspiracy.
Copperweld issues
As a matter of US antitrust law, a corporate subsidiary cannot conspire with its parent, because they are part of a single enterprise (similar to the EU's SEE concept, though separate to the question of if and when a parent company can be held liable for anticompetitive behaviour of a subsidiary) and a single enterprise cannot conspire with itself. As the US Supreme Court explained in interpreting section 1 of the Sherman Act in Copperweld Corp v Independence Tube Corp (1984), the coordinated activity of a parent and its wholly owned subsidiary must be viewed as that of a 'single enterprise' because a parent and its subsidiary have 'a complete unity of interest'. Because section 1 of the Sherman Act only reaches unreasonable restraints of trade effected by a 'contract, combination…or conspiracy' between separate entities, it does not apply to conduct that is wholly unilateral.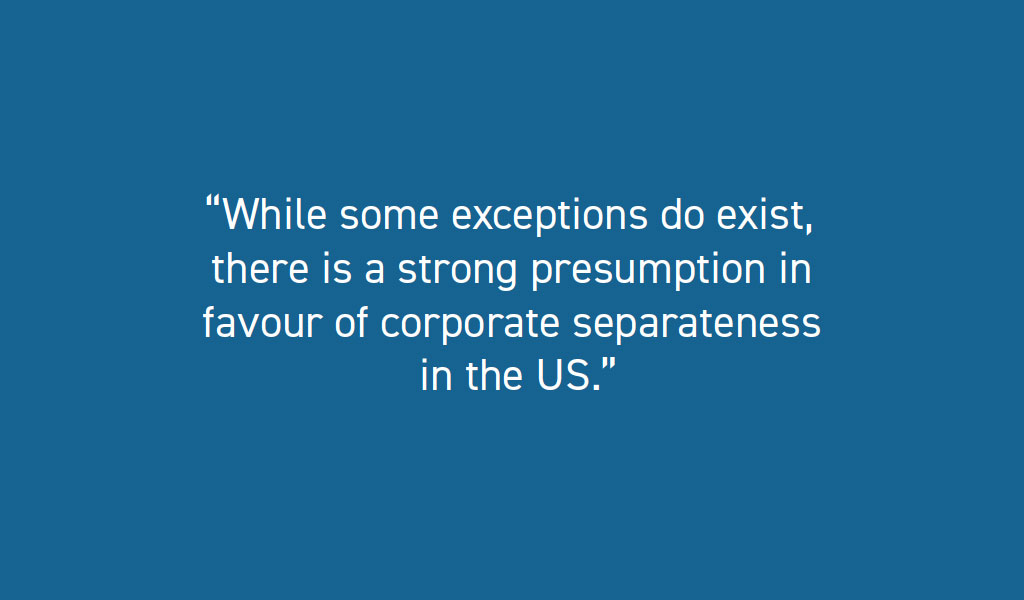 Conclusion: practical considerations for companies
Corporate groups should bear in mind the different approaches to parental liability across the EU and US when faced with an international antitrust investigation. While some exceptions do exist, there is a strong presumption in favour of corporate separateness in the US. To maximise this protection, it is vitally important that the parent and subsidiaries maintain the appropriate corporate formalities, including a well-defined board and management structure, regular board meetings and board resolutions where appropriate, careful separation of corporate funds and other assets and operations, and thorough and accurate documentation of intra-enterprise transactions.
Parent companies must also ensure that their subsidiaries hold themselves out as distinct legal entities in their dealings with third parties in order to avoid any misrepresenting of the corporate form. In addition, because the issue of corporate independence is always subject to litigation risk, parent companies should consider additional protective measures, including express indemnification or other liability sharing provisions in their formation documents (while recognising that these may not be enforceable with regard to antitrust damages).
In the EU, parent companies should be prepared to face more difficulty in attempting to rebut the presumption of decisive influence (and therefore liability) before both EU and national courts in cases of an infringement of EU antitrust rules, and recognise that in the case of majority ownership it will be extremely difficult to avoid a parental liability finding. Notwithstanding the difficulty of rebutting the presumption of decisive influence under current EU law, firms operating in the EU would nevertheless be well advised to exercise at least the same degree of care to maintain the appropriate corporate formalities and corporate separateness as in the US, for any number of reasons including because: (1) entities operating in the EU may still be called to account in the US or other jurisdictions for extraterritorial effects of their conduct; and (2) in light of widespread criticism of current EU standards, courts may become more receptive to proof rebutting the presumption of decisive influence in particular cases.
Most importantly, in both the EU and the US, compliance efforts should in any case be instituted and upheld across entire corporate groups to minimise the risks of antitrust violations by subsidiaries from the outset.
This article was written with the assistance of antitrust associates Caroline Préel and James Alicea (Brussels and New York respectively).
Geert Goeteyn geert.goeteyn@shearman.com
John F Cove, Jr john.cove@ shearman.com
Shearman & Sterling - Brussels and San Francisco - www.shearman.com