Simon Bushell specialises in international commercial litigation and arbitration, including civil fraud and asset tracing and has over 28 years' experience in high-stakes commercial litigation. He acts for a broad range of clients, including large corporates, banks and ultra-high-net-worth individuals, foreign government agencies and state-owned companies.
Simon has a strong reputation for his commercial awareness and strategic thinking, which is coupled with his team leadership skills in managing large, complex cross-border issues.
Simon is general editor of International Fraud and Asset Tracing and Getting the Deal Through: Complex Commercial Litigation, and is co-author of Disclosure of Information: Norwich Pharmacal and Related Principles, and regularly speaks at conferences and seminars.
Simon is regarded as a 'leading individual' in The Legal 500 UK 2017 for his civil fraud expertise, and is recognised as a Recommended Lawyer for his banking litigation, commercial litigation and international arbitration work. He has been consistently ranked in Bands 1 and 2 for his civil fraud expertise in the Chambers and Partners UK Guide over many years, and is also ranked in the litigation section of the guide. He has been regularly featured in Who's Who Legal.
Neil Newing is an international arbitration lawyer and commercial litigator with particular experience in managing high-value cross-border disputes.
Neil has extensive experience in international commercial arbitration, including LCIA, ICC, CIETAC, SIAC, SCC, UNCITRAL, ad hoc proceedings, ancillary or enforcement proceedings before the English courts, claims under investment treaties and cases concerning state entities and state immunity. Neil regularly prepares written pleadings and acts as advocate in arbitration hearings.
Neil has particular expertise in the energy sector and oil and gas disputes and has acted in matters involving: exploration and production, joint ventures, oilfield services, pipeline transportation, investment treaty claims and disputes concerning carbon emissions. Neil also has considerable experience in corporate and finance disputes (particularly relating to M&A transactions and shareholders' agreements), and technology, media and telecoms disputes (including contractual disputes, royalty audits and disputes over rights).
Neil is recognised in The Legal 500 UK 2017 as a key contact for public international law, and is co-author of the leading textbook International Arbitration: A Practical Guide.
Johnny Shearman is Signature Litigation LLP's professional support lawyer. He has gained significant experience in handling a broad spectrum of domestic and international disputes and now advises internally on all aspects of commercial dispute resolution. Johnny has worked on some of the firm's most high-profile cases including those recognised in The Lawyer's Top 20 Cases. His knowledge encompasses complex contractual and tortious disputes, CIS disputes, professional negligence litigation and contentious insolvency matters. His experience includes disputes at all levels, from county court to Supreme Court proceedings, as well as international arbitration. Johnny regularly comments on legal developments and is actively involved in the HMCTS' Reform Programme, which is due to complete in 2023.
GTDT: What are the most popular dispute resolution methods for clients in your jurisdiction? Is there a clear preference for a particular method in commercial disputes? What is the balance between litigation and arbitration?
Simon Bushell, Neil Newing and Johnny Shearman: Litigation and arbitration remain the key methods for dispute resolution in England and Wales. Mediation is also a popular mechanism and continues to receive support from the English court for its use in resolving disputes at an early stage and where the issue has escalated into formal proceedings.
There remains a competitive tension between litigation and arbitration in England. Both methods are extremely effective at resolving disputes and both have individual virtues as well as some perceived shortcomings. Traditionally, litigation before the English court has attracted parties looking for a process that will reach a decisive and reasoned decision (subject to appeal) supported by a high-quality, publicly accessible and transparent judicial process. Whereas, those concerned about the enforceability of an award, or with a reason to require confidentiality, are more likely to opt for arbitration. Additionally, arbitration continues to remain a popular choice due to the high degree of party autonomy, which affords flexibility over how disputes are conducted.
Despite this competition, and in view of English law's emphasis on contractual choice, the English courts remain fully supportive of the arbitral process. Court interference is rare as evidenced by the small number of successful applications to set aside arbitral awards. Furthermore, the enforcement of an arbitral award (whether made in this jurisdiction or abroad) is a straightforward process, which cannot be said in respect of some other jurisdictions.
In broad terms, therefore, litigation and arbitration continue to coexist in England, affording parties a large degree of choice when determining how to resolve a dispute. Although, it is notable that different industries do tend to show a preference toward one method over the other. For example, the financial services sector typically favours litigation particularly because of the ability to seek a summary determination of simple claims (such as the enforcement of loans), whereas the energy and construction industries typically favour arbitration due to the ability to choose a decision maker with relevant industrial experience, coupled with the confidential nature of the process.
GTDT: Are there any recent trends in the formulation of applicable law clauses and dispute resolution clauses in your jurisdiction? What is contributing to those trends? How is the legal profession in your jurisdiction keeping up with these trends and clients' preferences? Does Brexit continue to affect choice of law and jurisdiction?
SB, NN & JS: The English courts continue to uphold contractual choices of law and methods of dispute resolution and, without doubt, English law remains a favoured substantive law choice by parties all across the globe – contractual principles developed under English law are widely known and respected. As these principles will be unaffected by Brexit (whatever form it takes), it is expected that English law will continue to be the most popular choice of law used in international contracts.
With that said, Brexit has undoubtedly caused parties, at the very least, to think about the choice of law and dispute resolution mechanisms used in their commercial contracts. This trend is supported by the results of two surveys conducted by Thomson Reuters on the impact of Brexit in 2018.
The original survey was conducted in early 2018, and the results showed that the majority of respondents (65 per cent) indicated that the outcome of the Brexit referendum had not affected their approach to the selection of jurisdiction and choice of law clauses. The remaining population of respondents (35 per cent) indicated that the Brexit referendum had affected their selection of jurisdiction and choice of law clauses (including arbitration), with around 18 per cent now selecting to have their disputes resolved in other EU countries, and approximately 10 per cent choosing arbitration over court litigation, particularly as the enforceability of arbitration awards will remain protected under international law (pursuant to the 1958 New York Convention on the Recognition and Enforcement of Foreign Arbitral Awards) and thus unaffected by Brexit.
The High Court was asked to consider whether the UK's scheduled withdrawal from the European Union should result in the frustration of a lease between the parties.
The second survey was conducted in the latter half of 2018 to see if there had been a change to the respondents' views as uncertainty around Brexit had endured since the original survey (and still does). The results showed that 64 per cent of respondents are actively reviewing their dispute resolution clauses in their international contracts in preparation for Brexit (compared to 39 per cent of respondents in the original survey that stated they intended to conduct a review of their clauses). Furthermore, the number of respondents indicating that they were not changing their approach to dispute resolution clauses following the referendum fell from 65 per cent to 54 per cent. The results of these surveys indicate that there has been a small shift in the way parties are approaching applicable law clauses and dispute resolution clauses since the Brexit referendum in 2016.
The fact that the negotiations (as at the time of writing) remain unresolved and the original exit day (29 March 2019) has been pushed back to 31 October 2019, means that uncertainty around what the final Brexit deal will look like continues. While a 'no deal' Brexit seems unlikely, both a 'hard' Brexit (leaving the single market and the customs union) and 'soft' Brexit (a much more limited withdrawal, retaining a close alignment with the EU) remain viable scenarios at this stage.
In particular, a hard Brexit could still mean that the UK will lose out on the benefit of the EU's harmonised approach to jurisdiction and enforcement of judgments throughout EU member states. This might have a negative effect in terms of parties choosing the English courts to resolve their disputes and may result in arbitration clauses becoming more popular. This is again supported by the Thomson Reuters' surveys, which highlighted that the uncertainty surrounding the future enforcement of judgments across the EU was a quite significant or very significant factor for those respondents that were considering using arbitration instead of English litigation.
GTDT: How competitive is the legal market in commercial contentious matters in your jurisdiction? Have there been recent changes affecting disputes lawyers in your jurisdiction? How is the trend towards 'niche' or specialist litigation firms reflected in your jurisdiction?
SB, NN & JS: As a pre-eminent global dispute resolution jurisdiction, the legal market in England, and London in particular, is highly competitive. Numerous international law firms, especially those emanating from the United States, have sought to establish a litigation presence in London in recent years. This is a reflection of the global popularity of English law and the prominence of the UK's mature legal and financial markets.
London has also faced competition in recent years from other jurisdictions, such as Singapore, Hong Kong and Dubai.
Brexit has, however, led to several jurisdictions trying to establish themselves as alternatives to London. For example, Paris hopes to compete directly with London post-Brexit by introducing an English-speaking court handling English-law cases relating to financial contracts. This innovation is similar to those proposed by courts in other EU cities (including Amsterdam, Brussels and Frankfurt), which hope that the current uncertainty around enforcement of English court judgments across Europe post-Brexit may help them to rob London of some of its competitive edge. In our view, however, it is likely that parties will proceed with some caution when considering these novel, faux English institutions given the inevitable uncertainty that will arise when a foreign court, unfamiliar with English law let alone common law principles, is being asked to determine English law disputes.
London has also faced competition in recent years from other jurisdictions, such as Singapore, Hong Kong and Dubai, which successfully established themselves as viable competitors prior to the Brexit referendum, particularly in relation to financial matters. One of the English court's responses was the creation of the Financial List back in 2015. The Financial List is a specialist finance and banking court, situated in the Rolls Building in London. While there are some restrictions on the use of the Financial List, it has garnered significant praise by its users for its ability to deal with complex legal issues that underpin the financial sector as a whole.
In line with the rise of the Financial List, it is England's financial sector that is arguably responsible for the emergence of specialist litigation firms. Some 10 years ago, the financial crisis kicked off the boom in niche litigation practices. At the time, dispute lawyers working out of the larger, corporate focused firms, found they were typically conflicted preventing them from suing banks, other financial institutions and corporate giants. This led to an exodus of dispute lawyers seeking a conflict free platform from which to operate. Clients also quickly supported these practices as they were able to obtain the same high quality of service but from a more focused and flexible practice without the distractions that can come with large firms. The subsequent growth of these specialist litigation firms attracted lawyers and clients from beyond the confines of financial services disputes, such that many of these firms now handle the full range of commercial disputes, including both international commercial and investment treaty arbitration, and compete frequently with the larger more traditional law firms in London. The disputes market in London is such that there is room for quality and properly run specialist firms not only to emerge but also thrive alongside the more traditional full-service law firm.
GTDT: What have been the most significant recent court cases and litigation topics in your jurisdiction?
SB, NN & JS: In 2017, the first instance decision in the Serious Fraud Office (SFO) v Eurasian Natural Resources Corporation (ENRC) Ltd [2017] EWHC 1017(QB) upended the previous understanding of 'litigation privilege' under English law. Litigation privilege prevents parties from being required to disclose communications between a lawyer and client, or between either of them and a third party, which has been created for the dominant purposes of conducting litigation, where such litigation is in progress or reasonably in contemplation. The judge at first instance, however, significantly limited the scope of that privilege in ruling that documents, including working papers and notes made by lawyers in the context of an internal investigation into allegations of corruption by the SFO, could not enjoy privilege because they had been created at a point before criminal legal proceedings could have been contemplated. In particular, she found that no decision to prosecute had yet been made by the SFO, and so litigation was just a mere possibility, and further that privilege did not extend to documents created for obtaining legal advice on how to avoid contemplated litigation. However, last year, on appeal ([2018] EWCA Civ 2006), this decision was unanimously overturned, restoring the previous understanding of the law. The Court of Appeal's decision has been welcomed. This is because the ruling firmly recognises that the ability of a client to consult with and obtain advice from its lawyers safe in the knowledge that those communications will not be disclosed is a fundamental principle of the English justice system. As the SFO has not sought permission to appeal, the recent decision assures us that normality has resumed as regards litigation privilege.
In May 2018, the Supreme Court gave its judgment in the case of Rock Advertising Limited v MWB Business Exchange Centres Limited [2018] UKSC 24. The case explored the effect and impact of 'No Oral Modification' clauses. A No Oral Modification clause is one that precludes oral variations to a contract. The Supreme Court in its judgment found that such clauses should be given legal effect. The importance of this decision should not be underestimated. Prior to the Supreme Court's ruling, no oral modification clauses were often found to be ineffective and, in practice, ignored if not merely overlooked, with the result that contracts were regularly found to have been varied orally despite the existence of such clauses. This decision, therefore, provides useful clarity on the approach parties should take when agreeing and adhering to the terms of an agreement, and the need to consider carefully any such restrictions in the contract to ensure that any subsequent variations that may be agreed are valid.
The English courts remain committed to ensuring that cases are dealt with justly, expeditiously and at proportionate cost.
In Canary Wharf (BP4) T1 Limited and others v European Medicines Agency [2019] EWHC 335(ch), the High Court was asked to consider whether the UK's scheduled withdrawal from the European Union should result in the frustration of a lease between the parties. Frustration is a rarely used doctrine of English law that enables a contract to be discharged when, in short, an event renders that contract either physically or commercially impossible to fulfil, or alternatively transforms the obligation to perform into something radically different to that agreed at the point of entering into the contract. The High Court held, on the facts, that Brexit should not constitute a frustrating event. However, permission to appeal has been granted and so this is not the final word on an issue that resonates across all commercial contracts as Brexit remains looming on the horizon.
GTDT: What are clients' attitudes towards litigation in your national courts? How do clients perceive the cost, duration and the certainty of the legal process? How does this compare with attitudes to arbitral proceedings in your jurisdiction?
SB, NN & JS: Parties that litigate in London are typically highly sophisticated companies and individuals who have a good understanding of what is involved when litigating before the English courts. They are also well versed in the various other dispute resolution processes, including arbitration.
The English courts remain committed to ensuring that cases are dealt with justly, expeditiously and at proportionate cost. For clients seeking a resolution before the courts, they appreciate the degree of control that the courts retain over the procedural timetable and costs. For example, the timetable (which flows from the engrained Civil Procedure Rules) is set early on in proceedings and, given the potential adverse cost consequences, deadlines tend to be respected by parties.
The control on costs in litigation is also appreciated as it allows clients to have a good feel for the financial outlay of litigating a particular dispute. Most parties to commercial claims must file a costs budget with the court, which sets out what they expect their costs to be for each stage of the litigation up to and including trial. These costs budgets are scrutinised by the presiding judge to ensure that the costs of the litigation are proportionate to the dispute in hand.
Under the Disclosure Pilot Scheme, parties to litigation must now provide limited disclosure with their statements of case.
It is this tight control over time frames and costs that clients value in litigation, and has led some to question whether a fresh look at the costs in arbitral proceedings is also needed. The most notable proponent of such action is Sir Rupert Jackson who, as a Lord Justice of the Court of Appeal, was responsible for the reforms that introduced costs budgeting to English litigation. Sir Rupert (who now sits as an arbitrator) has once again called for the use of costs budgets but this time to tackle the high costs now associated with arbitration. However, the lack of a rigid costs budgeting regime is an attractive quality of arbitration. Its introduction would likely undermine the much-touted flexibility enjoyed by users and practitioners alike and so, for now, it seems unlikely that we will see the introduction of a budgeting regime by any of the key arbitral institutions.
GTDT: Discuss any notable recent or upcoming reforms or initiatives affecting court proceedings in your jurisdiction.
SB, NN & JS: At the beginning of 2019, the Disclosure Pilot Scheme (DPS) was introduced in the Business and Property Courts. The scheme is mandatory (subject to limited exceptions) and is set to run for a period of two years. The DPS represents one of the biggest changes to English civil litigation procedure in recent years and rather than amending the existing rules, a completely new regime for disclosure (discovery) has been introduced. It is intended that the DPS will promote a wholesale change of culture with respect to the disclosure process, with the aim of encouraging a proportionate approach following criticism that the disclosure process had become extremely costly and unwieldy, in particular for defendants.
Under the DPS, parties to litigation must now provide limited disclosure with their statements of case (known as initial disclosure). Additional disclosure is to be provided later in the proceedings only if it is ordered by the court (known as extended disclosure), in which case it will be based on one of five disclosure models. While some of these models are similar to the previous regime, it is very much intended that these will be the exception, and that the more light-touch models, which do not require as onerous or extensive searches to be carried out, will be used more frequently. The DPS also requires that the parties consider up front what the issues in the dispute are and whether different disclosure models are appropriate for different issues, in an attempt to ensure that time and costs are only spent on only those issues where disclosure is truly needed. The DPS has also introduced express disclosure duties that apply to parties and their legal representatives.
To common law lawyers, the Prague Rules are a significant departure from established procedure, but it cannot be denied that they offer an opportunity for parties, their lawyers and tribunals.
As it is still in its infancy, it remains to be seen whether the DPS will be effective in achieving its stated objectives, or whether those well versed in the previous system (both judges and lawyers alike) will simply revert to choosing the model that most closely resembles what they are used to.
A further notable initiative is the continued modernisation of the English courts. For example, an electronic case management and filing system (known as CE-File), which was initially limited to use in the Business and Property Courts in London, is being extended for use in the Business and Property Courts across England and Wales. From April 2019, professional users will be required to issue all new proceedings by electronic filing through CE-File. Many dispute lawyers are already familiar with CE-File and cite its efficiencies and the control it allows them to exercise over various stages of claims as an important step for the modernisation of litigation in England.
GTDT: What have been the most significant recent trends in arbitral proceedings in your jurisdiction?
SB, NN & JS: One of the most significant benefits of arbitration, and a reason it is often chosen, is the private and confidential nature of the process. This benefit is, however, suffering somewhat of a backlash in recent times, as there are increased calls for greater transparency to be provided, particularly of awards. This has become particularly prevalent over the past few years in the context of investment treaty arbitration, as the issue of whether private tribunals are the appropriate forum for the resolution of issues of public interest has become increasingly politicised. While awards in investment treaty disputes have, in fact, been regularly published, the increasing unease with those disputes being resolved in a private forum has resulted in there being also a greater move towards transparency in international commercial arbitration. Arguably, for any publicly listed company to be resolving high-stakes disputes behind closed doors is counter-intuitive.
One of the most significant developments in this regard comes from the International Chamber of Commerce (ICC). Since 2016, the ICC has published details of the arbitrators that have been appointed in ICC arbitrations (including their nationality, whether they are sole, presiding or co-arbitrator and their method of appointment). From July 2019, the ICC will also publish details of the parties' counsel and information about the industry sector. Of more significance, however, is its decision from January 2019 to publish all awards issued after that date within two years of the award being notified to the parties. While the parties will have the opportunity to object to such publication, the default position will be for the award to be published (unless the parties have agreed to the award being kept confidential in their arbitration agreement). This marks a significant change to the arbitral process and it will be interesting to see how parties will react to this (for example, whether it will become the norm to object to publication or to include confidentiality provisions in arbitration agreements) and also whether other arbitral institutions will follow suit.
Another development aimed at increasing the efficiency of the process of international arbitration came at the end of 2018 with the launch of the Rules on the Efficient Conduct of Proceedings in International Arbitration, or the Prague Rules, as more commonly known. These are a set of rules that have been designed to enable parties to adopt procedures in their arbitration that are more akin to those one would find in proceedings in civil law jurisdictions. They are intended to offer an alternative to the commonly used IBA Rules on the Taking of Evidence in International Arbitration, which are seen as adopting more common law style procedures, and have been criticised for contributing to increasing cost and delay, particularly in how evidence is to be dealt with and presented. Under the Prague Rules, the tribunal and parties are encouraged to avoid any form of document production, deal with expert evidence via a tribunal appointed or jointly appointed expert and seek to resolve disputes on a documents-only basis without an evidentiary hearing where possible. To common law lawyers, the Prague Rules are a significant departure from established procedure, but it cannot be denied that they offer an opportunity for parties, their lawyers and tribunals (particularly those from civil law jurisdictions) to consider whether such established procedure is in fact appropriate.
GTDT: What are the most significant recent developments in arbitration in your jurisdiction?
SB, NN & JS: In Halliburton v Chubb [2018] EWCA Civ 817, the Court of Appeal was required to consider whether it was acceptable for an arbitrator to accept multiple appointments from the same party in related matters. The case concerned the acceptance by one of the arbitrators (M), a few months after the arbitration commenced, of a subsequent appointment by Chubb in a different arbitration related to the same matter. He then accepted an appointment in a third related arbitration, although neither party was involved. M did not, however, disclose either of these two appointments to Halliburton. An application was brought by Halliburton to remove M as arbitrator under section 24 of the Arbitration Act 1996, but was dismissed by both the High Court and the Court of Appeal as the mere fact that M accepted appointments concerning the same or overlapping subject matter with only one common party did not give rise to an appearance of bias. The High Court confirmed, however, that M ought to have disclosed the appointments where they might give rise to justifiable doubts as to his impartiality, but concluded that the fact of non-disclosure cannot of itself justify an inference of apparent bias. The decision has been somewhat controversial, not least due to the court's apparent reliance upon M's reputation and experience as an arbitrator, which has created uncertainty as to how other arbitrators in similar situations should be considered. The case has been appealed and is due to be heard by the Supreme Court later this year.
In Nori Holdings v Bank Otkritie [2018] EWHC 1343 (Comm), the English High Court confirmed the previously understood position as a matter of EU law that it was not possible to obtain an anti-suit injunction to prevent proceedings being brought in the court of another EU member state in breach of an arbitration agreement. This issue was originally considered by the European Court of Justice in the West Tankers case (Case C-185/07) in the context of the then existing Brussels Regulation (No 44/2001), where it was held that anti-suit injunctions of such nature were incompatible with the Brussels Regulation. Following the amendment of the Brussels Regulation in 2012 (commonly known as the Brussels Recast Regulation – No 1215/2012), there was a suggestion that the West Tankers decision may no longer be applicable as the Recast Regulation clarified that the validity of an arbitration agreement fell outside its scope. However, this was rejected by the European Court of Justice in the Gazprom case (Case C-536/13), which reaffirmed West Tankers as a correct statement of the law. This position has now also been confirmed by the English High Court, which held that West Tankers remains an authoritative statement of EU law. While the UK is still part of the EU this therefore remains binding on the English courts – whether the position will change following Brexit, however, remains to be seen.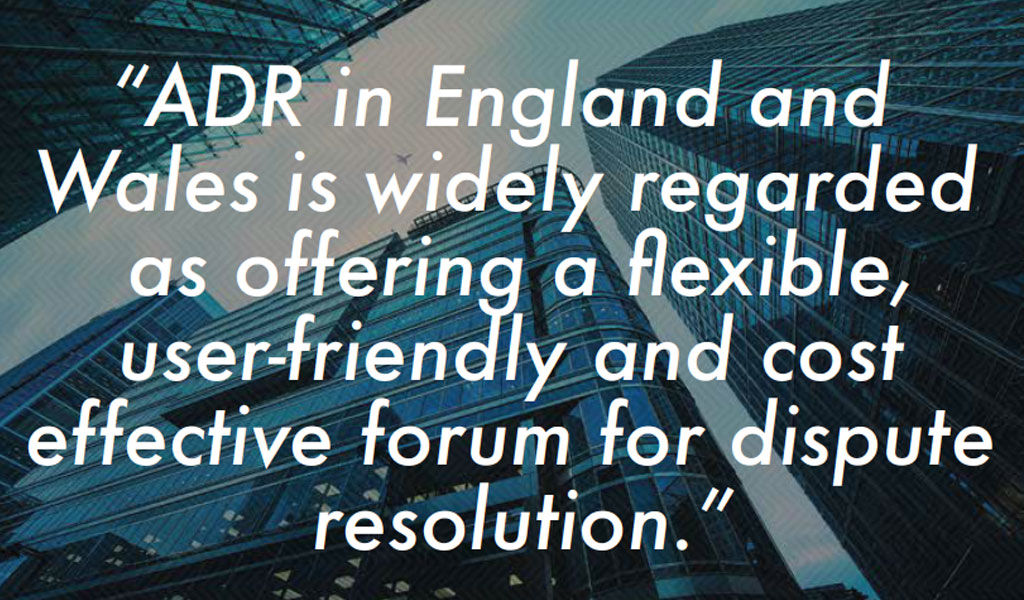 GTDT: How popular is ADR as an alternative to litigation and arbitration in your jurisdiction? What are the current ADR trends? Do particular commercial sectors prefer or avoid ADR? Why?
SB, NN & JS: ADR in England and Wales is widely regarded as offering a flexible, user-friendly and cost effective forum for dispute resolution. This is reflected by its increasing popularity as evidenced in the 2018 CEDR Eighth Mediation Audit, which recorded a 20 per cent increase in the number of cases being referred to mediation. Most notably this growth can be attributed to scheme-related activity, that is organised mediation schemes such as those supported by NHS Resolution, by leading employers and by the Court of Appeal and other courts. The activity in this area alone has increased by 45 per cent in just two years. It reflects the fact that mediation has established itself as part of the dispute resolution landscape in England and Wales.
With that said, in 2018, the Civil Justice Council's ADR working group published its final report. The working group stopped short of recommending any form of compulsory ADR but it did conclude that the civil justice system should do more to properly facilitate and encourage the use of ADR. The working group did, however, recognise the increasing importance of mediation and its ability to achieve settlements where parties appear implacably opposed.
Expert determinations and adjudications also remain popular for certain disputes, such as earn-out provisions in a post-merger and acquisition contract.
The Inside Track
What is the most interesting dispute you have worked on recently and why?
It is very difficult to pick out one specific case as more interesting than others. I am very fortunate to work in an outstanding commercial environment that gives me exposure to some fantastic and diverse clients – no two days are ever the same in my office! Over the past six months, I have been heavily involved in a dispute arising out of a joint venture in a mining project that has, to date, resulted in no less than four separate arbitration proceedings, as well as court proceedings in Cyprus, Russia and Armenia. In addition to leading the arbitration proceedings (which are confidential and thus I cannot say more about them), we are also engaged in coordinating all of the different legal teams in other jurisdictions to ensure that there is a consistent strategy being deployed. Having this key strategic role and acting as the client's trusted adviser across the entire dispute is something that I very much enjoy and which I find makes my work particularly interesting.
Describe the approach adopted by the courts in your jurisdiction towards contractual interpretation: are the courts faithful to the actual words used, or do they seek to attribute a meaning that they believe the parties actually intended?
When interpreting terms of a contract, the courts will look at what a reasonable person, having all the background knowledge that would have been available to the parties, would have understood the terms to be, using the language in the contract. Significant weight is placed on the actual words used, and their meaning is assessed in light of the natural and ordinary meaning of the words, other relevant provisions of the contract, the overall purpose of the words and the contract,  the facts and circumstances known or assumed by the parties at the time the contract was concluded, and commercial common sense. Subjective evidence of any party's actual intentions will be disregarded.
The courts' approach over the past 20 years or so has varied in terms of the importance of what is often termed 'commercial common sense' in the consideration of the words used over their natural and ordinary meaning. A purposive approach has been in favour for many years, with the courts readily departing from the literal meaning of the words used in order to infer an intention that made the most business sense. However, more recently the Supreme Court made it clear in the case of Arnold v Britton [2015] UKSC 36 that commercial common sense cannot be used to undervalue the importance of the actual language used, re-emphasising the more literal approach. In the recent case of Wood v Capita Insurance Services [2017] UKSC 24, the Supreme Court has once again emphasised the importance of the words used, but was careful to make clear that there was still room for considering a more contextual approach when appropriate to do so. In particular, where there are rival interpretations of the actual words used, these should be checked against the rest of the contract and the court should investigate the commercial consequences of each interpretation, although this does not permit the court to depart from the natural meaning of the language to remedy what has turned out to be a bad bargain.
What piece of practical advice would you give to a potential claimant or defendant when a dispute is pending?
I have lost count of the number of times a client has said 'I wish I had taken advice earlier'. It is so important to seek legal advice as soon as possible when a potential dispute is on the horizon, as there may be various options open to the parties at the outset that will no longer be available once a particular course of action is chosen. The most successful cases I have been involved in have been those where the client has realised that a dispute is brewing and has then been able to plan ahead – setting in train important communications with adversaries who have subsequently cornered themselves. This can be almost as rewarding as a resounding victory in the court room.
Simon Bushell, Neil Newing and Johnny Shearman
Signature Litigation
London
www.signaturelitigation.com