Yaroslav Klimov, partner and head of the Russia and CIS dispute resolution practice, specialises exclusively in dispute resolution, and has significant experience in international arbitration, cross-border disputes and domestic litigation. A member of the Moscow Bar Association since 1997, Yaroslav is an arbitrator at the London Court of International Arbitration, the Singapore International Arbitration Centre and the Russian Arbitration Association. He has also acted as arbitrator under ICC Rules.
Andrey Panov is a dispute resolution lawyer based in Moscow. A senior associate at Norton Rose Fulbright, he focuses on representing clients in international arbitrations under the rules of various institutions, including the ICC, LCIA, SCC, SIAC and ICAC (Moscow), as well as in ad hoc arbitrations. Andrey also successfully appears before all levels of Russian courts in arbitration-related matters, including the enforcement of arbitral awards. He is a councillor at the LCIA European User's Council and the co-chair of the LCIA YIAG.
Sergey Avakyan is a dispute resolution lawyer based in Moscow. An associate at Norton Rose Fulbright, he exclusively specialises in dispute resolution. Sergey represents Russian and foreign clients in general commercial, construction, insurance and administrative disputes. Sergey is a member of a number of arbitration groups, including the ICC YAF and the LCIA YIAG.
Natalia Klimova qualified as a lawyer in Russia and is based in Moscow, where she is an associate at Norton Rose Fulbright. She specialises exclusively in dispute resolution with a focus on local litigation. Natalia represents clients before the Russian state arbitrazh (commercial) courts and courts of general jurisdiction and is experienced in domestic and cross-border corporate disputes.
Mikhail Kalinin, an associate at Norton Rose Fulbright, qualified as a lawyer in Russia and is based in Moscow. Mikhail focuses on international arbitration and cross-border litigation. Mikhail acted for clients in arbitration proceedings administered by the ICC, LCIA and SCC, including in English and Dutch law-governed disputes. Mikhail co-chairs RAA25, a group of younger arbitration lawyers organised by the Russian Arbitration Association.
GTDT: What are the most popular dispute resolution methods for clients in your jurisdiction? Is there a clear preference for a particular method in commercial disputes? What is the balance between litigation and arbitration?
Yaroslav Klimov and Sergey Avakyan: Russian parties clearly prefer litigation before Russian courts, even though for cross-border projects they usually select arbitration to make sure they will be getting an award enforceable abroad. There are two branches within the Russian court system – courts of general jurisdiction (dealing with the disputes involving individuals) and state commercial courts for commercial disputes.
Litigation before Russian courts is quick and comparatively cheap, which explains clients' preference for litigation.
At the same time, arbitration is also relatively popular. Domestic arbitration in Russia does not enjoy the same reputation and respect as the international arbitratiom due to various abuses by the parties and local arbitral institutions and use of domestic arbitration for fraudulent purposes. However, recent arbitration law reform will hopefully improve the situation and make domestic arbitration more trustworthy.
Other ADR mechanisms are not that popular in Russia because clients want the resolution of their dispute to result in a binding and enforceable decision against the other party, rather than yet another (settlement) agreement that may eventually be breached.
GTDT: Are there any recent trends in the formulation of applicable law clauses and dispute resolution clauses in your jurisdiction? What is contributing to those trends? How is the legal profession in your jurisdiction keeping up with these trends and clients' preferences? Does Brexit continue to affect choice of law and jurisdiction?
YK, SA and Mikhail Kalinin: Over the past decade, the choosing of foreign law (primarily English law) as well as the foreign-seated arbitration for cross-border transactions, became common practice for large- and medium-sized businesses in Russia. English law has been considered more convenient for the structuring of M&A and related deals with Russian participants.
As previously, following the imposition of sanctions against Russia by the European Union and the United States, many Russian companies, especially with state participation, started choosing Singapore law (instead of English law), and the Singapore International Arbitration Centre, and sometimes, the Hong Kong International Arbitration Centre instead of the usual European arbitral centres.
In parallel to this, the Russian Civil Code has been reformed to provide for tools needed in business transactions (for example, rules on representations and warranties). Russian law documents often form part of the transaction documentation in large-scale deals, but still it is not common to have the entirety of a significant transaction governed by Russian law. Furthermore, for certain disputes (for example, shareholders' disputes between the participants of a Russian entity) it is now mandatory to litigate or arbitrate them in Russia, rather than abroad. Therefore, for those types of disputes many clients agree on Russian litigation or Russia-seated arbitration administered by Russian institutions. Sometimes, the parties adopt 'waterfall dispute resolution clauses', which provide for various means of dispute resolution (such as arbitration abroad, arbitration in Russia, litigation in Russia) to apply depending on the circumstances. However, these clauses have never been tested by Russian courts so far, so one should be careful with them.
Last year, the Supreme Court refused to enforce a relatively clear International Chamber of Commerce arbitration clause, opining that the arbitration agreement is presumed enforceable if the parties used the wording recommended by a particular institution. Therefore, one should be very careful when drafting dispute resolution clauses in contracts with Russian parties and ideally use the recommended arbitration clause.
Many Russian judges struggle with foreign-law governed disputes and therefore they usually welcome the assistance from the parties' counsel in establishing the contents of the applicable law. Russian offices of international law firms seem to be better equipped to cope with this task, as they could benefit from a large network of their own specialists located in many relevant jurisdictions. Russian law firms would have to hire a co-counsel from relevant jurisdictions, which may result in compromise over quality or increase of costs.
The dispute resolution market in Russia has become very competitive.
From our perspective, Brexit did not and will not have any impact on Russian parties' choice of law and jurisdiction. While there are many uncertainties as to the post-Brexit state of relationships between the United Kingdom and the European Union, none of them seems to be relevant for Russian parties, except perhaps the possibility that the post-Brexit UK may be more likely to adopt their own sanctions regime against Russia, which may be more severe than the one adopted by the EU. Otherwise, if the parties were choosing English law before, it had nothing to do with the EU but was rather driven by the principles of English contract law in the first place. Those are likely to remain the same irrespective of the UK status within the European Union. Furthermore, in many cases when selecting the UK as forum for their disputes, Russian parties were opting primarily for arbitration. Therefore, it would not matter that much to what extent the United Kingdom remains part of the Brussels regime.
GTDT: How competitive is the legal market in commercial contentious matters in your jurisdiction? Have there been recent changes affecting disputes lawyers in your jurisdiction?  How is the trend towards 'niche' or specialist litigation firms reflected in your jurisdiction?
YK and Natalia Klimova: The dispute resolution market in Russia has become very competitive, particularly following the economic downturn, which, on the one hand, increased the amount of work, but on the other hand made the clients more cost-conscious. The main competition at the moment is between larger Russian law firms and international offices of the international law firms. There is also growing competition from specialised dispute resolution boutiques established recently by some of the leading litigators in the market. Such 'niche' litigation firms could undoubtedly play an important role on the Russian dispute resolution market but they are likely to focus more on local litigation work, rather than on cross-border disputes and large international arbitration cases. 
At the same time, the competition between Moscow- and Saint Petersburg-based firms and regional firms is largely non-existent, for they usually work in different market segments. While Moscow and Saint Petersburg firms usually work on more complex projects, often involving cross-border elements, such as the disputes where the increased cost would be justified, local firms have clear advantage of much lower fees they charge, but would in many cases struggle to deliver the same Western-style quality and may have significant difficulties in communicating with the clients in English. There are, however, new services that may decrease costs even where larger international firms are involved. For example, certain firms offer services of studying the case files at the client's request and providing the copies of the same to the lawyers based in Moscow. This is certainly beneficial, particularly when the relevant court is located far away from Moscow, for instance on the Russian Far East.
In 2017, the Ministry of Justice published a paper on development of legal profession in Russia. It envisages that the legal profession must become fully regulated by 2023. The representation of the clients before the Russian courts would be open only for Russian-qualified advocates and in-house lawyers, which is expected to eventually enhance the quality of legal representation in Russian courts. However, the concrete details of the reform are yet to be seen and its separate elements are still subject to discussions.
GTDT: What have been the most significant recent court cases and litigation topics in your jurisdiction?
NK: The most notable and high-value court case in 2018 started shortly before the year end in December. It is the recovery claim against the Ananyev brothers, ex-owners of one of the leading Russian banks – Promsvyazbank. Promsvyazbank's external administration sought to recover 282 billion roubles from the bank's former owners, which is a record value for Russian litigation cases. The case is being heard in the Commercial Court of the City of Moscow.
Apart from the Ananyev brothers, 10 more natural persons, including a former top manager of the bank and its chairpersons, and the company Promsvyaz Capital BV, allegedly affiliated with Dmitry Ananyev, are designated as the defendants. The claimant alleges that losses were incurred by the bank due to 'negligent and unreasonable' actions of the defendants. According to the claimant, persons previously involved in management of the bank caused the bank to enter into a series of transactions resulting in severe losses for the bank prior to it being transferred to the external administration.
Given the number of defendants, it is unlikely that the judgment will be rendered quickly and it will definitely remain the top case for 2019 for numerous reasons.
One of the main litigation topics of the past two years (also still ongoing) relates to controlling persons' liability in case of a company's bankruptcy. The detailed mechanism of holding a person who had been controlling a legal entity before it went bankrupt liable was introduced in 13 new articles in the Federal Law on Bankruptcy, which came into force on 1 July 2017. Also a special resolution of the plenum of Russia's Supreme Court explaining various aspects of this type of claims was published in December 2017. With the introduction of the above mechanism, it became much easier to sue the controlling shareholders, beneficiaries and management for debts of a bankrupt company. Moreover, the courts enjoy wide discretion to determine the persons who have had control over the companies' actions due to fairly vague criteria introduced in the law. In 2018, we successfully represented our client (a major international financial institution) in high-profile litigation case where it was sued by the bankruptcy manager on the basis of alleged control over the entity that went bankrupt. The court has dismissed in full the bankruptcy manager's claim which amounted over US$50 million. However, there are many cases in which the courts grant the claims against the controlling persons overly easily.
GTDT: What are clients' attitudes towards litigation in your national courts? How do clients perceive the cost, duration and the certainty of the legal process? How does this compare with attitudes to arbitral proceedings in your jurisdiction?
YK, NK & MK: Litigation before Russian courts is relatively inexpensive and quick. The maximum filing fee is capped at around US$3,500 where the value of the claim is above US$35,000. Many companies handle litigation through their in-house teams. Even when external counsel are retained, their fees are likely to be lower than in many other jurisdictions, as Russian litigation usually implies fewer time-consuming and costly tasks, such as document production or lengthy hearings intended for cross-examination of the witnesses. In terms of speed, a case before the commercial court may be considered by three instances (first, appellate and cassation) within eight to 12 months on average, even though some cases may continue their journey through the court instances for years.
Low costs and speed are what Russian clients have become used to. For this reason, they may sometimes be reluctant to agree on arbitration. Also, the negative costs implications even when a claim is unmeritorious are very limited, as the courts are reluctant to order reimbursement of legal expenses in full. For this reason, Russian clients will usually litigate for tactical reasons or out of principle, even where foreign clients would have negotiated a settlement.
However, speed comes sometimes at the expense of quality. Due to a very significant caseload, Russian judges are not very keen on examining complex factual backgrounds or innovative legal arguments with the required attention.
One additional disadvantage of litigation before Russian courts is the limited enforceability of the resulting judgment outside of Russia. In this respect, international arbitration is a more popular choice for cross-border transactions, though Russian clients may sometimes be surprised by the costs involved in arbitral proceeding and their duration. At the same time, arbitration even before Russian-based arbitral institutions usually presents better opportunities to argue your case, particularly if it is facts-intense or foreign law governed.
GTDT: Discuss any notable recent or upcoming reforms or initiatives affecting court proceedings in your jurisdiction.
NK & SA: The complex reform of Russian procedural legislation (civil, commercial and administrative) was actively discussed throughout 2017 and was supported by the President of Russia.
This resulted in a massive package of amendments to the procedural codes that were finally signed by the President Putin in late 2018 and will enter into force at a time that is yet to be determined.
The new rules, inter alia, deal with matters such as courts' competence to consider cases based on territorial and merits basis, jurisdiction of magistrate judges, simplified procedure of litigation, among other things.
Russian courts will now be entitled to restrict the duration of the oral pleadings of parties' representatives as a means of procedural sanctions (previously this was possible only within the selected courts and procedures).
While the initial draft of the reform legislation suggested that the reasoning of judgments will become optional, this proposal was heavily criticised by the legal community and in the end was not adopted.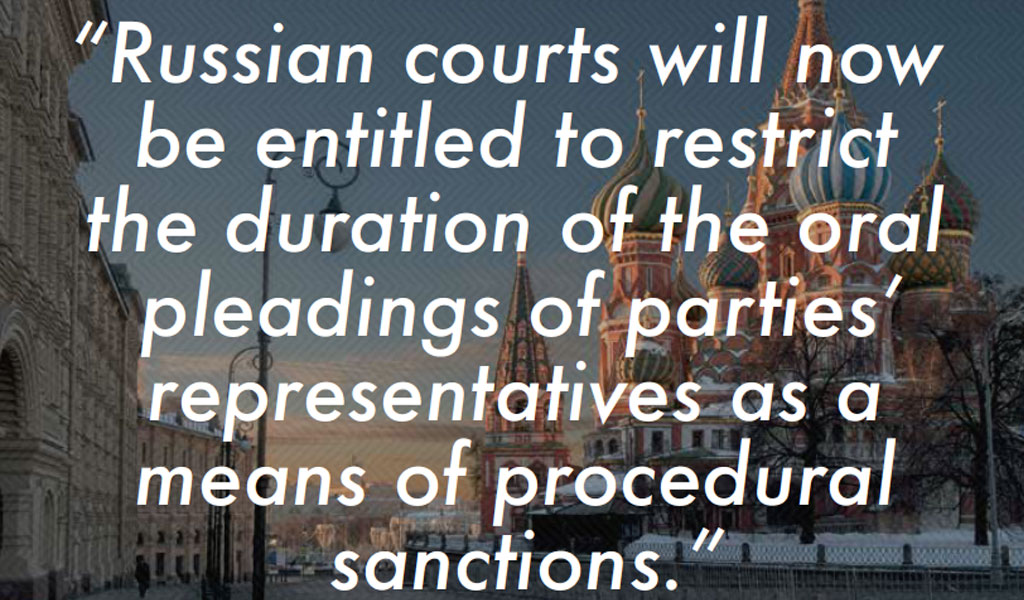 GTDT: What have been the most significant recent trends in arbitral proceedings in your jurisdiction?
Andrey Panov and MK: We continue to see clients becoming more sophisticated when it comes to drafting dispute resolution provisions. For example, we have started seeing more tiered dispute resolution clauses. Clients are also more careful and thoughtful than they used to be when selecting a forum or an arbitral institution. We are seeing more clauses in favour of the Singapore International Arbitration Centre (and to a lesser extent the Hong Kong International Arbitration Centre), particularly when it comes to state-owned companies. This is mainly due to the sanctions imposed by the European Union and the United States, but also because major Russian companies are more active on the Asian market than before. Private companies, however, are still happy putting their usual London Court of International Arbitration, International Chamber of Commerce or Stockholm Chamber of Commerce clauses in their agreements.
Furthermore, Russian clients may be becoming less litigious than before. At least these days they are happy for lawyers to conduct a preliminary assessment on the merits of the case and will usually weigh chances of success against potential cost implications. They also welcome settlement attempts through negotiations or mediation.
The trend for using Moscow-based counsel is on the rise, even though most lucrative cases on many occasions will still be handled from elsewhere. The client will usually use the Russian offices of major international law firms, but also sometimes leading Russian firms and dispute resolution boutiques, many of which have lawyers with relevant experience in cross-border disputes and international arbitration. We will probably see more international cases handled by the Russian teams in the coming years.
The number investment treaty cases involving Russia is increasing, with some awards already being rendered against Russia in Crimea-related cases. At the same time, Russian investors are becoming more active in bringing claims against host states as well. Over the past year, Russian companies commenced arbitration against Ukraine, Belarus and Turkmenistan.
GTDT: What are the most significant recent developments in arbitration in your jurisdiction?
AP & MK: Following the arbitration reform of 2016, only four Russian arbitral institutions were allowed to administer arbitrations in Russia after the end of transition period (that is, after 1 November 2017):
the International Commercial Arbitration Court (ICAC);
the Maritime Arbitration Commission at the Russian Chamber of Commerce and Industry;
the Arbitration Centre at the Russian Union of Industrialists and Entrepreneurs; and
the Russian Arbitration Centre at the Russian Institute of Modern Arbitration.
In 2018, no new institutions managed to obtain government permits to administer arbitration, even though some attempted to do so. At the same time, the ICAC, Russian Union of Industrialists and Entrepreneurs and Russian Arbitration Centre all continued to open branches in Russian regions.
However, many arbitral institutions that have not been able to obtain permit to administer cases, started to provide quasi-ad hoc arbitration services. That is, they advertised their arbitrators as the arbitrators acting in ad hoc matters; however, all the infrastructure remained in place. To deal with this situation, Russia adopted changes to arbitration legislation that limited the ability of any person not holding permit to administer cases in Russia to provide services in support of arbitration (such as collecting the fees, providing the venue and administrative support). Unfortunately, this new legislation, which comes into force on 29 March 2019, may well impact not only the ad hoc arbitration in Russia, but also the ability of foreign arbitral institutions to administer the proceedings in Russia. However, the precise impact of this new amendment is still unclear.
In late December 2018, the Supreme Court also adopted guidelines in arbitration-related cases. While the guidelines mostly summarise the provisions of the applicable legislation, some of the directions are rather useful. For example, the Supreme Court reminded the lower courts that arbitral agreements should be interpreted in favour of their validity and that the standard arbitration clauses recommended by relevant arbitral institutions are presumed to be valid and enforceable.
GTDT: How popular is ADR as an alternative to litigation and arbitration in your jurisdiction? What are the current ADR trends? Do particular commercial sectors prefer or avoid ADR? Why?
AP & SA: ADR is still not very popular with Russian parties, because they usually prefer having an enforceable award against the opposing party. While Russia adopted the Law on Mediation in 2010, in practice parties to commercial disputes rarely use mediation. It is likely, however, that the popularity of mediation may increase over time, because Russian clients are increasingly less willing to waste time and money when there is still a room for amicable settlement.
ADR is still not very popular with Russian parties, because they usually prefer having an enforceable award against the opposing party.
Sometimes, the contracts provide for multi-tier dispute resolution, but in most cases it would be limited to the requirement of attempting to resolve the dispute by negotiations. Expert determination and dispute resolution boards are frequently used in construction contracts, particularly those modelled after the International Federation of Consulting Engineers. Expert determination is also used in cross-border commodity trading, particularly with respect to determining the sales price in long-term contracts.
The Inside Track
What is the most interesting dispute you have worked on recently and why?
Last year, we successfully defended a client of ours, a major international financial institution, in the high-value case concerning liability of controlling persons for debts of an insolvent company. The bankruptcy manager who filed the relevant claim alleged that our client controlled the debtor and that our client's refusal to provide a loan – caused by non-fulfillment of the required conditions – led to the Russian entity's bankruptcy. The case was rather unusual because our client was at the same time one of the major creditors in the same bankruptcy proceedings. The court dismissed the bankruptcy manager's claim in full and has agreed with all legal and factual arguments from our statement of defence and evidence submitted.
Describe the approach adopted by the courts in your jurisdiction towards contractual interpretation: are the courts faithful to the actual words used, or do they seek to attribute a meaning that they believe the parties actually intended?
Russian courts have always been known for their formalistic approach, including to the contractual interpretation. The courts rarely seek to find the actual intention of the parties. At the same time, the courts usually rely on legislative provisions on similar types of contracts to assess the meaning of the contractual terms. The Russian Supreme Court is trying to change this formalistic attitude and issued the relevant guidelines in the recent ruling in December 2018.
It will definitely take a while for Russian judges to adopt a new approach so the parties have still to expect in the near future the traditional formal interpretation of contracts.
What piece of practical advice would you give to a potential claimant or defendant when a dispute is pending?
Russian judges still remain overloaded by the number of cases they have to consider. According to market statistics, a Russian judge considers at least 50 cases each month, so the parties should not be surprised if the court will allocate 15 minutes for considering their complex case. In these circumstances the parties' representatives should prepare their oral pleadings in a very structured, clear and short format to be able to explain their positions to the judge very quickly. The quality of such preparation should not be underestimated even though the written submission should be quite detailed.
Yaroslav Klimov, Andrey Panov, Sergey Avakyan, Natalia Klimova and Mikhail Kalinin
Norton Rose Fulbright
Moscow
www.nortonrosefulbright.com