Rafique Bachour is a partner in Freshfields Bruckhaus Deringer's antitrust group. His practice focuses on antitrust and regulatory aspects of global M&A transactions, international antitrust investigations and other behavioural and regulatory matters.
His recent experience includes advising Suzano on its acquisition of Fibria (Phase I remedies case), Amerra Capital and Mubadala on their joint acquisition of Andromeda, Nireus and Selonda (Phase I remedies case); BASF as remedy taker of the assets being divested by Bayer in the context of its merger with Monsanto, including the remedies offered by BASF to obtain merger clearance and be approved a suitable purchaser; and clients in recent and ongoing cartel investigations including in the bioethanol sector, financial services sector, the chemical sector and the electronics sector.
Sascha Schubert is a partner in Freshfields' antitrust group. Sascha guides his clients through antitrust and merger control investigations with a focus on European Commission proceedings. He also has extensive experience representing clients before Germany's Federal Cartel Office, and is often called upon to advise on multi-jurisdictional investigations that involve competition authorities around the world.
His recent merger control experience includes advising Liberty Global on Vodafone/Liberty and Telenet/BASE (both Phase II cases), Siemens on Siemens/Alstom and Siemens/Dresser-Rand (both Phase II cases), Alere on Abbott/Alere (Phase I with remedies) and Hutchison on Hutchison/Orange Austria and Hurchison/O2 Ireland (both Phase II cases).
GTDT: What have been the key developments in the past year or so in merger control in your jurisdiction?
Rafique Bachour and Sascha Schubert: The number of transactions notified to the European Commission has continued to increase, rising to a record high level of 414 notifications in 2018 from 362 in 2017, surpassing the prior record high of 404 transactions in 2007. This represents the fifth year of consistent growth in the number of notified mergers. Last year, 88 per cent of cases were cleared unconditionally in Phase I. Of these, almost 83 per cent were approved under the simplified procedure, up slightly from 80 per cent last year, consistent with the Commission's stated aim of increasing use of the simplified procedure.
Despite the increase in merger notifications to the Commission, the number of mergers cleared in Phase I with remedies has remained steady with 17 cases cleared with remedies in 2018, compared to 18 in 2017. However, 12 cases were referred to Phase II in 2018, nearly double the seven cases referred to Phase II in 2017. The Commission's decisions issued in Phase II cases this year resulted in a range of outcomes, with three cleared unconditionally, four cleared with commitments, two prohibited and one abandoned. Three are still ongoing.
In the European courts, one of the most significant judgments of the year was the European Court of Justice's (ECJ's) decision to uphold the General Court's March 2017 annulment of the Commission decision prohibiting the proposed UPS/TNT Express acquisition. The ECJ upheld the General Court's finding that the Commission infringed UPS's procedural rights of defence by failing to provide it with the final version of an econometric model used as a basis for the prohibition decision, violating UPS' rights of defence. The decision comes too late for UPS to salvage the transaction, but UPS continues to pursue a claim with the EU's General Court for a reported €1.7 billion in damages arising from the prohibition. The decision highlights the importance of the Commission fully respecting the parties' procedural rights in Phase II proceedings. It is also indicative of the growing importance that economic analysis and econometric models play in the Commission's assessment of major merger cases, and should encourage the Commission to offer as much transparency as possible in how these models are used.
Another notable development is the Commission's increasing focus on infringements of merger control procedure. In 2018 and 2019, the Commission has imposed a number of unprecedented, multimillion euro fines on companies for gun-jumping and providing misleading information in connection with merger control proceedings, and merging parties are now frequently receiving questions from the Commission about possible gun-jumping infringements as part of merger reviews. In this environment, companies are well advised to apply utmost care in ensuring that appropriate clean team agreements and other processes are in place to avoid the risk that any behaviour could be perceived as gun-jumping, and to double check the accuracy of any information provided to the Commission as part of their submissions in merger proceedings.
Last year also marked an increasing politicisation of dealmaking, in particular with respect to mergers involving foreign acquirers. The Commission's September 2017 proposal of a EU framework for screening foreign direct investments was approved by the European Parliament in February and finalised in March 2019. While this regulation will apply from 11 October 2020, member states are already taking actions to expand their foreign investment review powers or allow closer screening of transactions involving new or advanced technologies and critical infrastructure. Germany has introduced a mandatory review for non-European investors in relation to critical infrastructures, and the Italian government has extended its foreign investment rules to cover technology and data-related industries. A number of jurisdictions have also lowered their foreign investment review thresholds to capture small transactions and minority investments, including the UK (new thresholds capture transactions in certain industries where the target has a UK turnover of just £1 million). Although the vast majority of transactions subjected to foreign investment review are cleared, the expansion of foreign investment review powers means that outcomes are less predictable than they have been in the past. As a result, it is more important than ever for parties to assess foreign investment risks in parallel to merger control risks early in due diligence. As discussed further below, in parallel to these changes there have also been a number of recent political calls to review the EU merger regime to better allow for the protection of European industries.
GTDT: What lessons can be learned from recent cases to help merger parties manage the review process and allay authority concerns at an early stage?
RB & SS: As noted above, in 2018, the Commission referred 12 cases for an in-depth Phase II review. Many Phase II cases are taking longer than expected to obtain EU clearance, despite the Commission's statutory time limits of up to 35 and 125 working days for a Phase I and Phase II review respectively.
This can be attributed in part to pre-notification discussions that are not time-limited and can take several months in the case of a complex deal or where there are simultaneous developments affecting the relevant markets. As a result, it is now frequently taking 15 months or more from signing to closing in cases subject to EU Phase II review. This may prove problematic, in particular in public M&A transactions, and needs to be taken into account by merging parties in their deal planning (for example when agreeing on a long stop date for their transaction). In cases where a Phase II review is likely, parties may, depending on the circumstances, consider pushing for a short pre-notification period to avoid unnecessarily lengthening the overall review timeline. However, it is also increasingly common for Phase II reviews to be suspended pending responses to burdensome requests for ordinary course documents and data. Most recent Phase II cases have seen a 'stop the clock', often for a duration of one month or longer. Parties can minimise these disruptions by engaging early with the Commission and any other regulators that will review the transaction, including on likely remedies that may be required, and by preparing in advance for document and data requests to the extent possible.
In recent complex cases, there has also been an increase in the number of jurisdictions outside of the EU requesting waivers to speak to the Commission and with one another, even in cases where there is no clear correlation between the substantive issues raised by a transaction in the jurisdictions in question. The optimal antitrust strategy will also take into account the need for consistency across all jurisdictions where the merger is notified.
GTDT: What do recent cases tell us about the enforcement priorities of the authorities in your jurisdiction?
RB & SS: Recent cases affirm that the Commission continues to grapple with novel competition issues. In particular, any mergers that raise questions relating to innovation competition or the access to and use of data or the digital economy are likely to trigger close scrutiny. This enforcement focus also explains the ongoing debate on whether EU merger regulation thresholds should be revised to ensure that high-value acquisitions in the technology sector involving targets with low revenues are notifiable at the EU level.
The Commission's long-awaited expert report, 'Competition Policy for the Digital Era', was released on 4 April 2019, and addresses this and other questions about competition enforcement in the digital economy. The Expert Report was produced by independent academics and does not reflect the Commission's official position, but its ideas add to the narrative and ongoing debate. With respect to 'killer acquisitions', the report concludes that it is too early for the EU to adopt deal-value based thresholds, and instead recommends monitoring how similar thresholds operate in the member states where they have already been adopted, including Germany and Austria.
The Expert Report also recommends that greater attention should be paid to conglomerate theories of harm in the digital sector that may apply in cases where a party acquires a business active in a segment where it does not currently operate. In these cases, the Expert Report recommends that the Commission consider, for example, whether an acquirer might benefit from barriers to entry linked to the use of data and resulting network effects. In a welcome development, the Expert Report cautions against widening the concept of 'potential competition'. Instead, the Expert Report suggests that the Commission focus on whether another player is a realistic challenger to an incumbent, and not just theoretically capable of competing if it chose to do so. This will remain a topic of keen debate as national authorities in Europe seek to widen their nets to catch a greater number of transactions.
Linked to this is a growing focus on the impact of large, innovative players on competition and consumer choice in the digital era, largely in response to political concerns about the levels of concentration and reach of some platforms across a broad range of markets. Ninety per cent of digital data in the world today was created in the past two years, and competition and other regulators in Europe continue to grapple with concerns around the ownership, aggregation and use of data, including in the recent Google Shopping and Google Android decisions in Europe and the German Bundeskartellamt's controversial investigation into Facebook's gathering of user data. For example, in October 2018, the UK Competition and Markets Authority issued a working paper on its review of pricing algorithms, which found that there is very little evidence of algorithms being used for purposes of inappropriate personalised pricing and that it currently is unclear whether there is any material risk of algorithms colluding without human involvement.
As already highlighted, another enforcement trend in merger control is the Commission's increasing focus on merger procedure. This is reflected in a number of recent cases, some of which have led to high fines being imposed that have alarmed boardrooms and created a new level of sensitivity in the M&A business community. In April 2019, the Commission fined General Electric €52 million for providing incorrect information during the Commission's investigation under the EU Merger Regulation of GE's planned acquisition of LM Wind. This follows a €110 million fine on Facebook in 2017 for providing misleading information in connection with its WhatsApp takeover; proceedings against Merck and Sigma-Aldrich for similar behaviour are still ongoing. The Commission has also significantly stepped up its enforcement of the gun-jumping provision. In 2018, it fined Altice €124.5 million for partially implementing its acquisition of PT Portugal before notification, and another gun-jumping proceeding against Canon is currently pending. Finally, in February 2019, the Commission sent a statement of objections to Telefónica Deutschland, alleging the company breached commitments it offered in connection with its acquisition of E-Plus in 2014.
Last year marked an increasing politicisation of dealmaking, in particular with respect to mergers involving foreign acquirers.
GTDT: Have there been any developments in the kinds of evidence that the authorities in your jurisdiction review in assessing mergers?
RB & SS: Recent and ongoing merger investigations show that the Commission continues to develop its capabilities to handle forensic discovery of internal documents and emails as evidence. The Commission routinely requires the production of hundreds of thousands of documents in complex merger investigations – even those resolved at Phase I – combining a US 'Second Request'-style document review with the already burdensome written submission required as part of a Form CO and the attendant requests for information (RFIs) that go with it. Internal documents increasingly influence the Commission's view on the company's competitive strategy, but the burden of producing this information adds materially to the complexity, timeline and cost of securing merger clearances. In addition, in recent cases the Commission has been experimenting for the first time with AI, including algorithmic document review tools, which are already commonly used in second request reviews in the United States.
Businesses should assume that internal documents, particularly from key executives and business team leads, will be reviewed by the Commission, in particular when discussing the merger. Of course, with increasing document production requirements, the importance of safeguarding legally privileged documents and taking a cohesive approach to legal privilege across jurisdictions has only increased. In particular, where a transaction will be subject to simultaneous in-depth reviews in Europe and other jurisdictions with more comprehensive privilege rules, most notably the United States, parties must determine an approach upfront that will minimise duplication of work and avoid inadvertent waivers of privileged materials. Similarly, the entry into force in 2018 of the EU's General Data Protection Regulation (GDPR) adds another layer of complexity to these investigations, particularly where waivers may allow data to be transferred between jurisdictions.
GTDT: Talk us through any notable deals that have been prohibited, cleared subject to conditions or referred for in-depth review in the past year.
RB & SS: The Commission prohibited two mergers in early 2019, namely the proposed combination of Alstom and the mobility business of Siemens, and Wieland's proposed acquisition of Arubis Rolled Products and Arubis' stake in Schwermetall.
In Siemens/Alstom, the Commission expressed concerns that the transaction would reduce competition for very high speed rolling stock, and for mainline and urban signalling equipment. The Commission rejected the parties' claims that the combined entity would be better positioned to compete for high-speed rolling stock tenders against Chinese state-backed competitor CRRC. It found that CRRC was unlikely to become a relevant high-speed competitor in the EEA in the foreseeable future. In a press conference announcing the prohibition, Commissioner Vestager took the view that Siemens and Alstom are each already European champions, and each will remain independently competitive within the EEA. Commissioner Vestager distinguished the transaction from the creation of Airbus nearly 50 years ago, which was intended to create a European competitor capable of competing with US-based Boeing, noting that at the time of that transaction, Boeing dominated the sale of aircraft in the EU and European players were too small to compete with it effectively. For both mainline signalling and very high-speed rolling stock, the parties proposed a quasi-structural solution consisting of a combination of technology and asset transfers, which the Commission determined did not represent the sort of clear-cut divestment required to resolve its concerns.
The Wieland/Arubis transaction would have combined two of the EEA's largest producers of rolled copper products, which are used as an input for a variety of industries from electric cars and electronic devices to airplanes. As a result of the transaction, Wieland would have combined its and Arubis' stakes to take full control over Schwarmetall, which is responsible for over 60 per cent of European pre-rolled strip sales, with only one other large competitor with a share above 20 per cent. During the investigation, a significant number of European industrial customers raised concerns about the transaction, which the Commission concluded were substantiated by its own analysis and the parties' internal documents.
Like in the Siemens/Alstom transaction, the Commission found Wieland and Arubis' proposed remedy to be wanting. The parties offered to divest two Arubis plants that manufacture copper products, but these plants are dependent on Schwermetall for cost-competitive inputs, without which the Commission found they would not be able to recreate the competitive pressure that existed before the merger. The Commission also found that Wieland had not identified a suitable remedy taker.
It is of particular note that the Commission cleared three transactions unconditionally despite having opened in-depth investigations. These transactions were Apple/Shazam, KME/MKM, and T-Mobile NL/Tele2 NL. This is very encouraging for companies and shows that, in certain circumstances, the Commission's concerns can be allayed without the imposition of remedies, even after an investigation moved into Phase II. This can happen as the result of additional submissions by the parties, or the Commission receiving confirmation of the parties' arguments from third parties in its market testing. In T-Mobile NL/Tele2 NL the parties have pointed to their decision to request an oral hearing as instrumental in achieving an unconditional clearance.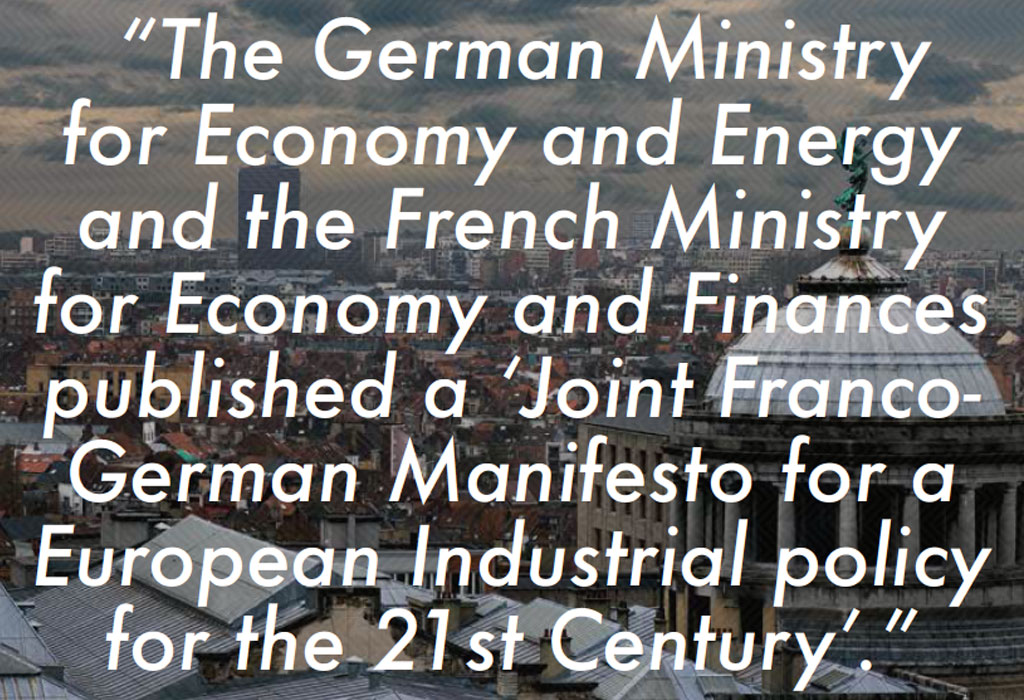 GTDT: Do you expect enforcement policy or the merger control rules to change in the near future? If so, what do you predict will be the impact on business?
RB & SS: The Siemens/Alstom transaction has sparked considerable debate about the effectiveness of EU industrial policy and its interaction with competition law. Within two weeks of the prohibition decision, the German Ministry for Economy and Energy and the French Ministry for Economy and Finances published a 'Joint Franco-German Manifesto for a European Industrial policy for the 21st Century'.
This Joint Manifesto looks at several options to improve EU industrial policy, including reviewing the EU competition rules. Suggestions include amending the EU Merger Regulation and the Merger Regulation Guidelines to enable the European Commission to take greater account of competition at the global scale and to ensure a more dynamic and long-term approach when reviewing proposed mergers. The Manifesto also calls for the EU member states acting unanimously to be given the power to override and supersede Commission decisions. There are also calls to ensure the Commission takes greater consideration of the fact that some undertakings are state-controlled and may have access to state subsidies.
In addition to merger rules, EU member states can seek to influence the competitive landscape and protect European strategic assets through foreign direct investment regulations.
However such suggestions are far from being actual legislative proposals. Any amendments to EU Merger Regulation would need to be proposed by the European Commission, undergo the necessary consultation processes and be adopted by the Council of the European Union. Accordingly, if taken up, any legislative changes would not enter into force before 2022.
The likelihood of legislative or other changes being taken forward will also depend on the composition of the new Commission, expected to take office in November 2019, following European Parliament elections in May 2019. The current Commissioner of Competition has made it clear that she does not consider that change is necessary. Similarly, in March 2019, the European Commission's in-house think tank issued a report in response to the debate triggered by the Siemens/Alstom transaction entitled 'EU Industrial Policy after Siemens-Alstom'. The report highlights the risks of authorising  anticompetitive transactions or allowing EU member states to overrule competition decisions based on non-competition considerations.
In addition to merger rules, EU member states can seek to influence the competitive landscape and protect European strategic assets through foreign direct investment regulations.
In addition to merger rules, EU member states can seek to influence the competitive landscape and protect European strategic assets through foreign direct investment regulations. In March 2019, the European Council approved an EU framework relating to the screening of foreign direct investment in Europe. The new framework is intended to facilitate cooperation and the exchange of information between EU member states and the European Commission to better identify and assess concerns. Final decision-making will rest with national governments under national legislation. Although these new rules will only be fully applicable from October 2020, they can be applied to transactions completing from July 2019 onwards. The adoption of this regulation is likely to result in an increase in the number of member states adopting or more strictly enforcing foreign direct investment legislation. Accordingly, businesses should already be checking if their transaction falls within the scope of existing foreign investment screening regimes in EU member states, as well assessing the risk of information being requested under the new co-operation mechanism.
The Inside Track
What are the most important skills and qualities needed by an adviser in this area?
Complex merger control matters require that a number of factors be balanced to form part of the overall strategy. These range from pure competition law issues, to industry and potential foreign investment issues (which are becoming more prevalent, particularly in the current 'trade-war' environment), to deal-specific matters such as timetable and allocation of risk, to broader strategic, political and media aspects. A successful merger control lawyer needs to be skilled in assessing all elements that impact the deal under review and creating a cohesive strategy that addresses each in a consistent way on a global basis. As always, strong written and oral advocacy skills, including the ability to explain complex facts and economic theories in a simple way, are also essential.
What are the key things for the parties and their advisers to get right for the review process to go smoothly?
Planning is essential: turn every stone, anticipate issues before key regulators and across jurisdictions, and by doing so avoid surprises. For the most complex transactions, anticipating and coordinating remedies across jurisdictions is critical, and requires a great deal of planning and teamwork. If you and your client are surprised by something, it had better fall into the category of 'genuinely unexpected'. Anything else is not good enough.
What were the most interesting or challenging cases you have dealt with in the past year?
RB: Representing BASF on its acquisition of the global remedy assets divested by Bayer in the context of its acquisition of Monsanto. The deal was notable in many respects in particular as its involved the remedy taker having to offer a remedy, and go through a Phase I process, before being approved as a suitable purchaser by the European Commission. Similar processes were followed and implemented in other jurisdictions. The case highlights the need for a consistent and coherent global strategy when advising on global transactions, in particular those that raise complex competition issues, and where the markets involved are challenging to grapple with.
SS: Advising Siemens on the EU Phase II merger control proceedings of the proposed transformative combination of Siemens' and Alstom's mobility businesses, and advising Liberty Global on the EU Phase II merger investigation of the sale of its German, Czech, Hungarian and Romanian businesses to Vodafone. Siemens/Alstom turned into one of the most important test cases for the Commission; the political debate that it has triggered on whether or not changes to the EU merger control regime are necessary is still ongoing.
Rafique Bachour and Sascha Schubert
Freshfields Bruckhaus Deringer LLP
Brussels
www.freshfields.com