Andrew Petry is a partner and Simon Kenolty is a managing associate in Simmons & Simmons' energy, natural resources and infrastructure team in London. Their clients are financiers, project sponsors, borrowers, public sector entities and infrastructure funds active in the energy, water, infrastructure, and oil and gas sectors mainly in Europe, the Middle East and Africa.
Some recent representative transactions include advising the lenders on a secondary market transaction relating to the €800 million 630MW Markbygden onshore wind farm in Sweden; Mitsubishi Corporation and TEPCO as sponsors on the US$3 billion 2,400MW Facility D independent water and power project in Qatar; China Resources Power on their bid for a stake in a major UK offshore wind farm; and a bidder for a UK gas distribution network.
GTDT: What have been the trends over the past year or so in terms of deal activity in the project finance sector in your jurisdiction?
Andrew Petry: Many investment decisions continue to be put on hold pending greater clarity emerging on the now imminent Brexit and its implications. Many businesses have made contingency plans and many are implementing these with the hope of making themselves as Brexit-proof as possible. This is true of the energy and infrastructure sectors as much as any other sector. The deterioration in Prime Minister May's position from the head of a government with a small majority to the head of a minority government continues to hamper her ability to exercise control over the Brexit process. She is forced to balance the opposing wings of her party and one of the effects of this balancing act, and the resulting uncertainty, is a decline in business confidence. Time is marching on and the details of the United Kingdom's long-term future relationship with the European Union will not be determined until after the UK leaves.
Simon Kenolty: To date, few if any investors have announced an intention to stop investing in energy and infrastructure assets in the United Kingdom altogether, although we noticed a dip in the level of focus on the United Kingdom by energy and infrastructure investors as the eurozone picked up and UK growth continued to languish at disappointing levels. Nevertheless, as far as investment activity in the United Kingdom over the past year or so is concerned, the picture seems to be consistent with recent UK trends in that the country continues to deliver a significant number of energy and infrastructure finance opportunities no matter what the government is doing. The transactions have been initiated more in the private sector than in the public sector and, according to our research, refinancings and secondary market sales during 2018 continued to significantly outnumber primary transactions by approximately two-to-one.
AP: In the case of refinancings, Brexit has probably had the effect of accelerating some decisions to cram transactions into 2018 rather than wait for 2019. There are few large transactions on the public sector side with most of the political attention and debate continuing to focus on the '3H' large trophy projects – Hinckley Point C, Heathrow third runway and High Speed Two (HS2). The parliamentary bill for the first phase of HS2 received royal assent in February 2017, however it continues to attract controversy amid fears over future cost overruns. The parliamentary bill for phase 2b is now only expected to be tabled in 2020, a year late. The use of PFI and PPP or, indeed, private finance 2 (PF2) and its regional variants has been ruled out by the Chancellor for future projects. Given the Labour Party's opposition to PFI, PPP and PF2, and their declared intention to selectively nationalise PPP transactions, it seems clear that PFI, PPP and PF2 will not be used for future UK projects. This leaves open the question of how the United Kingdom's approximately £500 billion pipeline of proposed projects will be funded, with increasing emphasis on straightforward public sector funding as well as consideration given to possible adaptation of regulated asset base models.
"Prime Minister May's Conservative government has continued to look favourably on major rail investment projects; a good example of this is HS2, which is designed to link London more effectively to the north of England."
GTDT: In terms of project finance transactions, which industry sectors have been the most active and what have been the most significant deals to close in your jurisdiction?
SK: In terms of PPP and PFIs, deal flow continued to be very limited. The Silvertown Tunnel PPP under the Thames received development consent and is expected to continue as a PPP given its advanced stage. The withdrawal of the Strabag Skanska consortium from the bidding, leaving only two bidders, has negative implications for competitive bidding and value for money, however. The Lower Thames Crossing tunnel between Essex and Kent and the A303 tunnel at Stonehenge are also expected to continue as PPPs. The group of four prisons under consideration by the Ministry of Justice seems most likely to be procured under a non-PPP model.
AP: The Welsh government's Mutual Investment Model PPP scheme has not led to a wider renaissance of PPP in the United Kingdom.
Prime Minister May's Conservative government has continued to look favourably on major rail investment projects; a good example of this is HS2, which is designed to link London more effectively to the north of England. This project is scheduled to be developed in at least two phases: a first phase connecting London to Birmingham and a second phase connecting Birmingham to Leeds and Manchester. There does not seem to be consensus on the price tag, but costs of over £90 billion are being cited (up from £56 billion). Simmons & Simmons advised the government on the core contracts for HS2. Unfortunately talk of an HS3 to connect Leeds with Manchester has cooled, as has talk of the Northern Powerhouse programme it was to be part of.
SK: One of the big moments in the UK rail sector was the announcement that the multibillion-pound Crossrail project (originally around £15 billion but now significantly more), linking central London on a fast west–east axis with Reading, Heathrow, Essex, Kent and the wider South East, has been delayed by approximately a year, primarily due to delays in live testing and station works. Despite this, talk of a Crossrail 2 project intending to serve stations throughout the South East, linking south-west and north-east London, as well as destinations in Surrey and Hertfordshire continues given London's excepted continuing growth. This project is mooted to have a price tag of £32 billion and is already causing political controversy, with calls for northern rail projects to be given preference.
There is also ongoing change in the rail sector being implemented via government-owned Network Rail, including the sell-off in 2018 of the railway arches estate where Simmons & Simmons advised bidders. Controversy about the role of private train operators continues, with the government still considering introducing formal joint ventures (JVs) between private train operators and state-owned Network Rail to improve coordination and efficiency.
AP: Outside directly government-procured sectors, the most active sector continues to be renewables, particularly offshore wind, despite the extensive rollback of government support for clean energy projects since the Conservative election victory in 2015. Notable transactions in offshore wind included the refinancing of the Race Bank and Dudgeon projects, and the development of, and sale of minority stakes in, Triton Knoll to J-Power and Kansai Electric Power, on which we advised another bidder consortium, and GIP's acquisition of 50 per cent of Hornsea 1 that included substantial funding from institutional investors including Aviva, LGIM, M&G and BlackRock.
SK: One of the big discussion points in 2018 was the scope for subsidy-free or even 'negative subsidy' renewables projects, following the sharp drop in the cost of offshore wind projects in contract for difference auctions during 2017 and sharp drops elsewhere in Europe. This reflects increasing economies of scale in offshore wind, particularly driven by increasing turbine size and increased investor confidence and appetite. However, there are big questions over the extent to which low bid costs in offshore wind are becoming decoupled from actual project costs, reflecting other factors such as political issues, the importance of maintaining deal flow and differing treatments of grid connection costs. The latter are a big factor in UK renewables costs. At the same time, other technologies such as solar power are being developed on a subsidy-free basis, especially with corporate power purchase agreement backing.
AP: The United Kingdom is also still relying on the development of substantial new nuclear capacity. EDF and CGN's Hinkley Point C, which benefits from an above-market tariff of £92.5 per MWh, continues to progress albeit behind its original schedule. However, elsewhere the sector is beset by delays and difficulties notwithstanding the fact that the sector continues to receive support. The financial difficulties at Westinghouse and Toshiba, and their subsequent failure to find a buyer for the Moorside project after KEPCO withdrew, led to that project being cancelled. Meanwhile, Hitachi's Wylfa project has been indefinitely suspended due to substantial funding difficulties, despite negotiations with the Japanese and UK governments for direct financial backing. Government financial support had been expected, if provided, to be a mixture of debt and equity and would have been a significant departure from the UK government's current approach of only providing price support. These funding difficulties have led to the Department for Business, Energy and Industrial Strategy confirming that it is reviewing possible use of a regulated asset-based approach for future nuclear power projects, where the developers would earn a regulated return based on the value of the assets, although the model has not been used for anything with such technically complex and lengthy construction as nuclear.
Two related sectors that have continued to show high levels of activity are the secondary sales and refinancing sectors, outnumbering primary transactions by approximately two-to-one in 2018. Trading energy and infrastructure assets to meet the growing demand of institutional investors for what they consider part of their 'alternative asset' portfolio is a growing business, as is refinancing existing transactions, often with funds provided by institutional infrastructure debt funds or directly by lending arms established by institutional investors. Two notable secondary market transactions demonstrating all of these features are the Triton Knoll and Hornsea 1 projects mentioned above.
"Notwithstanding continuing Brexit concerns, the United Kingdom remains one of the most open economies to foreign investors."
GTDT: Which project sponsors have been most active in driving activity? Which banks have been most active in providing debt finance?
SK: Notwithstanding continuing Brexit concerns, the United Kingdom remains one of the most open economies to foreign investors and the government is keen to encourage this. As an illustration, based on our research the UK market saw nearly twice as many transactions in 2018, including secondary market, primary financings and refinancings, as France, Germany and the Benelux combined. The UK continues to attract investors from all around the world. Institutional investors have increasingly been taking part in greenfield and brownfield financings as well as refinancings of operational assets. We have seen numerous transactions where overseas buyers have funded or acquired infrastructure in the UK and expect this to continue in the next 12 months.
AP: On the debt side, the more restricted availability of bank debt, coupled with low returns on government bonds and other investments, and a concerted push by governments to stimulate institutional infrastructure lending, has served to stimulate new money coming into the market from institutional funders and specialist infrastructure debt funds. Some funders are increasingly buying up the debt of operational projects either by deploying their own funds or investing on a managed account basis. Many of these funders are also moving into funding greenfield projects, with some institutional funders overcoming, in large part, the issues of inflexibility that have traditionally put them at a disadvantage when compared with banks. A number of banks such as BNP Paribas and Crédit Agricole from France, MUFG and SMBC from Japan, Norddeutsche Landesbank and Bayern LB from Germany and Santander remain active, while other banks are looking to increase their project finance activity again. However, bank lenders face increasing competition from sophisticated institutional investors such as Aviva, M&G, LGIM and BlackRock and bank tenors are constrained by Basel III and Basel IV considerations to around the 20-year mark (and often considerably less) with longer-dated money almost invariably being provided by institutional investors even if it is offered by a bank.
GTDT: What are the biggest challenges that your clients face when implementing projects in your jurisdiction?
AP: One of the biggest challenges for our clients continues to be finding investible transactions. The majority of secondary investors wish to buy off-market and sell in competitive auctions, but if everyone seeks to do this the market becomes unsustainable. For some institutions or funds, investors need to find very large transactions to make their involvement worthwhile and therefore good opportunities for them can be few and far between. This has been the case for some time now, but debt remains comparably very cheap and there has been record fundraising in the sector which means even greater resources competing for the assets that do come into play – both on the debt and the equity sides. Many of the newer opportunities and sectors such as smart metering, onshore renewables, district heating, fibre, data centres and energy efficiency projects consist of many smaller opportunities that need to be rolled out in volume as opposed to providing the opportunity to acquire or fund a large trophy green or brownfield asset.
SK: The European Court of Justice's surprise ruling in November 2018 that the UK's Capacity Market scheme was unlawful state aid, leading to a suspension of payments and future auctions, has naturally caused serious concerns. The UK government maintains that the ruling merely requires the scheme to be suspended while the European Commission carries out a full investigation of the lawfulness of the Capacity Market. However, it is currently unclear how long that investigation will take, up to 18 months has been estimated, whether any changes to the scheme will be required for final approval and the status of the awarded contracts under which government's payments have been suspended and some past payments may be subject to clawback.
The unexpectedly strong showing for the Labour Party in the 2017 election and its proposals for nationalising water, rail, PPP, PFI, mail and other infrastructure assets at a price set by Parliament rather than contract or accepted market valuations has led to an increased sense of political risk, which we expect to be reflected in increased pricing rather than developers or lenders declining to invest, but it is not clear at present whether this is the case. Less high-profile was the consultation on government plans to increase its ability to block corporate acquisitions on wider national security grounds. Currently, the government's ability to block transactions is limited to competition, financial stability, media plurality and narrow national security grounds. Expanding this to include a broader national security test, as a number of other countries do, could potentially cover privately owned energy and infrastructure assets and lead to increased political risk particularly if a more left-wing party is in government.
Carillion's liquidation and the continuing difficulties experienced by sponsors or other contractors suggest that one challenge for sponsors, lenders and other investors is to decide if the risk allocation and pricing on a project is commercially sustainable once the potential for cost overruns and delay during construction are factored in. It also illustrates the importance of carefully selecting JV partners and ensuring adequate credit support for equity and performance obligations, given the need for JV partners to plug the hole in projects caused by other JV parties' failure.
"We have seen numerous transactions where overseas buyers have funded or acquired infrastructure in the UK and expect this to continue in the next 12 months."
GTDT: Are there any proposed legal or regulatory changes that may give rise to new opportunities in project development and finance? Do you believe these changes will open the market up to a broader range of participants?
AP: It is safe to say there is a general consensus that infrastructure investment is good for the economy. Prime Minister May's Conservative government continues to be publicly committed to the grand schemes mentioned earlier as well as the rollout of high-speed broadband, smart metering and other initiatives. What has not changed is the hostility in government and the opposition Labour Party to PFI and PPPs. There is a growing crisis among NHS trusts and the NHS more generally, the education sector and other areas of the state where PPPs have in the past extensively been used to fund infrastructure. The new infrastructure was typically warmly welcomed when it was procured but now, as budgets are either cut or need to stretch further, the procuring entities find that they are not able to raid maintenance budgets or mothball their infrastructure without incurring politically and financially painful costs. Various solutions are being developed to alleviate the pressures put on the public entities caught in this situation. Given the need to fund ambitious infrastructure plans and continuing government balance sheet constraints, we expect intensifying consideration of non-PFI private funding models such as the regulated asset base model already used in, for example, the water sector, barring of course a Labour government being elected in an early election and as and when the political classes find time away from dealing with Brexit to focus on infrastructure.
SK: Given the well-publicised difficulties in developing new nuclear power, the risk that the United Kingdom will have insufficient power generating capacity in the coming years remains a material one and the question of how to support UK nuclear power remains unanswered. No new nuclear reactor has started generating power since Sizewell B in 1995 and the likelihood that the new nuclear generation capacity will be ready later than hoped for is high. Filling the potential future generation gap is therefore becoming an increasingly critical issue. Solutions may involve further extending the life of existing nuclear plant, the government buying minority stakes in proposed UK nuclear projects or providing credit guarantees, more international interconnectors and a resurgence in the use of gas-fired plant as the price of LNG and gas comes down.
AP: One of the most important changes in the power sector is the decline in price support for renewables. Another related factor is the move away from, primarily diesel, but also petrol, for use in the transport sector. The government appears to be sitting back and allowing the uncertainty over the future of diesel to affect car sales and other investment decisions without actually planning for the consequences of these changes (for example, by effectively stimulating the build-out of a charging points network). The decline of subsidies for electric car purchases also reflects this.
SK: Also, on a negative note, one of the implications of Brexit is that the United Kingdom will leave the European Union's Internal Energy Market with possibly consequent restrictions on its ability to trade energy with the EU through interconnectors. Proposals to address this are urgently needed.
AP: The European Investment Bank (EIB) has not formally announced it will no longer invest in the United Kingdom, but then equally nor does it currently appear to be signing any significant transactions other than some refinancings. What is clear is that the EIB no longer wishes to accept the jurisdiction of the English courts in their documents and will only accept English law as the governing law for their contracts in exceptional circumstances. In this regard we are in a period of uncertainty that will continue at least as long as it will take to negotiate the terms of Brexit and quite probably for some time beyond.
GTDT: What trends have you been seeing in terms of range of project participants? What factors have influenced negotiations on commercial terms and risk allocation? Are there any particularly innovative features?
SK: Contract terms are looser, and we are frequently seeing features such as equity bridge loans, debt service reserve facilities and other financial enhancements that reduce the cost of funding at the expense of a degree of lender comfort and security. Another issue that has been highlighted recently is the fragility of some of the developers' and the engineering, procurement and construction and facilities management providers' balance sheets, which can be an inhibiting factor for the sector. This poses risks for JV partners and off-takers as well as lenders, as illustrated by the costs that Carillion's JV partners (such as Kier and Galliford Try) and customers (such as the government) had to absorb (and still are absorbing) after its collapse.
AP: The need for funding is one that has become a global issue and the increasing involvement of institutional money on the equity and the debt side is having an impact on how transactions are being structured with fixed interest debt funding and modified make-whole provisions now common. Some of the assets that were bought by closed-ended funds in the mid 2000s have been coming to market as the funds need to realise their investments with other funds seeking to develop strategies to hold on to their assets through extension and continuation fund strategies. What we are not seeing perhaps as much as we had anticipated is reliance on the capital markets for infrastructure financings.
SK: The other feature seen increasingly in the renewables market is the ongoing reduction in government price support and use of corporate PPAs to provide long-term price certainty for projects in place of declining government support.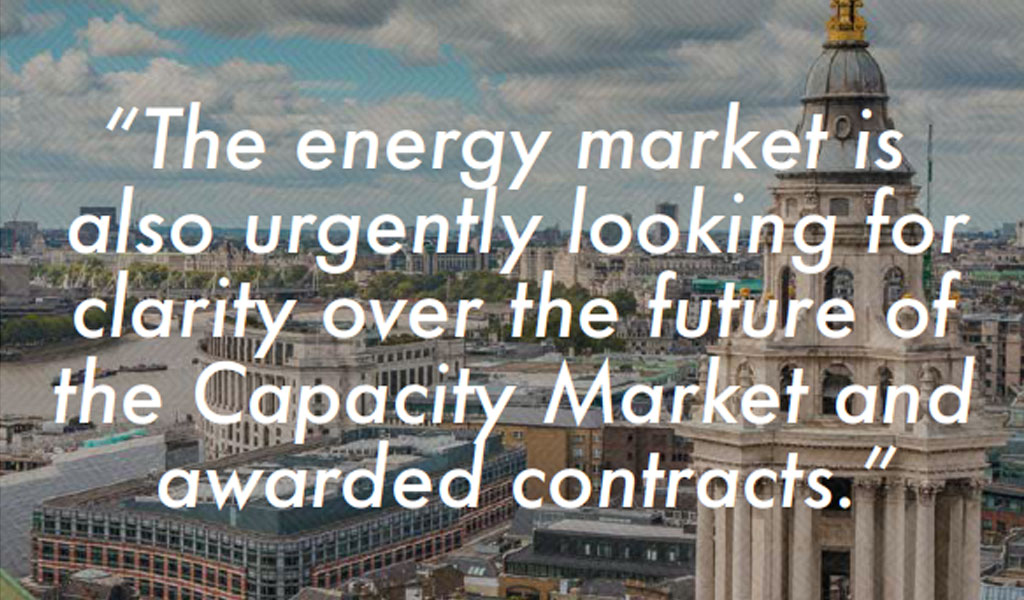 GTDT: What are the major changes in activity levels or new trends you anticipate over the next year or so?
SK: The biggest threats to infrastructure investment undoubtedly remain political risk and lack of deal pipeline. The unprecedented period of historically low interest rates needs to come to an end at some point. Although there is a pressing need for new economic infrastructure, there are serious concerns that the overriding demands of delivering Brexit, with increasing reports of civil servants being diverted from their day jobs, are limiting the ability of government to develop and implement innovative infrastructure solutions.
AP: The fact that the oil price has not really recovered on a sustained basis and that the North Sea is well past its peak production means investment in the North Sea remains slow and has largely been on hold. Notwithstanding that, the stress that the whole sector has been under continues to lead to significant M&A opportunities, such as Ineos' ongoing bid for ConocoPhillips' North Sea portfolio and Equinor's acquisition of Chevron's 40 per cent stake in Rosebank as the trend of oil majors offloading their North Sea assets continues.
SK: As predicted last year the integration of renewable generation and storage has continued to accelerate in 2018, although for storage to achieve its full potential its unique characteristics compared to generation need to be properly recognised by electricity market regulation.
The energy market is also urgently looking for clarity over the future of the Capacity Market and awarded contracts, as well as the government's plans for a 'top-up' auction in mid 2019.
The Inside Track
What three things should a client consider when choosing counsel for a complex project financing?
Clearly price is always important, but a client needs to look behind the numbers and ensure they are getting the lawyers they need. Often those whom the client meets at the pitch meeting and on whose reputation and presentation the client bases their choice of adviser will be much less evident during the day-to-day advice on a project.
The lawyer a client hires should have a broad experience base to draw upon but also be part of a wider team that is able to support the chosen counsel in the whole range of potentially relevant non-core skills. At the same time a good projects lawyer needs to master a very wide range of skills and, while they should involve specialist colleagues as appropriate, they should never totally abrogate responsibility for the specialist aspects of a piece of advice to colleagues.
A client should think carefully about the kind of lawyer who will complement the client's team the best. Projects lawyers should be proactive problem-solvers who understand the client's business, the project and the technology and are not afraid, when needed, to propose solutions that differ from what is orthodox. Some clients prefer their counsel to lead and drive forward a transaction, but others prefer to have external counsel perform more of a support role to the in-house team. A good lawyer should be able to perform both kinds of roles and fit seamlessly into the wider client team whatever the dynamic that team may have. The importance of personality fit should not be underestimated given the long hours and stressful situations that are inevitable on a project.
What are the most important factors for a client to consider and address to successfully implement a project in your country?
Investors should not underestimate how UK regulatory regimes and the politics of infrastructure investment can unexpectedly evolve and have an impact on deal flow and how transactions are structured. This has been true recently in the renewables space but is true of other sectors too, particularly given the potential stress of implementing Brexit and the opposition Labour Party's rejection of private infrastructure funding models.
What was the most noteworthy deal that you have worked on recently and what features were of key interest?
As far as UK deals are concerned, we are currently advising the UK government on some strategic nuclear decommissioning issues and have continued to advise investors and contractors on a range of renewables transactions, predominantly in the solar and wind sectors.
 We advised an overseas bidder consortium on the Triton Knoll equity sale, which demonstrated two key features in this sector; the continuing attractiveness of well-structured UK projects with experienced developers and the desire of foreign investors with limited offshore wind experience to buy in to European projects to build their experience and capability, both of which we expect to be continuing features of the European market.
 We are also advising a global infrastructure investor on the acquisition of a gas distribution system in the UK.
Andrew Petry and Simon Kenolty
Simmons & Simmons LLP
London
www.simmons-simmons.com