Joseph (Joe) Palin is co-chair of Dentons' Canada region banking and finance practice group and a regional lead of Dentons' global banking and finance practice group. With over 25 years of experience in structuring and completing domestic and international corporate debt financing transactions, Joe regularly acts as lead counsel to lenders (and lending syndicates) and debtors involving complex financing structures. Joe has extensive financing experience in the upstream and midstream oil and gas sector and the power project sector. His project financing asset classes include wind power, solar power, hydro projects, co-generation, combined cycle and simple cycle gas-fired power projects, midstream gas processing projects and pipeline projects.
Trevor Morawski is a partner in the banking and finance practice group at Dentons Canada. Trevor has extensive experience advising lenders (including lending syndicates) and debtors with respect to structuring, negotiating and documenting secured and unsecured credit transactions, including corporate credit loan syndications and project financing. Trevor routinely acts for financial institutions and other entities on derivative contract matters, including hedging arrangements entered into in connection with project financing. His project financing asset classes include wind power, solar power, hydro projects, co-generation and combined cycle and simple cycle gas-fired power projects.
GTDT: What have been the trends over the past year or so in terms of deal activity in the project finance sector in your jurisdiction?
Joseph Palin and Trevor Morawski: Canada is undergoing a boom in large public infrastructure projects, particularly in the domain of public transportation and road and highway upgrades that employ PPP models. In addition to new transport projects and upgrades, hospital and healthcare centres, environmental remediation and nuclear facility refurbishment occupy a great deal of the Canadian project finance space. Investment continued in the renewable energy sector as well, albeit at lower levels than in past years. According to the Canadian Wind Energy Association, 341MW of new installed wind energy capacity reached commercial operations in Canada in 2017, totalling approximately C$800 million in investment.  Ontario was again in front of all other Canadian provinces in 2017, adding 119MW of installed capacity, including the 100MW Belle River wind power project constructed by Samsung Renewable Energy and Pattern Energy Group. 
British Columbia continued to see some activity in the project finance sector last year as well, with some energy-related PPP infrastructure projects and a handful of renewable power projects that were awarded contracts by BC Hydro reaching financial close. For example, we acted on behalf of a syndicate of lenders in connection with the C$213 million financing of the 33MW Narrows Inlet Hydro Project northwest of Vancouver, a lake storage and run-of-river hydroelectric project being constructed by BluEarth Renewables with the participation of the Sechelt First Nation. The Narrows Inlet project is anticipated to reach commercial operation this year. Facilities such as Narrows Inlet are indicative of a growing trend towards renewable energy projects with First Nation participation.
GTDT: In terms of project finance transactions, which industry sectors have been the most active and what have been the most significant deals to close in your jurisdiction?
JP & TM: In addition to robust publicly funded transport and infrastructure projects, renewable energy continues to be a major focus of the project financing sector in Canada. In December, the Alberta Electric System Operator (AESO) announced the successful bidders for the first round of the province's Renewable Energy Program (REP), which is to encourage the development of 5,000MW of renewable electricity generation capacity in the province by 2030. Six hundred megawatts of wind generation was awarded in round one of the REP with a weighted average bid price of C$37/MWh, with each successful bidder signing a 20-year renewable electricity support agreement with the province. The successful bidders for round one of the REP were EDP Renewables Canada, Enel Green Power Canada and Capital Power Corporation. On 5 February 2018, the province provided further details regarding rounds two and three of the REP. Round two will have a target procurement of 300MW and round three will have a procurement target of 400MW.
It is also worth noting that after a period of industry reticence, development of the Alberta oil sands saw new project development over the past year, with notable announcements of new projects or upgrades to existing facilities from Japan Canada Oil Sands Ltd, Cenovus Energy Inc, Suncor Inc and Canadian Natural Resources Ltd (CNRL).
Finally, BC Hydro's Site C hydroelectric project (on which we have advised on the worker accommodation, procurement and construction aspects) emerged from politically grounded fears of cancellation and continues to be one of the largest energy infrastructure projects under way in Canada.
GTDT: Which project sponsors have been most active in driving activity? Which banks have been most active in providing debt finance?
JP & TM: BluEarth Renewables continues to expand its renewable energy activities, being the lead partner in the Narrows Inlet Hydro Project mentioned above, as well as in solar and wind energy projects under development in Alberta, Ontario and Saskatchewan. In addition to having been awarded a contract under the province of Alberta's REP, Capital Power continues to develop power projects across North America, with a particular focus on wind power.
Pattern Energy Group, together with co-sponsor Nigig Power Corp, reached financial close on the C$1 billion financing of the 300MW Henvey Inlet wind power project, which will be located on reserve lands of the Henvey Inlet First Nation on Georgian Bay in Ontario. This will be Ontario's largest wind power facility and is the largest wind power project to be constructed on First Nations' lands in Canada to date. The financing for the Henvey Inlet power project was secured with traditional bank financing as well as private placement debt.
The Canadian banks remain the leaders in project financing in Canada, with Bank of Montreal, National Bank of Canada and Royal Bank of Canada continuing to be active with respect to overall lending, syndication and arranging activity in the project finance sector. In addition, Caisse de dépôt et placement du Québec recently announced the financing of the Réseau express métropolitain, a rapid transit system for the City of Montreal and surrounding area – one of the most ambitious public transit projects that Canada has seen in half a century. Finally, institutional lenders such as Manulife and Sun Life and the private placement bond market played significant roles as well.
GTDT: What are the biggest challenges that your clients face when implementing projects in your jurisdiction?
JP & TM: Canadian project financing is increasingly influenced by the impacts of political discussions surrounding climate change and other policies being implemented by relatively new, liberal governments in the western provinces. While such discussions have created novel opportunities in the form of renewable-energy procurements, uncertainty about the future of major fossil fuel projects persists. For example, uncertainty about the future of the Kinder Morgan Trans-Mountain Pipeline expansion (a pipeline expansion project that would increase the volume of crude oil shipped through the pipeline from Alberta to British Columbia from 300,000 barrels per day to 890,000 barrels per day) has been underpinned by the actions of a new government in British Columbia, which has forced the provincial government of Alberta to reinforce its commitment to developing hydrocarbon pipelines to tidewater, in order to serve markets in the United States, Asia and beyond. A similar obstacle arose from Quebec's opposition to the Energy East pipeline project (another pipeline project that proposed to ship 1.1 million barrels per day of diluted bitumen from Alberta to Quebec and New Brunswick), which TransCanada officially cancelled in 2017 in light of regulatory and political hold-ups.
In addition to political uncertainty, opposition by First Nations, environmental groups and other stakeholders remains a challenge to project development in Canada, and the inertia created by such opposition poses challenges across industries. Important mega-projects such as the hydroelectric facilities at Labrador's Muskrat Falls and Manitoba's Keeyask Hydroelectric Project have had to navigate complex legal and regulatory hurdles in the face of local challenges. Continued local opposition and legal challenges to the Pacific Northwest LNG project combined with low commodity prices resulted in Petronas cancelling that project in July 2017. That cancellation was followed quickly by Nexen's announcement in September 2017 that it would not be proceeding with the Aurora LNG project that it was proposing to construct in Prince Rupert, British Columbia.
Regardless of whether objections and political uncertainty succeed in defeating a project, they can delay the project and add tremendous costs to the development of a project, causing some lenders to cautiously approach the financing of projects. This is of particular concern for oil and gas projects. For example, in December 2017, the World Bank announced that after 2019, it would no longer provide financing to oil and gas projects. Similarly, Desjardins, North America's largest credit union association and the largest lender in the province of Quebec, had announced a moratorium on financing pipeline projects connected with the oil and gas industry in Canada. While it has since lifted the ban on oil and gas lending, its initial announcement, along with that of the World Bank announcement, will send a troubling message to sponsors seeking to construct projects in the oil and gas sector. That said, the general trend in Canada towards the elimination of transitional energy sources (coal in particular) does present opportunities for renewable power projects and clean natural gas projects and the lenders that finance them.
"The Alberta indigenous equity requirement contained in the upcoming Alberta REP round two procurement process reflects a growing trend in Canada."
GTDT: Are there any proposed legal or regulatory changes that may give rise to new opportunities in project development and finance? Do you believe these changes will open the market up to a broader range of participants?
JP & TM: The addition of renewable power capacity to the generation mix in Canada has slowed in recent years. While Ontario and Quebec have historically been the most favourable jurisdictions for developers in Canada, Western Canada is currently the brightest light for renewable energy project development and project finance in Canada. As noted above, the second and third rounds under the Alberta REP call for an additional 700MW of renewable power to be bid on in 2018. Successful proponents for the round two procurement must include an indigenous equity component in their bid. Indigenous groups that qualify include First Nations, Metis Settlements and Metis Nations located in Alberta. The specific timelines relating to rounds two and three are expected shortly from AESO, with the anticipated announcement of the winning bidders expected some time in December 2018. In addition to the new procurement rounds, the Alberta government remains committed to restructuring its power market by 2021 to provide for capacity payments to generators on top of spot power prices – an approach taken in the UK, Russia, parts of the US and Australia, and currently being explored in Ontario. As in those jurisdictions, generators will competitively bid for periodic payments to make their generation capacity available, through a new capacity market. They will also continue to receive spot prices for their actual energy deliveries through the existing energy market. In effect, generators will recoup costs through two revenue streams rather than one.
The Alberta indigenous equity requirement contained in the upcoming Alberta REP round two procurement process reflects a growing trend in Canada whereby project sponsors are required to partner with local indigenous groups and other communities to construct and operate projects. As noted above, both the Narrows Inlet project and the Henvey Inlet project have First Nations participants. Local indigenous and other community participation in projects, whether such participation is a mandated requirement or not, will be an increasingly important component of future projects in Canada. Securing indigenous and community participation at the outset of a project will assist sponsors in understanding local concerns relating to the project at an early stage, which will result in less local opposition to the project and more timely completion of the project. 
As we noted last year, the Canadian federal government continues to confirm its commitment to its infrastructure plan, which includes funding for upgrades and improvement to public transit systems and water and wastewater infrastructure.  In 2017, the federal government issued its Investing in Canada Plan, under which it has committed to invest more than C$180 billion over 12 years in public transit, green and social infrastructure, transportation infrastructure and rural and northern communities. These infrastructure projects will continue to provide significant and immediate opportunities for project sponsors and project finance lenders. For instance, in the case of public transit, water and wastewater projects, the federal government is proposing to fund 50 per cent of eligible project costs, leaving the balance to be funded by provincial governments and the private sector. With Canada already a leader in PPPs, the legal structures already exist in Canada for a rapid deployment of these funds and execution of new projects. The Investing in Canada Plan also includes investment by Canada Infrastructure Bank to support, among others, indigenous groups to build infrastructure in their local communities. This investment in indigenous groups is yet another example of the important role they will play in future project development in Canada.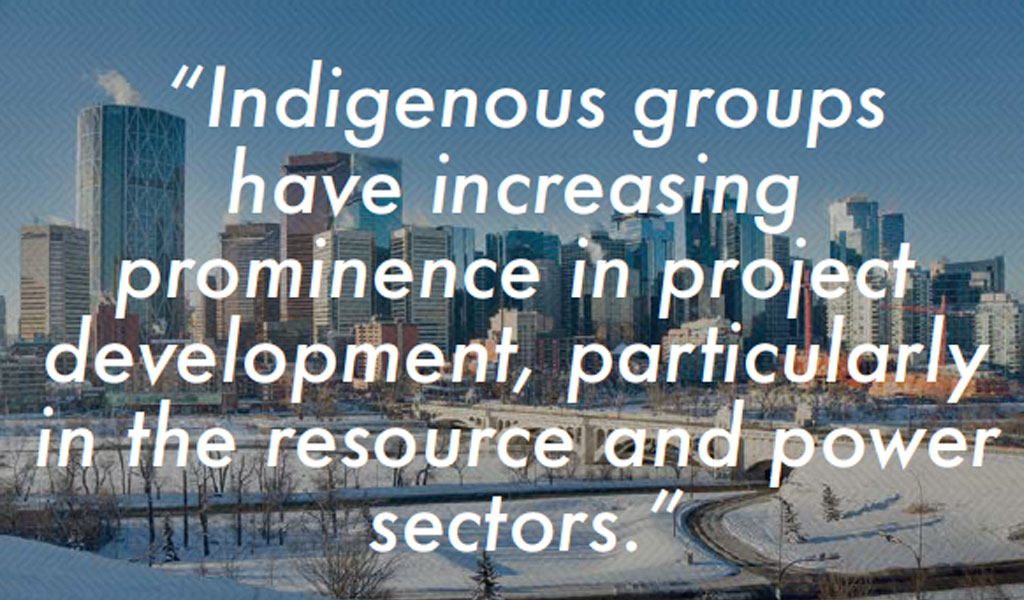 GTDT: What trends have you been seeing in terms of range of project participants? What factors have influenced negotiations on commercial terms and risk allocation? Are there any particularly innovative features?
JP & TM: The strong, established sponsors continue to have a dominant presence in Canada and continue to look for opportunities to acquire projects from smaller developers that have initiated them. Companies such as BluEarth Renewables, Capital Power, Suncor, Innergex, Boralex and Pattern Energy Group are expected to remain active in the power sector in 2018. For instance, in February 2018, Innergex Renewable Energy announced that it completed its acquisition of Alterra Power Corp, adding 485MW of renewable energy assets to its portfolio. At the same time, we have also witnessed some non-traditional players enter into the renewables market, in an effort to reduce emissions and promote sustainability. For example, in 2017, IKEA Canada announced that it had entered into agreements with Teck Resources and TransAlta Corporation to acquire the 58MW wind power facility located near Drumheller, Alberta. We expect that trend to continue as companies continue to focus on social responsibility and add renewable energy assets to their portfolios.
Other investment-grade companies such as Enbridge and TransCanada are expected to remain active in the oil and gas sector, particularly if commodity prices continue to trend higher and stabilise in 2018. On the debt side, spreads for project bonds have become more favourable for sponsors, which has resulted in more project bond deals and we expect that this will continue for 2018. Domestic Canadian banks, however, such as Bank of Montreal, National Bank of Canada and Royal Bank of Canada, have continued to agree to extend terms, increase leverage and maintain relatively aggressive pricing to refinance mini-perm deals that were approaching maturity, reflecting the progression of projects from construction to established operations.   Foreign banks, such as Bank of Tokyo MUFG and Sumitomo Mitsui Banking Corp, remained active in the project finance sector, competing with the Canadian banks on pricing and term. Life insurance companies, such as ManuLife and Sun Life have been and will continue to be significant sources of debt capital for project sponsors, as long-term projects fit well with the long-term financing products these institutions offer to match their long-term insurance payment obligations. In short, we expect healthy competition among the project bond market, the domestic Canadian banks, foreign banks and institutional investors, to provide project sponsors with a menu of project finance choices for their projects.
As noted throughout this article, it should also be recognised that indigenous groups have increasing prominence in project development, particularly in the resource and power sectors, and are witnessing a steady increase in participation as owner-stakeholders in projects based in Canadian resource assets. Any sponsor seeking to develop assets in the infrastructure, oil and gas, or electrical power industries should consider the interests of these groups, as well as the legal and constitutional matters unique to them.
GTDT: What are the major changes in activity levels or new trends you anticipate over the next year or so?
JP & TM: We expect that the project finance market will continue to remain steady over the next 12 to 24 months, albeit at slightly reduced levels from last year. In Ontario, we are still awaiting the Ontario government's announcement of its next energy procurement process. Continued refinancing transactions for mini-perm deals and some M&A activity will sustain project finance activity in Ontario for 2018, as well as some smaller projects that have received approvals. In Alberta and Saskatchewan, developers that are successful in the requests for proposals for these provinces will begin to look for financing alternatives in 2019.  With renewed optimism from higher oil and gas prices, we expect that there will be more positive investment decisions with respect to project development in the oil and gas industry. For example, CNRL has announced the continuation of the Kirby North Project and Cenovus's Christina Lake expansion is expected to proceed as well. Finally, infrastructure projects will also be a focus in 2018, with certain transportation, pipeline and power transmission projects moving ahead.
The information contained in this article was accurate as of March 2018.
The Inside Track
What three things should a client consider when choosing counsel for a complex project financing?
First, each project financing transaction is different and comes with its own unique set of complexities, which are often not obvious at the outset. Accordingly, clients should look for experienced project finance counsel that has a proven track record of innovative problem solving and getting deals closed. Second, clients should look for practical counsel that is able to separate out real risks and issues from academic or hypothetical risks and issues. Third, projects are multidisciplinary by their nature so it is important for clients to have access to a deep team that has expertise in the relevant disciplines and a thorough understanding of the industry.
What are the most important factors for a client to consider and address to successfully implement a project in your country?
There are many important factors that clients need to consider in order to complete a successful project finance in Canada, including early-stage community and, if applicable, indigenous engagement and consultation. Too many projects have experienced undue delays as a result of local community and indigenous objections and appeals. In addition, clients need to understand the regional differences in Canada and the nuances in each region. For example, the province of Quebec deals with indigenous consultation and accommodation for projects in a different manner than other provinces, so what is required by a sponsor in one province may not be applicable for a similar project in another province.
What was the most noteworthy deal that you have worked on recently and what features were of key interest?
The Brooks solar power project financing was particularly interesting. The project, located in Brooks, Alberta, was backstopped by a power purchase agreement with a corporate off-taker. One of the first such arrangements in Alberta, the interests of the corporate off-taker, the lenders and the sponsor presented some unique challenges. Creative solutions to address each stakeholder's concerns were developed and implemented into satisfactory agreements and the project is expected to reach commercial operation date in the spring of 2018.
Joseph (Joe) Palin and Trevor Morawski
Dentons Canada LLP
Calgary
www.dentons.com