Alexander Schwarz is a corporate/M&A partner in Gleiss Lutz' Düsseldorf office. He advises clients in M&A transactions on all corporate law issues as well as in the area of private equity. In recent years, he has worked on numerous cross-border transactions, which included advising Magna on its bid for Opel/Vauxhall, E.ON on the divestiture of its Italian power generation business, Bertelsmann on various M&A transactions, Finnish building experts Caverion Oyj in the sale of its subsidiary Krantz as well as Boehringer Ingelheim on a collaboration with and the subsequent acquisition (in 2018) of ViraTherapeutics. Alexander has been co-managing partner of the firm since 2016.
Martin Viciano Gofferje is a corporate/M&A partner in Gleiss Lutz' Berlin office. He specialises in international M&A transactions with a particular focus on advising private equity and venture capital investors. He co-heads the Gleiss Lutz focus groups on healthcare and life sciences and venture capital. He is the country relationship partner for the Iberian peninsula and Latin America and a diversity representative of Gleiss Lutz. In recent years, Martin has advised a large number of well-known corporations and investors including Boehringer Ingelheim, Roche, Valeo, Gruner + Jahr, Porterhouse, Naspers, Mitsubishi Electric, eBay, STIHL and Bosch on complex national and cross-border transactions and joint ventures. His recent work includes advising US company Integer on the sale of its Advanced Surgical & Orthopedics product lines to the MedPlast group, Naspers on its investment in Berlin-based used-car platform Frontier Car Group and also the German government on KfW's acquisition of a stake in 50Hertz.
GTDT: What trends are you seeing in overall activity levels for mergers and acquisitions in your jurisdiction during the past year or so?
Alexander Schwarz and Martin Viciano Gofferje: Both worldwide and in Germany, 2017 was a successful year for M&A. Despite prevailing political uncertainties surrounding Brexit and US foreign trade policy, 2017 proved to be very robust for M&A in Germany. Although the number of transactions reported continued to decrease to market saturation and high prices, the overall volume saw a significant increase compared to 2016.
The German M&A market was primarily shaped by outbound transactions, particularly by those involving companies in the United States and parts of Asia. With a volume in excess of US$60 billion, the closing of the takeover of Monsanto by Bayer deserves a mention as Germany's largest transaction of the recent years.
Looking at inbound activities, Chinese investors continued to take centre stage in a large number of deals. After the controversies surrounding the €4 billion takeover of the German robotics manufacturer Kuka by the Chinese Midea Group in 2016, the landscape does show signs of change and indications of a more difficult investment climate for Chinese investors. After the acquisition of the German systems manufacturer Aixtron by the Chinese company Fujian Grand Chip Investment was blocked by US government concerns, in 2018 the German government has de facto also blocked the acquisition of Leifeld Metal Spinning by the state-owned Chinese investor Yantai Tahai by signalling that it would be prepared to intervene in the deal. Also, just days before this, the German government intervened in the bidding process for a 20 per cent stake in the electricity transmission grid operator 50Hertz, albeit not by prohibiting a Chinese investment, but by acquiring the relevant stake through the state-owned development bank KfW. It remains to be seen whether the negative trend in the number and volume of transactions involving Chinese groups at the German M&A market will continue due to these recent developments.
In contrast, there is a trend for M&A transactions to be increasingly assessed by regulatory authorities at the European level and thus in a European rather than a national context. This would also make once unconceivable mergers and acquisitions possible. One example is the pending takeover of Unitymedia by Vodafone. In 2004, Kabel Deutschland failed at the German Federal Cartel Office with the purchase of Unitymedia's networks.
In general, the M&A market in Germany in 2018 is also shaping up to be a very good year for transactions. The economy is doing well, helped along by the low interest rate policy in Europe and wage and fiscal policies. These factors have led to a disproportionate rise in the number of private equity deals. The private equity sector is booming and is being inundated by money from major investors lacking alternative options. The trend towards secondaries, in which companies are passed on from one private equity house to the next, continues unabated. Only around 10 per cent of all transactions in Germany are attributable to first-time sales to financial investors, called primaries in the technical jargon. The €4.6 billion sale of Techem by Macquarie to a consortium led by Partners Group is a typical example of a secondary buyout.
A further M&A trend results from the fact that Google, Apple, Facebook, Amazon and co attack one industry after another with disruptive digital business models. Established companies are trying to counter this by building new alliances. Joint ventures are currently in a renaissance. While the objectives are always the same, namely ensuring long-term competitiveness, the forms of the alliances vary. Companies go for new, innovative ways with competitors, customers, suppliers and financial investors. This presents joint venture partners with new challenges, for which solutions must be found, especially in legal structuring of joint venture projects.
There are several reasons why M&A will continue to be a hot topic in Germany in the future as well. On the one hand, the market should continue to benefit from favourable financing conditions. On the other, there are a number of companies with large cash reserves. And since research and development costs continue to rise, the acquisition of technologies often seems to be the cheaper alternative to developing them in-house. Portfolio simplification will be a major driver of M&A in Germany and Europe. The capital market rewards simplicity and valuation discounts on conglomerates are thus dissolved.
Companies are not being put off by the difficult political situation in Europe and elsewhere. In talking to our clients, we have not encountered any increased reluctance to enter into M&A transactions because of political uncertainty. The M&A market is still in very good shape and the outlook for the rest of 2018 remains promising. This makes us a bit cautious, as it can't last forever. Sooner or later, there has to be some kind of correction. Anyone who has experienced this before and is regularly involved in M&A transactions must be aware that some of these risks could have a dampening effect on the M&A market at a certain point in time. In recent years, we already experienced that large volume M&A transactions, especially public takeovers, are becoming more difficult. The reason for the increasing complexity is that the procedural rules have changed significantly. Where previously we had bilateral negotiations conducted by management boards and managing directors, we now have a process requiring all stakeholders to be involved and motivated – investors, employees, customers, the public and politicians. A deal can only be successful if the interests of all of these groups are taken into account at an early stage. Added to this is the fact that the new regulatory procedures are much lengthier and more prone to disruption, especially when it comes to cross-border transactions.
In difficult situations, an insurance policy can become a bridge builder for the parties. Warranty and indemnity insurance (W&I) is experiencing a boom in Germany and throughout Europe. The policies insure warranties, such as on the accuracy of the balance sheet, on patent and trademark rights, on the violation of material contracts or on necessary government approvals. Unknown risks are covered. Indemnity is paid in the event of unexpected damage or liability situations for the buyer. The W&I insurances have completely changed the M&A market.
GTDT: Which sectors have been particularly active or stagnant? What are the underlying reasons for these activity levels? What size are typical transactions?
AS & MVG: After a strong year for the industrials and chemicals sectors in 2016 with Monsanto being taken over by Bayer, 2017 saw large transactions in the energy and health sectors. E.ON's power plant operator spin-off Uniper was partly taken over by the Finnish company Fortum, while the Fresenius group acquired NxStage Medical.
In the automotive and transportation sector, Siemens Mobility merged with Alstom, while the PSA group acquired Opel from General Motors. The US company OEM LKQ Corporation acquired the automotive parts distributor Stahlgruber while the Porsche and Piech families further increased their stake in Porsche. Another example is the spectacular investment by Chinese billionaire Li Shufu (Geely) in Daimler. The multi-stage investment initially took the form of a combined position of shares and derivatives, followed by a purchase of a block of shares.
The number and volume of takeovers in the technology industry continues to rise. Significant tech deals in 2017 include the sale of 13 per cent of Delivery Hero to Naspers by start-up venture capitalist Rocket Internet. Digital technologies related to Industry 4.0, Internet of Things, the cloud and big data are prompting more and more companies to tap the potential of innovation-driven growth via M&A deals as well.
A comeback of mega-deals in the pharmaceutical, technology and media industries cannot be ruled out at present. There are likely to be more diverse combinations among potential buyers, for example between strategic bidders, private equity funds or sovereign wealth funds.
GTDT: What were the recent keynote deals? What made them so significant?
AS & MVG: The biggest recent deals involving German companies were:
the successful closing of the takeover of Monsanto by Bayer,
the contingent €5.9 billion sale of selected Crop Science businesses of Bayer to BASF to satisfy competition authorities;
the pending merger of Linde and Praxair; and
the contingent €5 billion sale of the European businesses of Praxair to Taiyo Nippon Sanso.
The planned takeover of Innogy by E.ON from RWE will include an asset exchange by which RWE will receive effectively all of E.ON's renewables activities, Innogy's renewables business, a minority stake of 16.67 per cent in the enlarged E.ON and certain other assets. E.ON will receive a cash payment of €1.5 billion from RWE. Another significant deal of the energy sector, the Uniper take-over by Fortum, had a volume of €11.7 billion. The planned takeover of Sprint by T-Mobile USA (Deutsche Telekom) for approximately US$58.7 billion and the €2.2 billion public takeover of Drillisch by United Internet are notable deals in the telecommunications sector.
With a volume of around €32 billion (including liabilities), the pending joint acquisition of Spanish Abertis by German Hochtief and Italian Atlantia is one of the largest M&A deals in Europe.
And while both the planned takeover of Praxair by Linde and the €8.7 billion Siemens Mobility/Alstom merger are currently threatened by competition concerns, the €1.1 billion takeover of the Opel group by French manufacturer PSA was successfully closed.
Also worth mentioning is the largest exit of financial investors in Germany: CVC sold the sub-metering specialist Ista to CK Infrastructure, controlled by billionaire Li Ka-shing from Hong Kong, for a consideration of €5.8 billion.
GTDT: In your experience, what consideration do shareholders in a target tend to prefer? Are mergers and acquisitions in your jurisdiction primarily cash or share transactions? Are shareholders generally willing to accept shares issued by a foreign acquirer?
AS & MVG: It's not only a tendency that can be observed in Germany: shareholders most definitely prefer cash over shares. Hence, cash transactions prevail both in public and private M&A transactions in Germany. With regard to public takeovers, a foreign bidder offering shares as consideration will have to have such shares listed on a regulated market within the European Economic Area. US or Swiss bidders, for instance, are therefore often compelled to offer cash to shareholders.
The selling shareholders' general preference for cash does not suggest, especially in private transactions, that offering shares to the buyer may never be an attractive opportunity for both sides. We often see share transactions in venture capital undertakings where strategic planning and a prognosis of increasing share prices are involved. Shares in a non-listed company as consideration are certainly more interesting to sellers when accompanied with involvement in the management, exit rights or other mechanisms to compensate the uncertainty of share valuation. This applies regardless of whether those shares are issued by a foreign acquirer.
Due to the fact that high valuations lead to deal volumes that can only hardly be financed at completion, we also see an increase of deals where the purchase price is supplemented by various forms of earn-out structures. Due to their complexity, they also generate significant follow-up litigation.
"There is a willingness on the part of the German government to actually use its foreign investment control powers if national security interests are perceived to be jeopardised."
GTDT: How has the legal and regulatory landscape for mergers and acquisitions changed during the past few years in your jurisdiction?
AS & MVG: Most of the legal framework for M&A in Germany has been quite stable over the past years, but the introduction of the ninth amendment to the Foreign Trade and Payments Ordinance in July 2017 has brought key changes to the process of cross-border transactions. Foreign investments in German companies are now under tighter review by the Federal Ministry for Economic Affairs and Energy (the Ministry).
In principle, there are two types of foreign investment review. First, investors whose registered offices are in neither the European Union, nor a state in the European Free Trade Association, and who directly or indirectly acquire a minimum of 25 per cent of voting rights in a German company are subject to a cross-sector investment review irrespective of the relevant industry. Clearance is not a legal closing condition for these investments, but the deal is subject to potential unwinding later. Second, for particularly sensitive areas such as the manufacture or development of war weapons there is a sector-specific investment review which also applies to EU-based investors outside of Germany. The Ministry must always be notified of these investments and they are subject to its express or at least implicit clearance.
The amendment of July 2017 includes specific examples of when investments may be prohibited or restricted in a cross-sector review with a focus on civil sectors with security relevance. This list includes targets that operate critical infrastructure, are active in telecommunications surveillance or render Cloud Computing services. There is a new statutory duty to report investments in these civil sectors to the Ministry comparable to a sector-specific investment review.
Besides this, the time periods for reviewing foreign investments by the Ministry have been noticeably lengthened. Most discussed is the fact that, previously, the period the Ministry had to review cross-sector investments began when the acquisition agreement was signed. After three months the possibility to open review procedures expired. This period now only begins once the Ministry has obtained knowledge of the transaction. As a consequence, the uncertainty of an acquisition being banned after completion has risen significantly. According to the law, such an event can only be ruled out five years after the transaction is signed. On this basis, voluntary applications for a certificate of non-objection have become noticeably more common in order to keep better control over the timeline.
The new rules and tighter administrative practice over the past year have already had a perceptible effect on M&A practice. The Federal Ministry for Economic Affairs and Energy has initiated more in-depth foreign investment reviews than in the past and foreign investment control proceedings have overall taken longer and are conducted more intensively than investors have been used to before. In addition, the time frames under antitrust and foreign trade law no longer run in parallel. Although the powers of the Ministry to actually stop or restrict a transaction have not formally been extended, recent developments show that there is a willingness on the part of the German government to actually use its foreign investment control powers if national security interests are perceived to be jeopardised. These changes require additional efforts in planning a transaction, not only in terms of timing.
Finally, it remains to be seen how this trend toward increasingly strict reviews of foreign investments will develop further. Currently, plans are being discussed within the German government to broaden the scope of foreign investment controls in order to cover, at least for some sensitive industrial and commercial branches, certain foreign investments below the threshold of 25 per cent of voting rights. Also, there is a legislative proposal at EU level aiming at some harmonisation of national foreign investment control regimes in the European Union. Thus, even after the remarkable interventions of German government in the 50Hertz and Leifeld cases, the foreign investment control regime in Germany will stay dynamic.
In the field of merger control, the German legislator introduced a new transaction value threshold in June 2017. Complementing the traditional turnover thresholds, the new threshold is based on a purchase price criterion. Under the new provisions, mergers also have to be notified to the German Federal Cartel Office if the consideration agreed for in the transaction exceeds €400 million and the target company has substantial operations in the domestic market; in addition, the worldwide turnover of all companies concerned must exceed €500 million and the domestic German turnover of one company must exceed €25 million. The transaction value threshold allows the Federal Cartel Office the review of mergers where the target company does not (yet) reach a relevant turnover threshold but has great competitive market potential as reflected in the value of the consideration. The large consideration often indicates innovative business ideas and a high competitive market potential, eg, in the tech business.
In November 2017, the German Federal Court of Justice (FCJ) issued an order in the Edeka/Tengelmann case in which it applied a stricter standard regarding gun jumping rules. Under this ruling, it is considered a gun jumping infringement if a purchaser does not yet acquire control or the shareholding, but acquires rights which he or she normally could only execute if he or she was a shareholder or if the integration of the companies concerned is (partially) pre-empted. The parties to the transaction have, thus, to refrain from any measure resulting in a loss of their position as independently acting market players.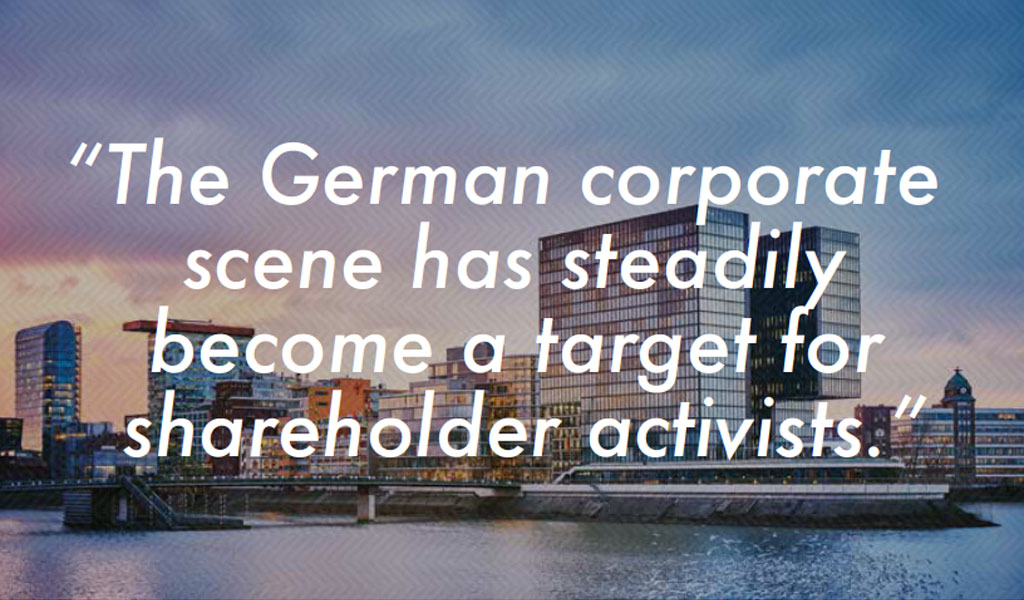 GTDT: Describe recent developments in the commercial landscape. Are buyers from outside your jurisdiction common?
AS & MVG: German companies are still very attractive targets for potential investors. The market is well-recognised for its stability, product integrity and offerings in leading technologies. Many mid-sized and family-owned businesses have difficulties in finding suitable successors within their relatives after many decades of internal management. Furthermore, natural opportunities arise for new business owners to benefit from existing core competencies in technology, supply chain or otherwise.
Also for 2017–2018, it is true that the current financing conditions additionally provide great incentives for buyers to invest now, resulting in a high demand for German quality assets that exceeds the supply of eligible targets significantly. There are no signs that the shift of the market situation in favour of German sellers will change in the near future. Share purchase agreements are increasingly negotiated on the seller's terms and, along with purchase prices, are becoming even more seller-friendly. Nevertheless, foreign investments in Germany have not lost their popularity over the last years.
Investing in Germany has proven to be a smooth choice for foreign buyers, even for those with a common law background. Generally speaking, M&A agreements in Germany are set up quite similarly to US or UK agreements. Furthermore, the whole process is commonly conducted in English. In terms of deal value, US and Chinese investors are most interested in German targets, with the Chinese interest growing at an immense rate. It has yet to be seen how the German government's new regulatory measures, as described before, will affect foreign investments in Germany.
M&A transactions are also becoming increasingly relevant for family-owned businesses. The family-owned companies have excellent operational management, are among the world market leaders in their sector, have a global strategic perspective and have the confidence to execute even large cross-border transactions. One example is the pending takeover of US-based gypsum manufacturer USG by family-owned Knauf with a deal value of almost US$7 billion.
GTDT: Are shareholder activists part of the corporate scene? How have they influenced M&A?
AS & MVG: The German corporate scene has steadily become a target for shareholder activists. FTI Consulting has counted 16 attacks on German companies in 2016, which constitutes a record high. Research conducted by Goldman Sachs estimates a total of 38 campaigns by activists for the year 2018, a 50 per cent increase compared to 2017.
Corporate strategy, operational performance and financial structure are current topics, or rather issues, under scrutiny. The method is to obtain representation on the supervisory board and thereby put pressure on the management. Influence on day-to-day business, however, remains less significant than in the United States, where the phenomenon originated. This is due to a more rigid legal framework in regulating shareholder actions in Germany. Apart from these general topics, an important focus for shareholder activists remains on squeeze-outs and M&A situations.
For M&A transactions this development demands a higher awareness while preparing a transaction, but also contributes to higher overall M&A activity.
GTDT: Take us through the typical stages of a transaction in your jurisdiction.
AS & MVG: The process is usually initiated by the principals of the parties who first meet among themselves to discuss the key parameters of the deal. Sometimes bankers become involved rather early on, especially when there are many potential buyers to talk to. After the parties have decided to move forward, non-disclosure agreements and, ultimately, a letter of intent are often signed. In many cases, this stage is directly followed by the kick-off meeting or the call for due diligence proceedings. After due diligence has been conducted, the first draft of the share purchase agreement will be based upon those findings. Negotiations and numerous new drafts will follow until signing finally takes place. Closing is achieved after the conditions are met, in particular regulatory requirements (eg, merger control and foreign investment control).
Those are the typical stages for the acquisition of private companies in Germany. If there is a sales auction involved, there will be additional steps to consider and potentially several due diligences to fit into the timeline. The element of competition makes these transactions slightly different since parallel operations need to be managed, but the legal requirements do not deviate from the standard process.
In contrast thereto, as regards publicly listed companies, German laws provide a detailed regime on how the process should be structured. Once a public takeover has been announced, the requirements under the German Takeover Act need to be met in addition to the standard steps of a transaction. This notably includes the involvement of the Federal Financial Supervisory Authority, specific time frames and many more details which must be taken into account. Since public takeovers are already highly regulated, due diligence is often comparatively limited in these cases.
GTDT: Are there any legal or commercial changes anticipated in the near future that will materially affect practice or activity in your jurisdiction?
AS & MVG: Private equity investments continue to be strong in 2018 and Germany has proven to be a core market after the Brexit referendum. However, Germany's enhanced reputation has attracted uncommon participants such as pension funds or insurance companies to the private equity model, which intensifies the already palpable competitive pressure. Whether these developments will have a lasting effect on M&A practice in Germany remains to be seen.
As regards regulatory aspects, besides the stricter foreign investment control described above, changes within the German legal framework initiated by European legislation certainly continue to materially affect corporate and M&A practice. The new General Data Protection Regulation will remain to be an important topic in the upcoming months, even for non-EU companies. The EU regulation became enforceable from 25 May 2018 after a two-year transition period during which compliance with the strict data protection regime should be achieved. The scope of the EU data protection law is extended to all foreign companies processing data of EU residents. It can already be observed that data protection compliance has taken up a bigger role during due diligence inspections than before.
In the healthcare sector, the Medical Device Regulation that came into force on 25 May 2017 has led to increased consolidation pressure and thus higher M&A activity. Manufacturers of currently approved medical devices will have a transition time of three years until 26 May 2020 to meet the requirements of the new EU regulation.
GTDT: What does the future hold? What activity levels do you expect for the next year? Which sectors will be the most active? Do you foresee any particular geopolitical or macroeconomic developments that will affect deal sizes and activity?
AS & MVG: We are confident that the German M&A market will remain very active despite the political uncertainty around the globe. Financial resources and good financing conditions remain high, as does investment pressure on investors. There is a great desire for businesses to keep on growing, but organic growth is very slow. This condition facilitates continued M&A activity, especially where cross-border transactions are concerned.
As mentioned before, the healthcare sector will continue to be very active. In addition, the implementation of new technologies such as blockchain and artificial intelligence might also have an impact on the M&A activity, at least in the long run.
The upcoming Brexit and the stagnant negotiations prompting fears of a 'hard' Brexit, tensions in the US–China relationship and increasing economic protectionism in some European countries do carry unpredictable political risks, but currently we do not see direct negative impact on our practice. Our firm has specifically set up a task force for Brexit matters that keeps close track of the developments in the UK. The regulatory framework for foreign investments in Germany is still evolving and with its interventions in the 50Hertz and Leifeld cases, the German government has set a tougher tone towards foreign investments for the future. Thus, a significant rebound in Chinese investments activities seems currently less likely, but at the same time Chinese investors will remain important players in the German M&A market.
Technological progress in general pushes many players worldwide and across all industries to act at an even faster pace. Therefore, we are optimistic that the current boom in M&A activity will not subside in the near future.
The Inside Track
What factors make mergers and acquisitions practice in your jurisdiction unique?
German M&A transactions mostly follow an internationally established process. Thus, the steps to take as well as the sale purchase agreement itself should look quite familiar to investors from anywhere in the world. Peculiarities of German law certainly need to be addressed in the due diligence stage, but what really stands out compared to other jurisdictions are the notarisation requirements at the notary which must be carefully observed. The worst case would be that agreements, share transfers or shareholders' resolutions turn out to be nonbinding after all because of formal deficiencies.
Apart from legal characteristics, soft features of the German practice become especially apparent during negotiations. German parties tend to be more consensus-oriented and are, in principle, more willing and eager to find a compromise. However, once a solution has been settled upon, it is viewed as a steady agreement and it is unlikely that those issues will be renegotiated. Agreed-upon time periods are treated in a similarly serious way. This is an often unexpected attitude, especially for Chinese investors.
What three things should a client consider when choosing counsel for a complex transaction in your jurisdiction?
The team working for you should have experience and insight into the specific industry for which you need counselling, but should also have proven itself to be efficient and responsive.
There should be experts on the team from the very beginning that are responsible for niche areas, since excellent M&A lawyers alone cannot support the whole transaction. When facing complicated issues in employment, IP, regulatory, tax and other legal areas, specific experts are vital.
Make sure that the partners in charge actually work on the case, and do try to get to know them beforehand. It is advisable to choose lawyers who understand the subtleties of German business discussions and who can adapt well to the prevailing consensus-oriented mind set.
What is the most interesting or unusual matter you have recently worked on, and why?
The surge in technological progress has been very fascinating in the past couple of years. New endeavours within the autonomous driving sector were a favourite of ours. We advised several joint ventures in this field and both the products and the challenge of bringing up to four different parties together were really interesting. Another quite unusual matter was our advice for the German government on the above-mentioned acquisition of a 20 per cent stake in 50Hertz (via the state-owned KfW).
Alexander Schwarz and Martin Viciano Gofferje
Gleiss Lutz
Düsseldorf and Berlin
www.gleisslutz.com