Alexei Roudiak is the managing partner of the Moscow office of Herbert Smith Freehills and the head of corporate for Europe, the Middle East and Africa. He advises Russian and international clients on all aspects of M&A projects, private equity deals and corporate restructurings. He is highly skilled in dealing with complex joint venture issues (both formation and break-up), defending against hostile takeovers (both structuring and litigation strategies) and advising on investments that involve state participants and offshore structuring issues. Alexei has developed a particular expertise in the energy and natural resources and real estate sectors.
Justin Vaughan is a corporate of counsel, practising in Russia since 2009. He helps Russian and international private equity clients with all aspects of their most innovative and complex investment projects in Russia and the Commonwealth of Independent States. He has particular expertise in private equity, private M&A, cross-border joint ventures and restructurings.
Stefan Kecman is a senior associate. He advises on a broad range of corporate transactions, including international and domestic public and private M&A (including private equity transactions), joint ventures, initial public offerings and other equity capital markets transactions and corporate advisory work.
GTDT: What trends are you seeing in overall activity levels for private equity buyouts and investments in your jurisdiction during the past year or so?
Alexei Roudiak, Justin Vaughan and Stefan Kecman: Although investment conditions remain challenging in Russia due to the application of international sanctions on certain industries and market participants, market conditions are improving. In 2017, inbound investment activity doubled and the overall number of deals increased by almost 15 per cent (principally from Asian and Middle East investors) – indicating an increasing availability of buy-side opportunities for participants familiar with the Russian market and ready to deploy capital in search of yields.
With the Russian economy emerging from recession and growing by 1.8 per cent in 2017 and with further growth predicted in 2018 and 2019, investor confidence and market activity are on the rise. Growing investor confidence has been supported by Russian government policy aimed at maintaining an export-friendly exchange rate, efforts from the Central Bank of Russia to reform the banking and insurance sectors, the fact that the Ukraine conflict has not escalated and that international and domestic investors have increasingly adjusted to the realities of international sanctions and increased geopolitical risk. With the rouble largely stabilising over the past two years, investors are less concerned about the historic currency fluctuations of 2015 and 2016 and are increasingly confident in planning for and valuing investments. These trends indicate that, notwithstanding ongoing geopolitical challenges, the size, depth and liquidity of the Russian private equity market continues to grow.
Unlike in other jurisdictions, an initial public offering (IPO) is not a common exit strategy for private equity in Russia, and therefore there is not as strong a correlation between changing stock market valuations and private equity activity. However, market optimism has increased with a number of successful IPOs in 2017 – including:
leading Russian retailer Detsky Mir's IPO in February 2017 (it was oversubscribed and raised US$355 million on the Moscow Exchange (MICEX));
gold producer PJSC Polyus' successful secondary placement of US$858 million and return to listing on the London Stock Exchange (LSE) in late June 2017;
energy conglomerate EN+ Group's listing on the LSE at a valuation of US$8 billion in November 2017 (although EN+ was subsequently made subject to sanctions, it is currently working with US authorities to have these removed); and
the success of small-cap IPOs on the MICEX, such as haulage company Globaltruck Management and shoe manufacturer and retailer Obuv Rossii.
Overall, we view the outlook for 2018 and 2019 as increasingly positive, with several companies touting possible IPOs, such as online recruitment firm Headhunter, insurance company RESO and IT services provider IBS IT Services. However, it remains to be seen whether this pipeline of exits will materialise in light of ongoing sanctions and other geopolitical factors.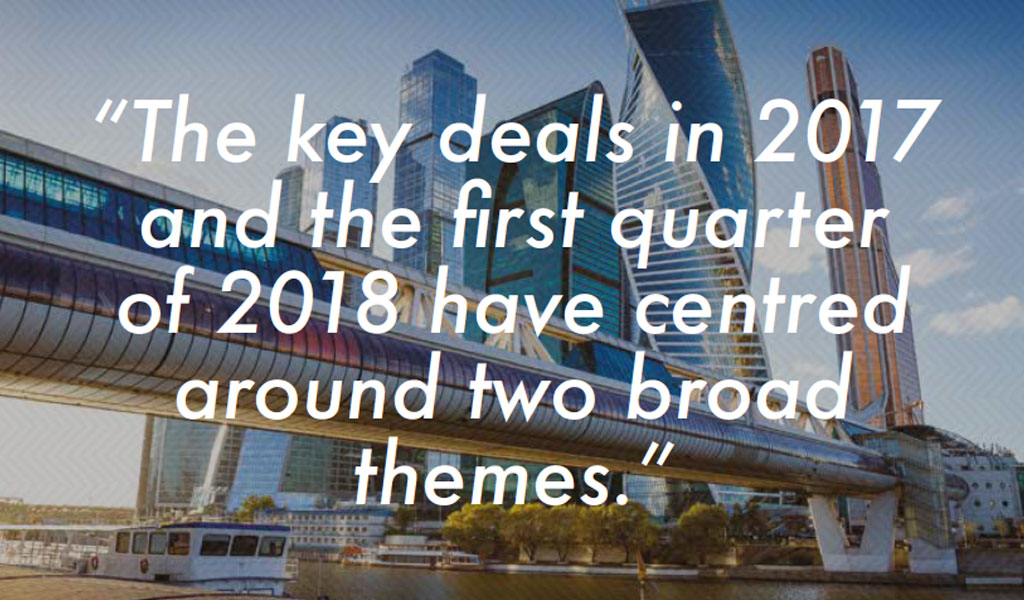 GTDT: Looking at types of investments and transactions, are private equity firms primarily pursuing straight buyouts, or are other opportunities, such as minority-stake investments, partnerships or add-on acquisitions, also being explored?
AR, JV & SK: Buyouts (whether by management or otherwise) and public-to-private transactions tend to be relatively unusual in Russia. It is more common for investors to take minority stake investments. Where control is acquired, these investments tend to be carried out by way of a consortium deal. One of the main drivers for this is financing. As with any jurisdiction, investors can access larger deals by clubbing together, but this increased financial resource is particularly relevant in Russia where deals tend either to involve limited debt financing or none at all.
Finance is just one reason why foreign investors often seek out local investors with whom to partner; Russia has a reputation as a jurisdiction in which it is desirable to have a strong local partner to achieve a successful business operation. A local partner brings local knowledge and connections that can be indispensable for foreign investors who are unfamiliar with the Russian regulatory system and lack relations with the Russian authorities. Partnering with a local private equity house may make obtaining investment committee consent easier, as comfort is taken from the experience, expertise and influence of the local partner. For the Russian investor, involving an international partner may provide access to funding from banks based in the same overseas jurisdiction as the foreign investor and carries with it a certain cachet that can be of particular leverage when trying to negotiate an exit. In addition to funding, international investors can bring a greater depth of deal experience and sector knowledge to what is still a developing private equity market.
GTDT: What were the recent keynote deals? And what made them stand out?
AR, JV & SK: The key deals in 2017 and the first quarter of 2018 have centred around two broad themes: the first is the 'pivot east', evidenced by the increase in inbound investments from Asian and Middle Eastern funds to Russia, and the second is the diversification of private equity investments across a broader range of sectors (outside the traditional extractive industries).
Throughout 2017, a number of significant inbound investments were executed by Asian and Middle Eastern funds. This included, in the first quarter of 2017, the Silk Road Fund (a Chinese state-owned investment fund) acquiring a 10 per cent equity stake in major Russian petrochemical company Sibur from Leonid Mikhelson, chairman of the company's board and a major shareholder of Sibur Holding. Also in 2017, the Qatar Investment Authority and Russian Direct Investment Fund (RDIF), among others, acquired an 18 per cent stake in EN+ Group for US$1.5 billion from Oleg Deripaska and, in 2018, the Qatar Investment Authority agreed to increase its direct stake in Rosneft to 19 per cent by unwinding its consortium with Glencore and acquiring shares from Glencore for US$4.4 billion. We expect the trend of significant inbound investment to continue as international investors increasingly adapt to the realities of international sanctions and, as explained later, the RDIF continues to stimulate interest among international funds.
The second key trend of 2017 was the diversification of private equity investments across a broader range of sectors (outside the traditional extractive industries), including banking and insurance, innovations and technology, consumer markets, communications and media and healthcare, which all saw growth in either deal volume or deal value. The diversification of private equity investments reflects the general increase in investor confidence and the increased availability of quality private equity targets in consumer-facing sectors which has, in part, been driven by lower domestic production costs from the relatively weak rouble and the shift in consumption towards domestically produced goods. This trend has also been supported by the government's focus on diversifying the domestic economy and export base, which has traditionally been dominated by extractive industries, a policy priority that looks set to remain a key government focus in the coming years.
Finally, many 'classic' private equity deals continue in the market. For example, the strategic acquisition by Mitsui & Co, Ltd of a 10 per cent stake in JSC R-Pharm, one of the leading pharmaceutical companies in Russia, and the acquisition by a consortium of private equity investors of a 49.5 per cent stake in Familia, the pioneer and leading Russian off-price retailer. The acquisition by VTB of a 29 per cent stake in Russia's second-largest food retailer Magnit from its founder Sergey Galitskiy for US$2.5 billion, and subsequent on-sale by VTB of an 11.82 per cent stake to the Russian investment firm, Marathon Group, for US$ 1 billion, was also a headline deal. Other noteworthy deals include Yandex entering an e-commerce joint venture with Sberbank at an enterprise value of US$1 billion and a taxi booking services joint venture with UBER at a valuation of US$3.8 billion.
GTDT: Does private equity M&A tend to be cross-border? What are some of the typical challenges legal advisers in your jurisdiction face in a multi-jurisdictional deal? How are those challenges evolving?
AR, JV & SK: Most private equity deals relate to Russian targets and, despite the increasing levels of investment by international funds (particularly based in Asia and the Middle East), foreign investors are still in the minority. Outbound investment by Russian private equity sponsors in overseas investment opportunities is rare, although LetterOne is proving comparatively active in this respect, acquiring Holland & Barrett, Europe's largest health and wellness retail chain, for £1.7 billion in 2017, having earlier announced its intention to invest up to US$3 billion in the retail sector. Also, in 2017, Rosneft acquired a 49 per cent stake in Indian major Essar Oil Limited and a consortium of international investors, formed by UCP Investment Group and Trafigura, acquired another 49 per cent stake, at an enterprise value of US$12.9 billion. The bulk of private equity transactions nevertheless involve the acquisition of Russian assets by Russian bidders. However, these deals have traditionally had a strong cross-border element since, as a result of various tax, regulatory and legal considerations, the deals still tend to be structured using offshore acquisition vehicles. Although these structures may face increasing challenges in the future they continue to dominate market practice.
Typical challenges to be dealt with by legal advisers working on cross-border transactions in Russia include:
the complex regulatory landscape, and marrying the applicable requirements of the Russian legal system with those of the chosen governing law of the transaction;
the complexity of sanction issues;
the rapidly evolving taxation regime;
the lack of established market practice and relatively few precedent deals against which to benchmark transactions;
the related lack of experience of private equity dealmaking among the business community; and
managing relations with the Russian regulators and government, particularly where the transaction involves entities operating in 'strategic' sectors such as significant mass media, subsoil industries and aviation.
Russia is a market that is continuing to develop and, as its own laws are revised to include concepts that are commonly used in other markets, we see increasing interaction between differing legal frameworks. It is critical to ensure that advisers have a full understanding both of what international investors expect and the features of the Russian market.
GTDT: What are some of the current trends in financing for private equity transactions? Have there been any notable developments in the availability or the terms of debt financing for buyers over the past year or so?
AR, JV & SK: Acquisition finance being used to leverage private equity acquisitions is not a prevalent feature of private equity investment in Russia. The significant majority of deals are equity-only and the restraints on access to international finance markets, resulting from international sanctions, make the ability to 'self-fund' more important than ever. That said, there are examples of state banks providing debt financing for acquisitions – for example, VTB Bank provided debt financing to the consortium comprising UCP Investment Group and Trafigura for their acquisition of Essar Oil Limited, as described earlier. Domestic financial institutions and funds such as VTB Capital, Sberbank CIB and the RDIF can, at times, offer the ability to refinance post-investment, which gives them a competitive advantage over other private equity sponsors.
GTDT: How has the legal, regulatory and policy landscape changed during the past few years in your jurisdiction?
AR, JV & SK: Recent years have been marked by the desire on the part of the government to make Russia more attractive to foreign investors and to support the growth of a local private equity market, although efforts have been made more challenging by the imposition of EU and US sanctions.
The emergence of government-backed sponsors and financial institutions over the past several years has transformed the Russian private equity market. In particular, Rusnano, a US$10 billion private equity fund established in 2007 to invest in the nanotechnology sector, and the RDIF, a US$10 billion fund established in 2011 to make equity co-investments with major Russian and international players, have significantly impacted the market. The RDIF, which initially partnered with the China Investment Corporation to form the Russia–China Investment, has established investment funds with international partners from a range of countries, although with a focus on Asia (including Korea, Japan, Vietnam and India) and the Middle East (including Abu Dhabi, Saudi Arabia, Bahrain, Kuwait, Turkey and Qatar). These funds have generally committed to investing a substantial percentage of their capital into Russia and, over the last year, the RDIF and various Chinese funds in particular (including the US$10 billion China–Russia RMB Cooperation Fund established in 2017 by the China Development Bank and the RDIF) have been made significant investments across Russia (for example, the Silk Road Fund's investment in Sibur).
As mentioned, private equity transactions (even with only Russian participants) have, in a significant number of cases, been structured through non-Russian acquisition and joint venture vehicles. Russian policymakers' efforts to try and stem the high level of capital flight from Russia have been two-fold.
First, the government has sought to stimulate private equity houses to move their assets onshore through the 'deoffshorisation' initiative. The deoffshorisation campaign is now in full swing following the introduction of the controlled foreign companies (CFC) legislation and prolongation of the tax and capital amnesty. Court practice is rapidly developing in the area of application of double tax treaty reliefs, which have so far been largely negative to taxpayers. The Common Reporting Standard, launched in Russia at the end of 2017 (the first exchange of information will occur in 2018), is expected to significantly contribute to the ability of Russian tax authorities to trace evasion schemes. Following the re-election of President Putin in 2018, we expect further hardening of tax and regulatory requirements in the coming years. The government's impetus for greater transparency around offshore involvement in Russia-focused transactions is also seen in the new foreign investment laws, which were introduced on 30 July 2017 and apply greater scrutiny to transactions where a foreign partner acquires an asset in Russia, or a Russian investor acquires an asset in Russia through a foreign vehicle, especially if the asset is strategic in Russia.
In parallel, the government has continued its efforts in creating a more favourable legal and business climate onshore, as evidenced by Russia's ascent in the World Bank Ease of Doing Business Index from rank 124 in 2010 to rank 35 in 2017. Russian civil and corporate law has been subject to numerous amendments in recent years with the aim of adapting the legal instruments commonly used in Western jurisdictions to be used in Russia (such as warranties, indemnities and option agreements) and enabling investors to implement a number of typical Western-style corporate governance and shareholder agreement arrangements at the onshore Russian company level. Conversely, the scarcity of court decisions interpreting these new provisions, combined with newly implemented rules limiting minority shareholders' statutory rights to access corporate information, results in market participants remaining cautious in implementing the new legislative instruments. Overall, there are signs of building momentum for a bigger role for Russian law in private equity transactions.
Additionally, there is some possibility that the government will seek to create more domestic investment opportunities through a privatisation programme, details of which were announced in the first half of 2017 (when the Kremlin stated its intention to sell stakes in VTB Bank, the shipping company Sovcomflot and Novorossiysk Commercial Sea Port by 2019). Discussions around privatisation have cooled in recent months in the context of the relatively weak global economic climate and improved Russian government finances, but remain on the table, depending on how international events develop, in the next couple of years.
Another area the government has addressed in recent years is investor concern about the legal robustness of Russia as a dispute resolution forum. Over the years, for a number of reasons, Russian private equity market participants have shied away from investment structures that lead to significant corporate disputes being adjudicated in the Russian courts. At the same time, there has been significant uncertainty as to whether such disputes could instead be referred to arbitration. In an effort to address this, Russian law now expressly allows corporate disputes concerning Russian entities to be handled by arbitration institutions, provided that they have registered with Russian regulators and, in most cases, provided that the place of arbitration is in Russia. At the time of writing, no foreign institution has obtained a licence to administer Russian corporate disputes, although at least one eminent international arbitration institution has shown strong interest in doing so.
"The private equity industry is widely supported and championed by Russian policymakers."
GTDT: What are the current attitudes towards private equity among policymakers and the public? Does shareholder activism play a significant role in your jurisdiction?
AR, JV & SK: The private equity industry is widely supported and championed by Russian policymakers. There have been no signs of the political or public scrutiny of the private equity industry experienced in other major jurisdictions. This may be, in part, because of the relatively low prominence and novelty of the private equity industry in Russia, as well as the political and economic headwinds it is facing in the present environment, which have discouraged some foreign players without prior experience in Russia, and created opportunities for local private equity investors.
There are limited examples of shareholders engaging actively in the management and governance of public listed and unlisted companies in Russia. One notable exception has been the three-year battle between shareholders over the valuation of Eurasia Drilling, with minority shareholders resisting an effort by management and majority shareholders to take the company private at a share price that was less than half of that offered by Schlumberger earlier (but that fell through because of a lack of regulatory approval), culminating in the announcement by Eurasia Drilling in 2018 that a consortium of the RDIF and a United Arab Emirates fund, and separately Schlumberger, will acquire non-controlling stakes in the company (subject to regulatory approvals and final agreement on the size of the stakes to be acquired). The prevalence of low free floats and controlling shareholders mean that it is unlikely that the levels of activist and turnaround investment experienced in the United States and the United Kingdom will become a regular feature in Russia.
GTDT: What levels of exit activity have you been seeing? Which exit route is the most common? Which exits have caught your eye recently, and why?
AR, JV & SK: A small but increasing number of significant exits have been achieved recently. Detsky Mir's IPO on MICEX, EN+ Group's IPO on the LSE and the smaller IPOs of Globaltruck Management and Obuv Rossii on the MICEX in 2017 are notable examples of recent IPOs. At the same time, a number of negotiated exits by private equity funds have been reported, such as the sale by UCP Investment Group of its 50 per cent stake in Russian construction company Stroygazconsulting and the sale by Bonum Capital, a Russian investment company, of its 40.59 per cent stake in Aizel.ru, a Russian premier online luxury fashion retailer. Another notable exit announced in August 2018 is the sale by Bonum Capital of Vozrozhdenie Bank to VTB Bank (subject to regulatory approvals) for an undisclosed sum. That said, the secondary market for private equity exits in Russia remains relatively small and there are a limited number of sponsors willing to take on IPO mandates. Given that the strategic market predominantly relies on foreign investors who offer the most attractive terms, and that the current geopolitical climate is not conducive to foreign investors entering the market, it remains a challenging environment for exits by private equity sponsors, in what remains an investment market.
GTDT: Looking at funds and fundraising, does the market currently favour investors or sponsors? What are fundraising levels like now relative to the past few years?
AR, JV & SK: The Russian private equity funds market is in its relative infancy. As such, there is not sufficient volume to determine which side of the investment relationship the market favours. The general sentiment is one of trying to support and grow the industry as a whole, rather than favour one constituency over another.
Russian-focused private equity fundraising levels have been relatively muted recently. Increased geopolitical risk (including sanctions) and moderate global growth (as major central banks remove policy accommodation and global financing conditions tighten) are all likely to challenge fund closings, but there are still some funds being formed. In 2016, Venture Capital announced a newly formed Russian-Belorussian Venture Investment Fund, while Rusnano formed a US$100 million joint venture fund with JSFC Sistema. More recently, UFG Private Equity launched fundraising efforts to raise capital for its fourth buyout fund with a target of US$300–500 million to invest in Russian mid-market companies in growing sectors such as technology, media and telecoms, healthcare, consumer and business services. As mentioned earlier, the RDIF has also been active in the past couple of years in establishing new investment funds in partnership with international state-backed funds.
GTDT: Talk us through a typical fundraising. What are the timelines, structures and the key contractual points? What are the most significant legal issues specific to your jurisdiction?
AR, JV & SK: Russian fundraising has tended to follow the patterns and structures used elsewhere, with fund vehicles established in onshore markets such as Luxembourg or typical offshore centres such as the Cayman Islands or the Channel Islands. Luxembourg has the benefit of being an established, regulated environment and since January 2014 has had an amended double taxation treaty with Russia.
Cyprus has been a key jurisdiction for investments into Russia (given the favourable terms of its double tax treaty), but it was rarely used as a fund domicile, except in club or friends-and-family deals. Following the European debt crisis, Cyprus is being used even less in Russian fundraising deals as investors look instead to more traditional markets and structures.
Where investors are taking on greater portfolio risks than in more mature markets, they want to minimise risks from using non-traditional fund vehicles. Due diligence remains key with investors that spend a great deal of time on understanding the team, its governance structures and its approach to investments. This will lengthen the fundraising periods. Fund documentation will also reflect the enhanced portfolio risks in terms of the fund governance arrangements and, of course, the target returns and performance fee triggers.
GTDT: How closely are private equity sponsors supervised in your jurisdiction? Does this supervision impact the day-to-day business?
AR, JV & SK: Private equity sponsors operating in Russia are not subject to additional regulation over and above that applicable to other businesses operating in the jurisdiction. In particular, there is no body, whether self-regulated or otherwise, charged with overseeing the private equity industry. However, there are still key regulatory issues that any entity operating in Russia needs to be aware of, for example, in relation to anti-monopoly regulation that falls within the remit of the Federal Antimonopoly Service, or regulatory approvals in relation to 'strategic' companies.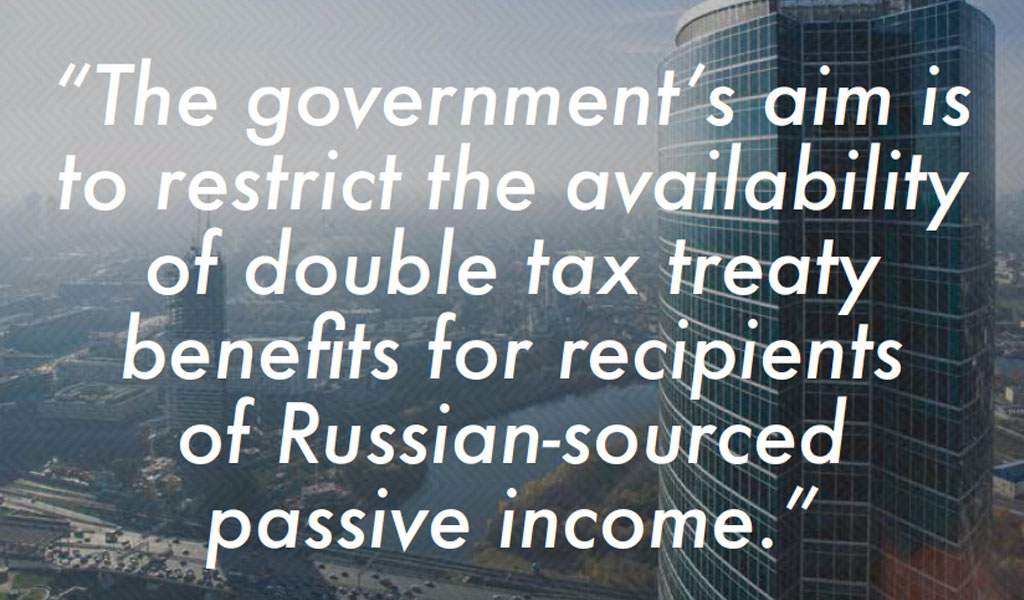 GTDT: What effect has the AIFMD had on fundraising in your jurisdiction?
AR, JV & SK: As Russia is outside the European Economic Area (EEA), where Russian managers are raising and marketing funds within Russia or elsewhere outside the EEA, the AIFMD does not apply. To the extent that Russian managers are marketing or managing EU AIFs or marketing a non-EU AIF to EU investors, the AIFMD will be relevant because of the Directive's extraterritorial effect. As mentioned, many onshore funds are based in Luxembourg, which offers some flexible solutions to the AIFMD, including its securitisation vehicles.
GTDT: What are the major tax issues that private equity faces in your jurisdiction? How is carried interest taxed? Do you see the current treatment potentially changing in the near future?
AR, JV & SK: Russian legislation dealing with CFC, which came into force in 2015, continues to develop. Russian CFC rules are broadly consistent with the approach of the Organisation for Economic Co-operation and Development and the European Union. While court consideration is, so far, limited, the tax authorities have started gaining experience in application of these rules. Nevertheless, Russian CFC rules have already started heavily influencing the choice of traditional private equity investment structures.
The CFC legislation sets out rules in four areas of tax structuring. First, it addresses the taxation of profits received by the controlled foreign companies of Russian residents but not yet received by the residents themselves. Second, it requires Russian residents holding shares in, or controlling, foreign companies or non-corporate entities to notify the Russian tax authorities of such shareholding or control. Third, it lays down the test for determining the tax residency of legal entities. Lastly, it introduces the concept of beneficial ownership of income for the purposes of double tax treaties.
It is clear from the law and recent court practice that the government's aim is to restrict the availability of double tax treaty benefits for recipients of Russian-sourced passive income where offshore structures are deliberately established to obtain tax treaty benefits for the ultimate beneficial owners of such income. This focus of the government's recent reforms is of key importance to the private equity sector.
As part of the same trend, interest taxation rules have been heavily amended, with specific transfer pricing regulation introduced for interest in 2016 and thin capitalisation rules revised with effect from 2017. Amendments to the thin capitalisation rules effectively codify the recent court practice and restrict deductibility of interest under loans extended by foreign sister companies.
In addition, changes to certain obligations have been imposed on the members of international groups of companies. They are obliged to notify tax authorities that they are parts of such groups. If the consolidated revenue of a group exceeds certain limits, its members are obliged to disclose various information, such as the structure of ownership and control of the group, main indicators of activity, profits gained and losses incurred and taxes paid. Starting in 2018–2020, a breach of these obligations will be punished with fines.
Apart from that, the Russian government has shown a trend towards increasing the tax burden on business. In 2018, the VAT rate was increased by 2 per cent and amendments to the profit tax regime (which are mostly disadvantageous for taxpayers) were introduced in 2017–2018. The ability of the regions of Russia to introduce profits tax incentives was limited as of 1 January 2018. Loss carryforward was amended such that only half of carried losses can be deducted in a given year (although the carryforward itself is now unlimited by time).
All these developments illustrate the continuing trend of Russian tax legislation becoming significantly more complex and nuanced. Alongside this, Russian tax authorities are adopting an increasingly sophisticated and rigorous approach in their assessment of applications for double tax treaty relief. In the past 18 months we have seen a greater examination of the substance of ownership structures and the nature of the relationship between, and the functions of, the different entities in these structures. The risk is that where foreign companies or non-corporate entities are acting as mere conduits or agents for the 'true' beneficial owners of income, they may be disregarded for tax treaty purposes. Court practice on the matter is developing rapidly, and most of the cases resolved are not in favour of the taxpayers. Private equity investors need to be alive to this issue in the context of their investment structures, and to seek detailed legal advice accordingly.
For private equity managers themselves, there are no special rules in relation to carried interest in Russia and so many of the more complex structures seen in other jurisdictions are not present here.
GTDT: Looking ahead, what can we expect? What might be the main themes in the next 12 months for both private equity deal activity and fundraising?
AR, JV & SK: As mentioned, market conditions are improving and international private equity investors (particularly from Asia and the Middle East) have been increasingly active in the Russian market, although fundraising in Russia remains limited. Chinese and Middle Eastern state-backed funds have been particularly active over the past year, and we anticipate that these funds will continue to make their presence felt in the coming 12 months. Opportunistic and experienced local players have also continued to deploy capital through 'classic' private equity deals.
The stability and maintenance of the low relative value of the rouble means that production costs in Russia offer significant competitive advantages to investors localising production in Russia for export, and the economic turbulence of the past few years has gone some way to reducing the valuation gaps between sellers and investors that have been prevalent in the Russian market. These factors, combined with the government's localisation programme and improving investor confidence generally, suggest that the trend of diversification of investment activity across a broader variety of sectors is likely to continue. We expect that the energy, agriculture, consumer and technology, media and telecoms (particularly e-commerce) sectors will continue to be active areas of the Russian economy and provide opportunities for domestic and international private equity investors in the remainder of 2018.
The continuing development of the government's deoffshorisation programme has an impact on overall investment activity. This, in hand with changes to the Civil Code aimed at creating a more flexible onshore legal environment, has put further pressure on Russian private equity investors to return capital to Russia and to invest directly in Russian companies. That said, the traditional approach of structuring deals using overseas intermediaries has not fundamentally changed as a result of this deoffshorisation drive.
Current trends indicate that market conditions in Russia are improving and this trend looks set to continue into 2019. Major players in the private equity market will continue to watch global economic, political and regulatory changes, including sanctions, closely, as these will play a key role in determining whether Russia can continue to develop into a market with substantial scale, depth and liquidity in 2019 and beyond.
"The traditional approach of structuring deals using overseas intermediaries has not fundamentally changed as a result of this deoffshorisation drive."
The Inside Track
What factors make private equity practice in your jurisdiction unique?
The current international sanctions regime and constraints on international liquidity have enhanced the challenges posed by the heavy influence of government-backed sponsors and financial institutions, and the general political environment. When this is combined with the often novel legal issues that arise when dealing with the interface between the Russian legal regime and international business practices, clients rely heavily on their lawyers to help deliver legally robust and commercial outcomes.
What should a client consider when choosing counsel for a complex private equity transaction in your jurisdiction?
Can counsel provide seamless advice on Russian legal, regulatory and tax issues and the legal, regulatory and tax issues across the range of other jurisdictions and governing laws involved?
What experience does counsel have in dealing with local counterparties and regulatory authorities?
Does counsel have experience of negotiating and bringing to fruition complex transactions based on practical experience across Russian and other marke
What interesting or unusual issues have you come across in recent matters?
Corporate governance and shareholder arrangements for Russian private equity investments always raise important issues. This is true now more than ever, as deoffshorisation and other legislative reforms have encouraged a number of international and local investors seeking to explore, under Russian law, Western-style arrangements in respect of Russian companies. In a number of recent transactions, we have worked with our clients to resolve the structuring challenges that arise as a result of both the Russian legal framework being new and evolving, and certain standard Western protections (such as put and call options and certain anti-dilution protections and shareholder information rights) being beyond the scope of Russian law.
Alexei Roudiak, Justin Vaughan and Stefan Kecman
Herbert Smith Freehills CIS LLP
Moscow
www.herbertsmithfreehills.com