Yutaka Kimura is a partner and a member of the corporate and M&A group in Baker McKenzie's Tokyo office. Prior to joining the firm, he was with the Tokyo and London offices of a prominent multinational law firm headquartered in London. From June 2013, for two years he was working in Baker McKenzie's Kuala Lumpur office. Mr Kimura has extensive experience in mergers, acquisitions and general corporate matters. He regularly advises major Japanese and international companies, private equity funds and investment banks on domestic and cross-border M&A transactions, corporate restructurings and general corporate matters.
GTDT: What trends are you seeing in overall activity levels for private equity buyouts and investments in your jurisdiction during the past year or so?
Yutaka Kimura: Prominent Japanese corporations such as Sharp and Toshiba have been facing difficult financial situations over the past few years. Although Sharp is turning around very quickly after Foxconn acquired their controlling interest in 2016, Toshiba had been struggling until recently and this has led to several disposals of their businesses. As a result, there were a number of potential buyout opportunities for private equity funds during this period. These opportunities include Toshiba's disposal of one of their last crown jewel assets, Toshiba Memory Corporation, which is valued at US$18 billion and completed in June 2018.
Due to the potential crisis the prominent Japanese manufacturers were facing, Innovation Network Corporation of Japan (INCJ) – an investment fund ultimately controlled by the Japanese government – is attempting to play a significant role in restructuring the manufacturing industry in Japan. In this context, they were playing an active role in the proposed divestiture of Toshiba Memory Corporation by Toshiba, with a view to protecting the manufacturing industry in Japan.
We are also starting to see transactions where prominent Japanese companies are starting to offload their non-core assets, and private equity funds are becoming the potential acquirers of such non-core assets. KKR's acquisition of Hitachi Koki and Calsonic Kansei are the recent examples of this, and represent the reception of private equity funds in the Japanese market.
As the number of multibillion-dollar buyout opportunities is increasing, as well as the fact that the Japanese market is becoming more receptive to private equity funds, we are starting to see a number of multinational private equity firms establishing their Japanese footprint recently. The continuing trend of debt financing available at favourable rates contributes to this trend as well.
GTDT: Looking at types of investments and transactions, are private equity firms primarily pursuing straight buyouts, or are other opportunities, such as minority-stake investments, partnerships or add-on acquisitions, also being explored?
YK: Private equity investments in Japan are, in most cases, structured to acquire full control or a controlling stake in the target company.
This is particularly the case where small and medium-sized enterprises in Japan are facing succession issues, and the private equity firm is becoming one of the potential avenues for exit. In such circumstances, the incumbent owner of the company often expects a full exit from the business at the shareholding level. This owner, who often is the founder of the business, sometime tends to prefer being acquired by a private equity firm rather than a strategic buyer. This is because if they are bought by a strategic buyer, the target business may end up only being a mere division within the strategic buyer, whereas if they are bought by a private equity firm, the target business is more likely to maintain independence.
In the past when there were a number of billion-dollar private equity investment opportunities in Japan, there were cases where a private equity firm teamed up with another private equity firm or a strategic investor so that the team could show commitment and competitiveness in the auction process. As we are starting to see more multibillion-dollar private equity investment opportunities in the market compared to the past few years, such as Toshiba's divestiture of Toshiba Memory Corporation, we are starting to see private equity funds forming consortiums for those mega-deals.
It is worth noting that the acquisition of Toshiba Memory Corporation by Bain Capital resulted in leaving the majority shareholding in the hands of the Japanese investors (including INCJ standing behind Toshiba on its shareholding in Toshiba Memory Corporation), in respect of the view of INCJ protecting the national interest in the context of this transaction.
GTDT: What were the recent keynote deals? And what made them stand out?
YK: Besides the completion of Bain Capital's acquisition of Toshiba Memory Corporation, Bain's take-private of Asatsu-DK, the third-largest advertising agency in Japan by market share, attracted the attention of market participants. Asatsu's major shareholder and a long-standing strategic partner, WPP, had initially expressed that they would not support Bain's proposal as the valuation was too low, but in the end, tendered their shares into the tender offer launched by Bain. This shows that private equity firms can play an active roll in revitalising businesses by way of restructuring strategic relationships. This may increase the momentum of prominent Japanese companies offloading their non-core assets, and private equity funds becoming their choice for such exit opportunities.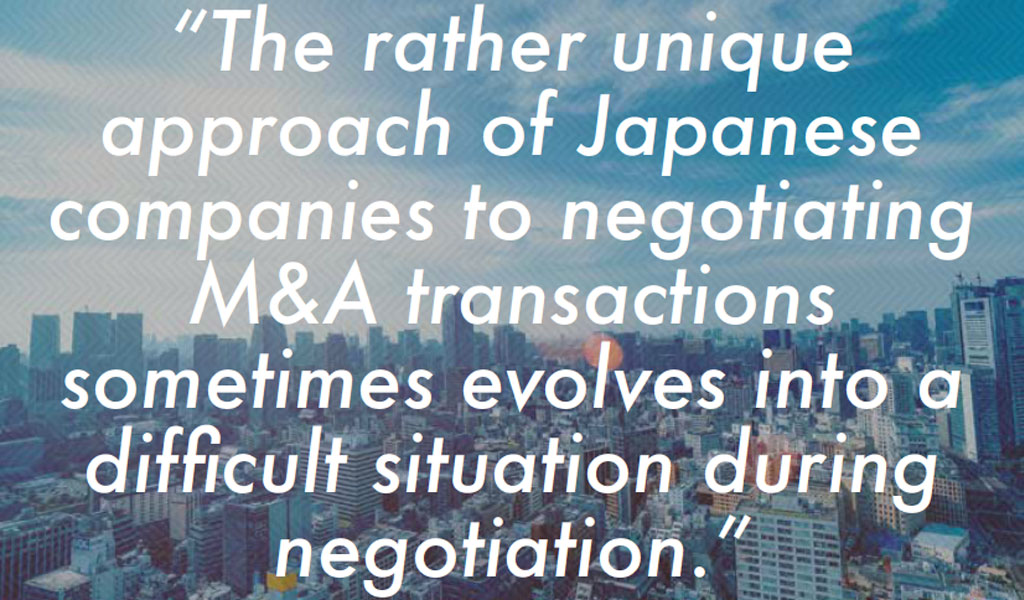 GTDT: Does private equity M&A tend to be cross-border? What are some of the typical challenges legal advisers in your jurisdiction face in a multi-jurisdictional deal? How are those challenges evolving?
YK: While small deals tend to be domestic, midsize to large-cap deals tend to attract the interest of foreign private equity buyers. Furthermore, private equity deals often become cross-border as attractive Japanese target companies tend to have operations in multiple jurisdictions with growth opportunities. Some Japanese companies that are keen to expand their businesses outside Japan are receptive to investment by foreign private equity firms in order to obtain these foreign firms' assistance with their overseas expansion.
Multi-jurisdictional deals require seamless legal support in multiple jurisdictions and in various practice areas such as corporate, labour, tax and regulatory matters, but there are few law firms in Japan that are capable of providing such a variety of services sufficiently. This will be a challenge, particularly in large deals involving multiple jurisdictions and bidders.
Additionally, the rather unique approach of Japanese companies to negotiating M&A transactions sometimes evolves into a difficult situation during negotiation. For instance, deal teams of Japanese companies tend to have less authority and lower levels of discretion compared to their counterparts from foreign jurisdictions during negotiations. As a result, deals sometimes do not proceed as smoothly as their foreign counterparties expect, which may lead to frustration and may even become a deal-breaker. Furthermore, warranties and indemnity insurance is still at its very early stage in Japanese M&A practice. This may lead to longer timelines in which to negotiate insurance, which may potentially impact transaction timelines. However, we foresee that this situation will gradually change, as the practice in Japan is evolving.
GTDT: What are some of the current trends in financing for private equity transactions? Have there been any notable developments in the availability or the terms of debt financing for buyers over the past year or so?
YK: Market practice for financing private equity transactions has not changed dramatically in recent years. Since domestic banks are struggling to lend money, competition among banks for financing leveraged buyout deals continue to be intense and severe, which leads to lower spreads, and private equity sponsors are able to benefit from such market circumstances. Generally speaking, between 60 and 70 per cent of the transaction value of private equity deals in Japan are secured by debt financing. In some cases, mezzanine loans or preferred shares are used to partly finance private equity deals in Japan, in addition to senior loans.
The domestic 'megabanks' – MUFG, Mizuho and SMBC – will often arrange for a senior portion of financing leveraged buyout deals. However, other banks such as SMTB, Aozora, Tokyo Star and DBJ are also keen to do the same.
We also often see cases where acquisition finance loans are refinanced within a short period after the closing of such loans. Some of these refinancing activities occur as a result of refinancing with corporate loans that have less restrictive covenants and security packages, leading to more freedom with which to manage the target business. This includes cases where the target company aims to go public through initial public offerings (IPOs).
GTDT: How has the legal, regulatory and policy landscape changed during the past few years in your jurisdiction?
YK: The amendment to the Companies Act in May 2015 sets out a number of new rules and regulations, including a scheme that allows majority shareholders to squeeze out minority shareholders more easily. Under the new scheme, a majority shareholder holding a stake of 90 per cent or more in a Japanese company will be entitled to force all other existing shareholders and option-holders to sell their shares and options to them. Under the previous Companies Act, this could only be achieved by implementing a more complicated structure. In contrast, the new Companies Act allows private equity investors to privatise Japanese listed companies more easily. This is now being used in public takeover transactions.
There has also been a recent amendment to the Japanese tax regime in 2017 that allows cash mergers to be implemented without any negative tax implications on the merging target company. This may potentially allow cash mergers to be used for the purpose of squeezing out minority shareholders in private equity buyouts in a straightforward manner compared to the prevailing market practice.
Another key change in the legal landscape is the introduction by the Tokyo Stock Exchange of the Corporate Governance Code – which came into force on 1 June 2015 – that is applicable to Japanese-listed companies. Foreign investors are hoping that the introduction of this code, which is expected to contribute to how companies explain their mid- to long-term growth strategy, will change how Japanese companies engage in dialogue with foreign investors. This is being seriously considered by the Japanese-listed companies, but it remains to be seen as to what extent this will have an actual impact on the dialogue with foreign activist investors.
GTDT: What are the current attitudes towards private equity among policymakers and the public? Does shareholder activism play a significant role in your jurisdiction?
YK: When private equity investments and shareholder activism were very active in the Japanese market in the early 2000s, policymakers and the public did not perceive private equity funds and activist funds very well. They were often referred to as vulture funds, which target the weak and take everything. A television programme that had the same title and aired in 2007 contributed to this perception, which also resulted in many Japanese-listed companies adopting measures against takeovers around 2005 and 2006, such as 'poison pills' and the 'advance warning mechanism', which require the management of the company to be informed in advance of any attempted unsolicited takeovers or acquisition of substantial stakes in a listed company.
A lot of shareholder activism has dissipated since then, but recently, one of the domestic activist funds that ruled the Japanese capital market in the early 2000s is said to be resuming its activities by acquiring minority stakes in a number of listed companies. It remains to be seen how the target companies will react to such investments, particularly in light of the fact that, lately, Japanese-listed companies have been under more pressure to treat shareholders in an appropriate manner after the introduction of the Corporate Governance Code by the Tokyo Stock Exchange.
With a number of disposals by prominent Japanese companies of their non-core assets to global private equity funds, such as Nissan and Hitachi, Japan seems to be reaching a stage of being receptive to private equity funds as playing a key role in restructuring various industries. By way of an example, INCJ was reportedly in talks with various private equity funds at the early stage of the bidding process in an attempt to make them co-investors for the acquisition of Toshiba Memory Corporation, which would have been hard to imagine a few years ago.
Similarly, it was surprising to see in the press that in connection with the strategic alliance of the two major oil refiner-distributors, Idemitsu and Showa Shell, a major Japanese activist had played a significant role in persuading the founding family of Idemitsu to proceed with the transaction, which had been a prolonged discussion over the past three years. This may be a sign that the reception of activists is also improving in the Japanese market.
GTDT: What levels of exit activity have you been seeing? Which exit route is the most common? Which exits have caught your eye recently, and why?
YK: Private equity firms see the currently fairly stable stock market, and strong economy after the implementation of Abenomics, as having great opportunities for their exit activities.
In terms of exit activities, trade sales to strategic buyers and secondary buyouts by other private equity firms continue to be most common for private equity firms in Japan. IPOs are becoming more common as an exit route in Japan. This includes Bain Capital's sale of shares in Macromill and Bellsystem24 through an IPO, which is seen as a good sign that the IPO market, which is recovering strongly from historically low levels of IPO activities during the global financial crisis in 2008 and 2009, may potentially serve as an exit route for private equity firms. This has been followed by a few other IPOs by portfolio companies of private equity firms in the past 12 months, which indicates that IPOs are becoming a more common exit route in Japan.
GTDT: Looking at funds and fundraising, does the market currently favour investors or sponsors? What are fundraising levels like now relative to the past few years?
YK: Generally speaking, investors' appetites still continue to be very big, partly due to the quantitative easing by Prime Minister Shinzo Abe in recent years. This has also been encouraged by the introduction of the negative interest rate by the Bank of Japan in January 2016. We have also seen several private equity funds raising significant amounts in the past 12 months for their targeted investments in Japan. However, different investors show different appetites in light of the recent trends in their own industries. For example, we see life insurers currently focusing on overseas investments, and we believe that they tend to not have much appetite for investing in domestic private equity firms. Also, Japanese pension funds still have liquidity concerns for private equity investments, despite the recent report that the Government Pension Investment Fund had changed its investment policy to increase its investments in alternative asset classes.
On the other hand, Japanese regional banks have started to show interest in investing in private equity funds, as they are struggling to lend in their regions and will need to seek other investment opportunities. We also recently saw some foreign investors expressing their interest to invest in a domestic private equity fund, which is typically formed as a Japanese investment limited partnership. We believe that these foreign investors are trying to include a Japanese element in their portfolio by directly investing in domestic private equity funds.
Despite the level of fundraising taking place in the market, we believe sponsors are struggling in terms of sourcing. This is potentially leading to their dry powder heaping up.
GTDT: Talk us through a typical fundraising. What are the timelines, structures and the key contractual points? What are the most significant legal issues specific to your jurisdiction?
YK: In most cases, funds take the form of a Japanese investment limited partnership when establishing a private equity fund in Japan. With a standard form investment limited partnership agreement in place, which is now widely used as a market standard document in practice, setting up a Japanese investment limited partnership is no longer a cumbersome process and can be completed within two to three weeks, depending on the nature of the investors.
One of the major negotiated matters is whether or not limited partners are allowed to opt out of certain investments to be made by the investment limited partnership. This is often an issue with financial institution investors with stringent internal investment policies, who are also regulated under various industry-specific regulations such as the Volcker Rule. In such instances, the scope and criteria for allowing an opt-out would be heavily negotiated for the fund to achieve its investment activities to the maximum extent possible.
Another typical negotiated matter is the duration of the commitment period, as well as the amount of the capital commitment for investors. These matters are usually negotiated in conjunction with the ability for follow-on investments as well as key man clauses.
GTDT: How closely are private equity sponsors supervised in your jurisdiction? Does this supervision impact the day-to-day business?
YK: Private equity sponsors would need to register as financial instrument business operators (engaging in Type II business or discretionary investment management business) under the Financial Instruments and Exchange Act of Japan (FIEA), unless certain exemptions under the FIEA are applicable.
In most cases, private equity sponsors are exempted from the registration requirement based on the qualified institutional investor (QII) exemption. Such sponsors are subject to less stringent supervision by the authorities than those registered as a financial instrument business operator.
However, it is worth noting that there has recently been an amendment to the relevant legislation with respect to the licensing requirement of fund managers in Japan, which may potentially lead to greater scrutiny and monitoring of private equity sponsors by the relevant authorities. This may also have a potential impact on the fundraising practice of private equity funds, as the definition of non-QII is now narrower, following the relevant ordinances that were put in place in March 2016.
GTDT: What effect has the AIFMD had on fundraising in your jurisdiction?
YK: In short, the AIFMD has a limited effect on fundraising in Japan so far as the domestic private equity funds are concerned. This is due to the fact that while the directive will only apply if you are managing or marketing alternative funds in the European Union, there is a limited number of domestic private equity funds in Japan that engage in such activities.
As most Japanese private equity funds are formed as Japanese investment limited partnerships, which usually involves Japanese documentation, it is not too common for foreign investors to participate, although as discussed above we have seen few such instances happening recently. The same applies to choosing fund managers, where usually domestic private equity funds tend to choose domestic fund managers.
GTDT: What are the major tax issues that private equity faces in your jurisdiction? How is carried interest taxed? Do you see the current treatment potentially changing in the near future?
YK: As a result of the recent 2017 Tax Reform, a merger between an acquiring company and a target company which will result in squeezing out minority shareholders of the target company, by delivering cash as consideration, shall be treated as tax-free merger if the acquiring company owns at least two-thirds of the shares in the target company before the merger. Such 'cash out merger' previously resulted in a recognition of taxable gain in the hands of the target company. The 2017 Tax Reform also provides for certain tax-free 'spin-off' transactions, which may facilitate Japanese companies to restructure their business portfolio in a swift manner without any negative tax consequence. These tax reforms may further facilitate private equity transactions, as this may result in more portfolio management by Japanese companies, and also enable the squeezing out of minority shareholders in a more simple and straightforward manner.
In relation to withholding tax on dividends, dividends paid by a Japanese company to foreign shareholders are subject to a final withholding tax at a rate of 20.42 per cent under Japanese tax law. This tax rate can be reduced by an applicable income tax treaty to which Japan is a party. Generally speaking, for income tax treaty purposes, a private equity taking the form of limited partnership is treated as fiscally transparent, and therefore, the residency of foreign investors of private equity funds will generally determine the availability of treaty protection for a domestic withholding tax.
With respect to capital gains tax, a gain derived by a foreign entity from the sale of a Japanese company will be taxed at 23.9 per cent (23.4 per cent for a fiscal year beginning on or after 1 April 2016 and 23.2 per cent for a fiscal year beginning on or after 1 April 2018) if the foreign entity owned at least 25 per cent of the total issued shares, and is selling at least 5 per cent of the total shares in a Japanese company (the 25 per cent/5 per cent rule). For the purpose of the 25 per cent/5 per cent rule, the ownership of a private equity fund is counted as that of a single shareholder, even though such private equity fund is fiscally transparent for Japanese tax purposes such as a limited partnership, unless the applicable tax treaty provides otherwise. Therefore, a foreign investor in a non-tax treaty jurisdiction investing in a Japanese company through a foreign private equity fund, which is a fiscally transparent entity, will be taxed on its share of capital gain to the extent the foreign private equity fund meets the 25 per cent/5 per cent rule. However, there is a special rule under Japanese law citing that a foreign limited partner of a private equity fund that satisfies certain conditions could still be exempt from such capital gains tax by filing relevant tax forms with the Japanese tax authority.
The benefits under the applicable income tax treaty discussed above would be lost if a foreign private equity fund is deemed to have a permanent establishment in Japan, and all income and gain in Japan will be taxed at the prevailing income tax rate of around 35 per cent (including local corporate income tax). Therefore, careful tax structuring is crucial in order for a foreign private equity fund to not be deemed to have a permanent establishment in Japan.
The availability of tax treaty benefits could potentially change if the tax treaty-related provisions of the Multilateral Convention to Implement Tax Treaty Related Measures to Prevent Base Erosion and Profit Shifting, to which Japan is a party, take effect.
GTDT: Looking ahead, what can we expect? What might be the main themes in the next 12 months for both private equity deal activity and fundraising?
YK: The introduction of the negative interest rate by the Bank of Japan in January 2016 continues to have a significant impact on the Japanese market as a whole. This has been pushing investors to consider making investments other than by purchasing Japan government bonds, which may positively impact the fundraising activities by private equity funds, as well as availability of debt financing for private equity funds.
On the other hand, the planned increase in the VAT rate in Japan from 8 per cent to 10 per cent, having been on hold for the past few years, is now planned to come into effect on October 2019. We will need to observe what will likely happen before and after this comes into effect from a consumer spending perspective.
This being said, overall the Japanese economy is expected to continue to be relatively stable until the Tokyo Olympics in 2020, supported by the strong demand in the construction industry. This may mean that the exit opportunities for private equity funds may continue to be relatively open.
It is also worth noting that the private equity funds in the past 12 months have been very active, and we have seen a number of significant transactions as well as some rumoured transactions with potential involvement of global private equity funds. It is becoming more apparent in the Japanese market that private equity funds can play a crucial role in turning around businesses in order to restructure various industries, and this may push private equity funds engaging in more transactions in the next 12 months.
We will need to closely monitor the global political landscape, in particular the implementation of various policies by the US government in the context of protectionism. On a macro level, the Japanese economy is to a certain extent dependent on the US economy, which means that the US policies that will be put in place may have a significant impact on the Japanese economy, including the automotive industry.
The Inside Track
What factors make private equity practice in your jurisdiction unique?
The market trend in the past years has been small to mid-market transactions, which makes it less attractive for global private equity firms to invest in. This trend stems from the fact that the private equity market in Japan is relatively small, in proportion to the size of its economy. Moreover, although significant improvement has been seen in recent years, the perception towards global private equity firms may not necessarily be positive. Therefore, there is room for domestic private equity firms to play an important role, where target companies are more receptive only for the reason that they are domestic. However, as the deal value for transactions that seek private equity involvement is becoming larger, there seems to be more room for global private equity funds to make significant investments to turn around a number of sectors in the Japanese economy, which may not have been performing too well in the past decade.
What should a client consider when choosing counsel for a complex private equity transaction in your jurisdiction?
A deep understanding of the private equity industry is obviously one factor to consider. In addition, a close working relationship between the M&A team and the financing team is also crucial. We sometimes see disruptions between these teams, which makes the entire deal process very inefficient and time-consuming. Last, the counsels' capability to assist on post-acquisition integration matters is also very important, although this may not have been a primary focus in previous years. This is particularly so when cross-border elements are becoming not uncommon, which may require local law expertise in jurisdictions where target companies operate.
What interesting or unusual issues have you come across in recent matters?
I have worked on the recent acquisition of Sharp Corporation by Foxconn, which is the largest ever acquisition of a Japanese multinational manufacturer by a foreign investor. This has attracted a considerable amount of attention domestically and globally, particularly in light of the fact that it was a bidding process against INCJ. This transaction was unusual as Foxconn bid against a Japanese government-backed organisation and ultimately won the deal, which came across as a surprise to many market participants. This may be a sign that the Japanese market is becoming receptive to foreign investors, which I believe is a good trend for foreign private equity players.
Yutaka Kimura
Baker McKenzie (Gaikokuho Joint Enterprise)
Tokyo
www.bakermckenzie.co.jp/en