Joe Hurley is head of HWL Ebsworth's shipping and trade practice, and primarily advises in all aspects of international and domestic shipping disputes, both wet and dry. He has acted in most of Australia's leading admiralty cases, as well as advising on 'front-end' shipping and trade commercial matters. He is also involved in numerous foreign seats of arbitration. Joe has been recognised as a leading Australian shipping lawyer in a range of industry publications including Chambers and Partners, The Legal 500 and Who's Who Legal.
Jesper Martens is an internationally recognised shipping and commercial lawyer with over 25 years' professional experience. Jesper has expertise in maritime law, trade law, Danish law, marine insurance and reinsurance. Doyle's Guide names Jesper as a recommended lawyer for shipping and maritime law in Australia. Who's Who Legal 2017 lists Jesper as a leader in the field of shipping in Australia.
Chris Sacré has over 15 years' experience as a maritime and trade lawyer, and is admitted as a solicitor in both Australia and England. Chris regularly handles protection and indemnity, charter party and carriage disputes as well as advising commodity traders on international sale of goods. Chris also represents Australia's leading marine insurers of cargo. Chris has been named as an 'Australian Transport Law Rising Star' in Doyle's Guide 2017.
GTDT: What is the current state of the shipping industry in your country?
Joe Hurley, Jesper Martens and Chris Sacré: Australia is a nation of shippers not shipowners. As an island continent, our livelihood is dependent on the shipping industry and maritime trade to stimulate our economy. With over 10 per cent of the world's maritime trade, by volume, passing through Australia, the shipping industry is integral to the success of our national economy.
Australia has an export-oriented economy. Critical to its profitability is iron ore, coal, liquefied natural gas (LNG) and agricultural trade. Australia exports over 700 million tonnes of iron ore per year which accounts for approximately a third of global production. The iron ore market value is therefore an essential consideration for the Australian shipping industry.
Maritime trade would not be effective if it were not for the continued growth and success of Australia's ports and infrastructure system. With over A$1.2 billion worth of trade passing through Australian ports daily, Australian ports are vital to the development of Australian trade and national prosperity. Investment and development into Australian ports over the past decade has continually grown. The recent privatisation of the Port of Melbourne through a 50-year lease set to raise billions of dollars to fund transport projects across Victoria, the development of automated ports by Patricks in Port Botany seeing a reduction in jobs and the development of an inland terminal by DP World, 'Somerton Rail Terminal', in Victoria to be connected to the Port of Melbourne by rail are examples of this.
The efficiency and functioning of the Australian shipping industry, however, can be affected by the strong arm of the Maritime Union of Australia (MUA), who represent seafarers and waterfront workers. By way of example, in late 2015 and early 2016, the MUA engaged in action on behalf of Australian crew members against Alcoa and the federal government over the loss of their jobs aboard the bulk carrier MV Portland. The vessel was to be sold and leave Australian coastal trade. The Australian crew refused to sail the vessel to Singapore for sale and conducted a sit-in protest causing delays for over two months. Our employment team assisted in breaking this deadlock.
Shipping trade in Australia is strictly monitored and regulated by the Australian Maritime Safety Authority (AMSA). Established under the Australian Maritime Safety Authority Act 1990 (Cth), AMSA is invested with responsibility and governance of ensuring the safety of Australian-flagged and foreign-flagged vessels in Australian ports. The AMSA inspectors are considered alongside US port state control as some of the most thorough in the world.
GTDT: What are the prevailing shipping market trends affecting your country?
JH, JM & CS: The shipping industry worldwide continues to face reduced revenues driven by over capacity. That is not a bad thing for the Australian economy because it enhances international trade for the benefit of Australian importers and exporters alike.
The response by container lines and tug operators in Australia has been to drive costs down, and where that does not work, seek a merger or acquisition. In June 2016, CMA CGM assumed control of NOL/APL. On 30 November 2017, the purchase of Hamburg Sud by Maersk was approved by the relevant regulators worldwide including Australia.
With freight rates still low, bunker prices play a big part in profitability. Bunker prices hit a high of over A$450 per metric tonne in June 2018, forcing shipping lines in Australia to apply an emergency bunker adjustment factor and general rate increases to recover the costs.
With little profit to be made in traditional shipping the major lines are looking to add logistic services to their portfolios. July 2018 saw regulatory approval for CMA CGM's purchase of 24.99 per cent stake in Ceva Logistics.
The tug industry in Australia is dominated by Svitzer. In 2015, Boskalis subsidiary Smit Lamnalco purchased Svitzer's main competitor PB Towage Australia. Later that year, Smit bareboat chartered Smit's harbour tugs at Newcastle, bringing increased efficiencies at one of Australia's busiest bulk ports and reducing competition.
On a happier note, Australia's cruise industry continues to thrive, with increased numbers of vessels based in or visiting Australia in 2016–17. The Australian public's appetite for cruise holidays (4.5 per cent cruising each year) continues to grow and international visitors bring much needed revenue to ports such as Sydney with its iconic Circular Quay berth just down the road from our offices.
Recent years have seen an increased focus on LNG production and supply to the Australian domestic market.
The Gorgon project off the west coast of Australia is one of the largest and costliest energy projects in the world, costing over A$69 billion. It employed around 10,000 people during the construction of the processing facility at Barrow Island, west of Karratha. In April 2018, Chevon announced that it would proceed with stage two of the project.
Shell Prelude (FLNG) arrived in Australian waters in late 2017 and is currently undergoing final stages of commissioning before production commences.
Located about 220 kilometres offshore Western Australia, Ichthys LNG Project is currently in construction and represents the largest discovery of hydrocarbon liquids in Australia in 40 years.
These projects and the many others extracting LNG off Western Australia bring opportunities for commercial vessel operators and marine services industries in Western Australia.
On the Australian east coast, the challenges are different as the major cities on the eastern seaboard are dependent on gas imports. The pressure to secure gas supply to the Australian domestic market has given rise to new projects for import and regasification such as AGL's planned Crib Point facility in Victoria and a proposal to build an LNG import terminal at Port Kembla, New South Wales.
"Australia's cruise industry continues to thrive, with increased numbers of vessels based in or visiting Australia in 2016–17."
GTDT: Are there any recent domestic or international political or legislative developments that may have an impact on your country's shipping market?
JH, JM & CS: There are a number of domestic legislative developments that have, or could have, an impact on the Australian shipping market.
The development by DP World of an inland terminal in South Australia may have implications on carriage liability and the applicability of the Hague-Visby Rules in Australia (which apply in Australia from port-to-port rather than rail-to-rail as is usual elsewhere in the world).
The Biosecurity Amendment (Ballast Water and Other Measures) Act 2017 was introduced to strengthen Australia's biosecurity system and implement the International Convention for the Control and Management of Ships Ballast Water and Sediments. The Act amends the Biosecurity Act 2015 (Cth) by introducing stricter regulations and requirements for the discharge of ballast water and the disposing of sediment for Australian vessels and for foreign-flagged vessels in Australian waters. Australian vessels will be required to have ballast water management plans and record systems at all times, whether or not they are in Australian waters.
The Competition and Consumer Act 2010 (CCA) and the Australian Competition and Consumer Commission (ACCC) regulate anticompetitive conduct in Australia. In recent times, the shipping industry and more particularly the car carrier sector has come under scrutiny.
The liner shipping trade in Australia benefits from Part X of the CCS, which provides broad immunities to facilitate coordination between shipping companies to provide liner shipping services in consortia. These include exemptions to cartel conduct prohibitions, including price-fixing, rigging bids and constraining supply.
The CCA was amended in late 2017 following the Harper Review. Despite a recommendation to repeal Part X, Part X remained in place allowing consortia to provide services around the Australian Coast and beyond. Further, Shipping Australia Limited commenced negotiations with the ACCC in May 2018 for a potential block exemption for liner shipping.
Despite the retention of Part X, in January 2018, shipping lines terminated two discussion agreements that had been in place pursuant to which the lines would negotiate their bunker base rates, indices and surcharges with the peak shipper body. The decision to terminate appears to arise out of the consolidation of the industry and caution over the ACCC's interest in the shipping industry.
In April 2018, the Security of Critical Infrastructure Act 2018 (Cth) introduced new powers for the Australian federal government to protect national infrastructure assets including ports. The act establishes a Register of Critical Infrastructure Assets and providing the minister with a power to direct a reporting entity or operator of a critical infrastructure asset to do, or refrain from doing, an act or thing within a specified period of time. The risk of government intervention created by the act may deter some foreign investors from investing in Australian ports and infrastructure.
GTDT: What are the key regulatory and compliance issues for your country's shipping market?
JH, JM & CS: Vessels that are not Australian-flagged but wish to carry out Australian coastal trading (cabotage) generally must apply for a licence to carry cargo between Australian ports in different states. Generally, in order to carry cargoes between Australian states and territories, the operator of the ship has to obtain a licence under the Coastal Trading (Revitalising Australian Shipping) Act 2012 (Cth). It is an offence for ships covered by the act to trade without a licence. The act has a three-tier licensing system for coastal trading:
general licence (only available to Australian-flagged ships);
temporary licence; and
emergency licence.
The legislation is under review but the expected changes are likely to be minimal.
For any foreign-flagged or Australian vessel looking to engage in Australia's shipping market, it is important that they are aware that all vessels need to meet a number of strict requirements set by AMSA. AMSA has broad powers to ensure safety, including the power to detain a vessel pursuant to Section 248 of the Navigation Act 2012 (Cth). Common grounds of detention relate to the operation of the safety management systems required by the International Safety Management Code.
All vessels also need to ensure they comply with the international standards set by the International Maritime Organization and other international conventions and obligations which are enforced in Australia through the issue of Marine Orders. AMSA has two series of orders – those that reflect international obligations and standards (Marine Orders 1–98) and those applying only to domestic commercial vessels (Marine Orders 500–507).
In addition to maritime safety, AMSA's primary functions are to protect the marine environment through preventing and combating pollution, to provide infrastructure to support safe navigation of Australian waters and to provide effective national search and rescue services to the aviation sector. There is a strict liability regime in place in Australia for oil spills on both state and federal levels; with maximum maritime fines increased in July 2018 to A$21 million.
All vessels need to ensure that they are aware of and comply with the Maritime Labour Convention 2006 (in force in Australia since 2013) and any relevant Work Health and Safety laws. Commonwealth Occupational Health and Safety (Maritime Industry) Act 1993 provides for a number of OHS obligations and standards for the shipping industry. It applies to Australian registered ships, ships with general coastal trading licence and ships that have a majority of Australian residents on board.
Other regulatory and compliance issues that need to be considered include Australia's biosecurity as well as regulations set by the Australian Border Force (an operational arm of the Department of Immigration and Border Protection). Non-compliance with cargo or container limits under the Customs Act may result in delays to gaining access to cargo as well as storage and related costs from the container terminal operators.
It is worth noting that many port corporations have been privatised. All ports in Australia have their own Regulations and Rules that apply to all vessels using that particular port.
Overall, all vessels should keep in mind the broad and wide admiralty jurisdiction of the Federal and Supreme Court under the Commonwealth Admiralty Act 1988 (Cth). If a ship is present in Australian waters, the court has power to arrest it to hear and decide any maritime disputes regardless of whether the ship is Australian or foreign-flagged.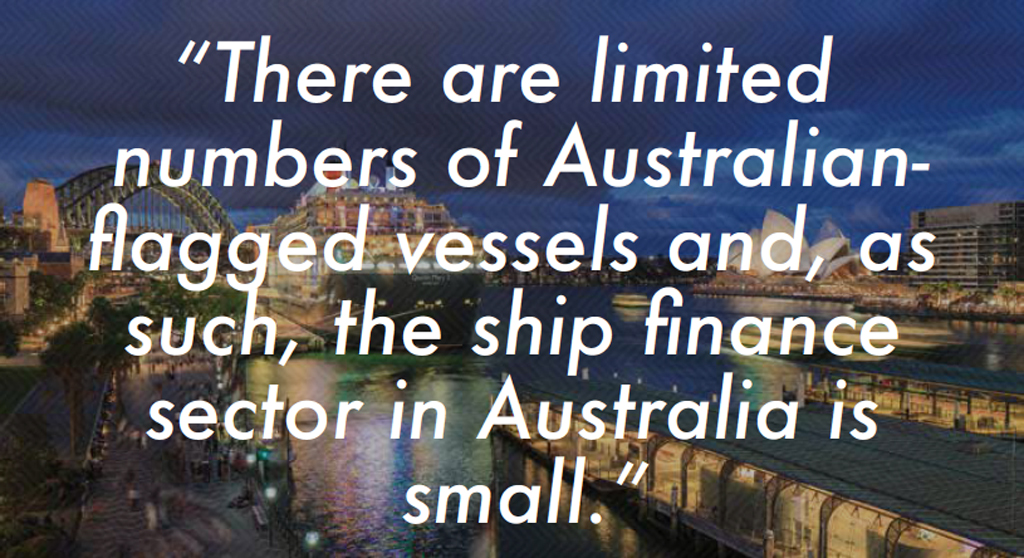 GTDT: What are the shipping industry's current sources of finance? How do you predict they will develop, and what are the advantages and challenges to financing a vessel in your country?
JH, JM & CS: There are limited numbers of Australian-flagged vessels and, as such, the ship finance sector in Australia is small. Australia is a difficult place for vessel owners to operate. Australian ships must have Australian crews and with Australian crews comes Australian wages and the involvement of the MUA.
By way of example, in May 2016 it was announced that Australian company Great Southern Shipping and the Rizhao Port Group would establish a new liner service between Australia and China as well as Australian coastal trade. The intent was to operate up to five Australian-flagged container vessels and for the fleet to grow. The announcement came as a surprise to the established lines already struggling in a depressed market. The venture was slow to get started and although vessels were chartered and cargo booked it appears that no service was successfully performed with charter parties terminated and cargo interest being forced to pay freight to unpaid owners. By December 2016, liquidators were appointed.
GTDT: Have there been any recent significant domestic or foreign court decisions or arbitration awards that impact on your country's shipping market?
JH, JM & CS: Cases on general average are rare, especially in Australia. The Federal Court of Australia recently considered a novel issue relating to the law of general average. In Offshore Marine Services Alliance Pty Ltd v Leighton Contractors Pty Ltd [2017] FCA 333, the court had to decide whether a party that is not the owner of cargo on board a vessel, but is responsible for the care, custody, control and safekeeping and preservation of the cargo, had an interest in the cargo that attract liability to contribute in general average. The court found that the liability to contribute in general average does not extend beyond the actual owner of the relevant cargo. The party in this case who was not the owner of the cargo had no obligation to contribute in general average.
The Federal Court has continued to recognise foreign bankruptcy proceedings under the UNCITRAL Model Law on Cross-Border Insolvency. In June 2018, liquidators for an Italian shipowner obtained recognition and stay orders (Alari (Trustee) in the matter of Rizzo-Bottiglieri-de Carlini Armatori SpA (Trustees in Bankruptcy appointed) v Rizzo-Bottiglieri-de Carlini Armatori SpA (No 2) [2018] FCA 1067). Stays granted by Australian courts following recognition do not necessarily mirror the stay that applies in the main foreign proceeding. The stay that will apply depends on what is available under the Corporations Act 2001 (Cth). Also, Australian courts do not grant blanket stays that prevent outright the arrest of ships. A creditor who wishes to arrest a ship that is subject to a stay must apply to a judge who will evaluate whether there is sufficiently arguable foundation to arrest the ship despite the stay, perhaps because the claim has maritime lien status.
Australia exports over 3 million live animals every year. Regrettably, some exports by sea result in the deaths of some of the animals carried. In April 2018, public attention was drawn to a particular voyage where more than 2,400 sheep died due to heat exhaustion when the vessel entered Middle Eastern waters during a summer month. Although no court proceedings have yet resulted, in April 2018, the Australian Maritime Safety Authority temporarily banned the ship Awassi Express from leaving port with an expected 65,000 sheep due to be loaded. In June 2018, the Federal Agriculture Department suspended three licences held by Australia's largest live sheep exporter.
GTDT: What is the outlook for your country's shipping market?
JH, JM & CS: The outlook is positive for Australian shippers and the service providers that support them as competition is relatively low for tug and terminal operators. Australia has an inherently strong export cargo, oil and gas industry which, will continue to grow and support the shipping market. Ongoing investment into Australian ports and infrastructure increase the shipping market capacity with research indicating that port freight is forecast to double over the next 14 years.
The Inside Track
What are the particular skills that clients are looking for in an effective shipping lawyer?
First and foremost, in our experience clients are looking for lawyers with proven track records; experts in their fields, with a clear knowledge of the law and being able to apply their knowledge to produce cost-effective, good commercial outcomes. This is helped by the fact that, in Australia, legal fees in the maritime sector tend to be less than other civil or common law countries.
What are the key considerations for clients and their lawyers when arranging finance for a shipping transaction?
As Australia is a country of shippers not shipowners, and as there are few Australian ships on the shipping register, ship-financing is not a common consideration for Australian clients and lawyers. The four major banks will, however, be prepared to finance fishing, pleasure craft or small coastal traders. They may also be prepared to finance any vessel capable of being registered in Australia. Traditionally however, the cost of borrowing money in Australia has been higher than many other jurisdictions although interest rates are currently low.
What are the most interesting and challenging cases you have dealt with in the past year?
The firm acted in the proceeding mentioned below for Leighton Contractors Pty Ltd, which successfully submitted that they had no obligation to contribute in general average because they were not owners of the relevant cargo.
The firm also acted in a proceeding for the liquidators who obtained final recognition and stay orders in respect of a fleet of ships owned by the insolvent Italian shipowner for the purposes of an orderly sale of the ships.
The firm provided advice to Animals Australia in relation to, among other things, the Australian Maritime Safety Authority's powers to act against vessel owners and operators for likely breaches of Marine Orders 43 and the minister's powers to make a decision to prevent livestock export vessels from operating from Australian ports.
Finally, the firm has advised various stakeholders on regulation and disputes arising out of LNG projects on the west and east coasts of Australia. The export and import of LNG gives rise to a large number of technical and legal challenges.
Joe Hurley, Jesper Martens and Chris Sacré
HWL Ebsworth Lawyers
Sydney
www.hwlebsworth.com.au