Magdalena Skowrońska is an attorney-at-law and a partner at Domański Zakrzewski Palinka. She has extensive experience of financial market transactions and has participated in numerous M&A transactions involving financial institutions. She advises both domestic and foreign financial institutions on regulatory issues, including licensing and transaction financing. Magdalena also advises entities seeking financing. Her clients have included Commerzbank AG, Euro Bank SA (Société Générale Group), Bank BGŻ BNP Paribas (BNP Paribas Group Service Center SA), Idea Bank SA, Getin Holding SA, Bank of America, The Bank Guarantee Fund's, US Scripps Networks Interactive/TVN SA and Algonquin Hotel Group.
Tomasz Kalicki is an attorney-at-law and a senior associate at Domański Zakrzewski Palinka with extensive experience advising in the financial sector. He manages finance, banking and corporate projects for financial institutions and other prominent companies operating both in Poland and internationally. Tomasz advises on transactions involving financing and establishing legal security for receivables, as well as on M&A transactions, for local and foreign clients. He also deals with regulatory issues in the financial and payment institutions sector. His clients have included BNP Paribas Suisse SA, Idea Bank SA, Getin Holding SA, Commerzbank AG, Steico and PNC Business Credit.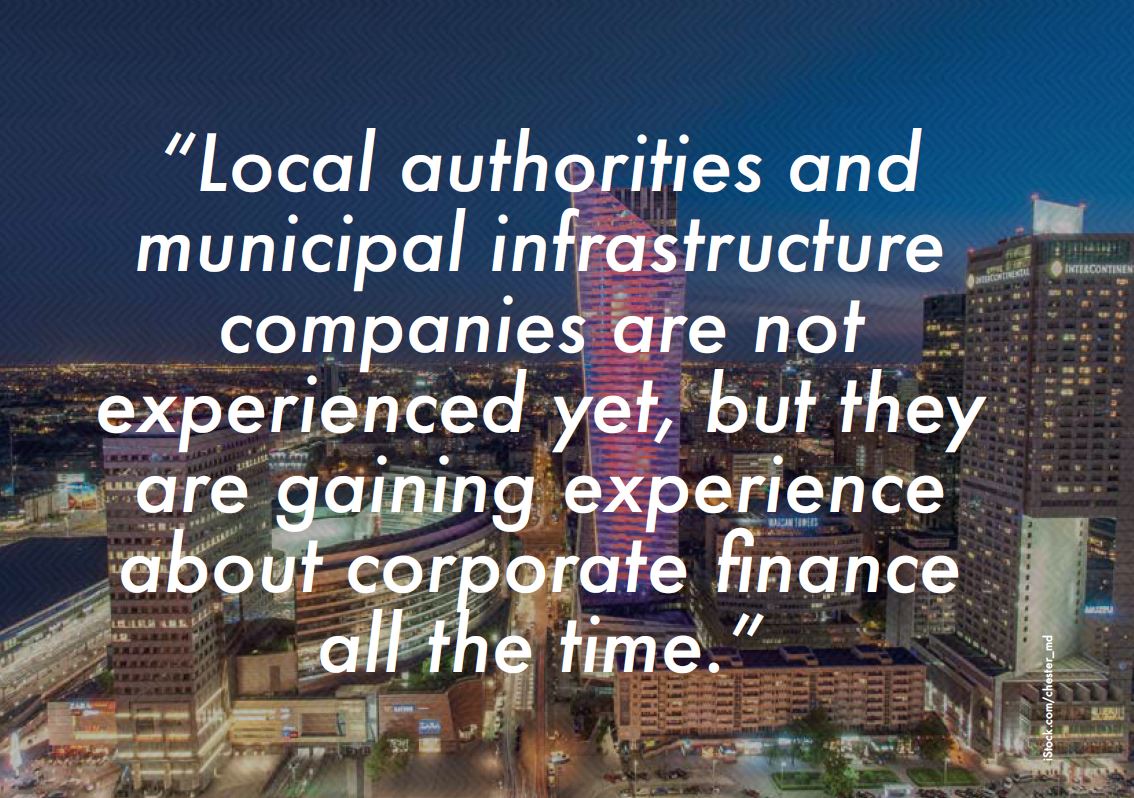 GTDT: What have been the trends over the past year or so in terms of deal activity in the project finance sector in your jurisdiction?
Magdalena Skowrońska & Tomasz Kalicki: Classical project finance (ie, one without recourse to sponsors) is rather rare in Poland. A common way to proceed in such transactions in Poland is to form a special purpose vehicle (usually a limited liability company), which raises funds and is responsible for implementing the project. However, the financing entities operating in Poland usually require project sponsors to provide suretyships (guarantees), so recourse to sponsors does exist, to a smaller or greater extent.
Project finance in the infrastructure sector (including the public one) is used in public private partnerships (PPP) in Poland. Project finance is applied in Poland in energy projects, particularly combined heat and power projects related to waste management and wind energy projects. It is also used in transport infrastructure projects, including construction of toll motorways and car parks. Large projects using PPP were implemented to increase informatisation in various regions of Poland.
It is a common opinion that PPP is still used insufficiently in Poland. It is estimated that since 2009 the value of (capex or opex) PPP projects has only been 5.6 billion zloty gross.
The project finance loan market is relatively underdeveloped. The project finance potential in Poland is great but unused. In practice, project finance requires great expertise, including the involvement of specialised analysts who assess numerous risks for particular parties to the transaction to allocate them properly. In addition, a great portion of money for investment projects originated from the EU over the past few years, so it was not necessary to use project finance on a wider scale in public investment projects. The greatest part of the public sector is still gaining know-how about PPP and project finance now, so there is no widespread practice on the part of public institutions – including in relation to forms of contracts and experience in engaging specialised advisers.
GTDT: In terms of project finance transactions, which industry sectors have been the most active and what have been the most significant deals to close in your jurisdiction?
MS & TK: The waste management, energy and broadband network construction sectors have been the most active in the past few years. These projects have largely been implemented under the Public Procurement Act following competitive dialogue procedures. The concession for construction works and concession for services schemes have also been popular.
Wind energy projects used to be very popular in terms of project finance. According to wind industry estimates, about 70 per cent of wind farm construction used to be financed by banks in Poland. However, the situation changed after the Act on Wind Farm Projects entered into force.
Some interesting project finance investments included the construction of 149 kilometres of A2 motorway. A private company called Autostrada Wielkopolska SA undertook to construct and operate two sections of A2 motorway under two concession contracts. The main element of the contracts was that public authorities permitted the private company to acquire the ownership of, operate and develop public facilities for 40 years. Autostrada Wielkopolska SA was granted the right to construct and operate, on an exclusive basis, the motorway sections covered by the concessions, and acquired the ownership of the constructed facilities for the concession term. When the concession term ends, the company will transfer the motorway sections to the State Treasury free of charge; they should also be renewed so that no repairs will be necessary at that time.
GTDT: Which project sponsors have been most active in driving activity? Which banks have been most active in providing debt finance?
MS & TK: 'Cities with county rights' (generally those having more than 100,000 inhabitants, former capitals of voivodship, and some towns in large urban agglomerations) have been the most active among public sponsors of PPP projects. Relatively large projects have also been implemented by local governments of voivodships. Other project sponsors occasionally included universities and ministries.
Depending on the sector, private sponsors have included, for example, Siemens, Siemens Finance, Inter Health Canada, SUEZ, Glenbrook Investments (part of Alcatel-Lucent), Budimex, Warbud, FBSerwis and Hochtief (some of the largest construction contractors in Poland), and Philips Lighting Poland. Many private investors have been companies operating in Poland only (ie, those that were not members of international capital groups).
PKO Bank Polski SA (the largest Polish bank) has certainly been active in providing debt finance for infrastructure projects. Pekao SA (the second-largest Polish bank) and some banks from international financial groups have also been active. Bank Ochrony Środowiska SA has been involved to a great extent in providing funds to the wind energy sector.
GTDT: What are the biggest challenges that your clients face when implementing projects in your jurisdiction?
MS & TK: The public party not being ready to engage professional advisers is deemed to be the biggest challenge faced when infrastructure projects are implemented on a project finance basis in Poland. The process of getting the private sector involved in the financing and operation of economic infrastructure is complicated and rather time-consuming, and, equally importantly, depends on political and social influences.
Polish law governing various aspects of financing infrastructure includes many unclear and imprecise provisions. Important factors affecting the eligibility of government units to participate include the matter of structuring the transaction properly to comply with the restrictions imposed by Polish law and calculation principles used by Eurostat on the one hand, and project bankability on the other hand. The relevant legal provisions give rise to many doubts about interpretation. There is no established practice that could be reapplied to new projects and there are no forms of contracts and documents (toolkits) facilitating work during negotiations.
Poor coordination is another problem. Infrastructure development is currently handled to differing extents by a number of ministries and central authorities, as well as by companies in which the State Treasury has a shareholding. The system seems incoherent and hard to manage. The Polish Development Fund (PDF) is one of the tools supposed to remedy the situation. It is a Polish development financial institution, a state-owned financial group offering instruments for the development of businesses, local authorities and private individuals, and investing in Poland's social sustainability and economic growth. The PDF was formed in April 2016 by way of implementation of the Plan for Sustainable Development (PSD) and is supposed to be a tool for implementing state economic policy.
Specialists emphasise that local authorities and municipal and infrastructure companies are ill-prepared for implementing project finance projects; they are not experienced yet, but they are gaining experience about corporate finance and complex agreements all the time. There is also a lack of trust between public and private partners. Additionally, public institutions still largely tend not to engage professional legal and business advisers, so investors often do not have partners with whom they can discuss the structuring of the project constructively.
We also think that the unquantifiable regulatory risk is a major obstacle for investors. For instance, the situation in the wind energy sector in Poland, which is very well developed in terms of project finance, changed radically when the Act on Wind Farm Projects entered into force. It established the minimum mandatory distance between wind projects on the one hand and houses and environmentally protected areas on the other. It thus reduced options for constructing wind farms and introduced retroactive burdens capable of increasing considerably costs borne by their operators. When the bill for that Act appeared, investor's uncertainty increased to perhaps the highest level ever in the history of the Polish wind industry. In turn, that uncertainty affects the cost of bank loans, if not investors' decisions whether to give up their projects or the banks' decisions on financing them. When the government changes, strategic plans are also changed. The matter of nuclear energy in Poland, for example, is still uncertain (Poland does not have any nuclear power plant yet). This matter was addressed in the previous government's plans, but it seems to have become a secondary one for the current government.
GTDT: Are there any proposed legal or regulatory changes that may give rise to new opportunities in project development and finance? Do you believe these changes will open the market up to a broader range of participants?
MS & TK: On 14 February, the Polish government resolved to adopt the Strategy for Sustainable Development (SSD), which sets the medium-term directions for Poland's economic development until 2020 and until 2030. Digital security and informatisation were emphasised strongly in the SSD. The document provides that work on the nuclear energy programme will be continued, but it emphasises that the final decision concerning the construction of a nuclear power plant will be made after the Ministry of Energy performs analyses and receives offers from technology providers (the SSD had originally provided for the acceleration of the nuclear programme, but these provisions have been removed). The objective of geothermal energy development has been added recently.
The total expenditures on the pursuit of the SSD are to amount to 2.1 trillion zloty until 2020, including 1.15 trillion zloty to be provided by the state and local governments and 236 billion zloty by the EU. The remaining funds are to come from private sources, particularly national and international financial institutions and businesses. The investment potential of companies with a State Treasury shareholding is estimated at 230 million zloty. Funds of 150 billion zloty are to originate from the European Bank for Reconstruction and Development, European Investment Bank, European Fund for Strategic Investments or World Bank programmes. Considerable investment resources are held by the financial market, and particularly by the banking market. The estimated liquidity excess of banks is significant (approximately 90 billion zloty), while the capital adequacy ratios are strong.
"According to the SSD, the PPP should create opportunities to implement major projects in areas such as education, healthcare or infrastructure."
The SSD mentions a new partnership between public institutions, business, science and society. Infrastructure projects in Poland may produce greater profitability, so the SSD provides for intensifying work on infrastructure projects that might be interesting to foreign investors.
According to the SSD, the PPP should create opportunities to implement major projects in areas such as education, healthcare or infrastructure. Apart from the benefits associated with finance being obtained by the public partner, the PPP should also have an impact on the quality of services provided to society and improve the standard of available infrastructure. The SSD lists in particular the following steps to achieve this goal: (1) increasing the scale and effectiveness of PPP financed projects, particularly in the government sector; (2) reviewing the law and eliminating systemic barriers and resultant problems related to PPP development; (3) developing standard contractual and tender documents for PPP projects; (4) providing PPP training for all levels of public entities and businesses; (5) creating a pipeline database, including state and local government projects that may potentially be implemented on a PPP basis; (6) using available financing sources to a wider extent in the implementation of PPP projects, including the Polish Development Fund and EU funds and guarantee measures; and (7) intensifying substantive support and verification of planned PPP projects.
GTDT: What trends have you been seeing in terms of range of project participants? What factors have influenced negotiations on commercial terms and risk-allocation? Are there any particularly innovative features?
MS & TK: Recently, cities with county rights have been the most active sponsors of PPP projects. In connection with the SSD, other public entities, particularly those associated with the PDF, may be expected to increase their involvement. The largest companies with a State Treasury shareholding, such as PZU SA (the largest insurance company in Poland) and PKO Bank Polski SA (the largest bank in Poland), are most likely to cooperate with the PDF too.
"The use of the sale and leaseback scheme by LGUs seems to be an interesting idea, particularly when used with respect to real properties owned by the LGU."
The negotiations and risk allocation in PPP are affected to a great extent by the lack of preparation by the public party, which usually results in as many risks being transferred to the private partner as possible. This is related to the valuation of the risks and, unfortunately, the high final cost of project implementation. The inflexible attitude of the public party is often already evident when calls for tender are published: when the terms of reference are drafted, market conditions are not taken into account. This may be the reason why some projects are ultimately not implemented, even though they seem to be profitable to all parties and attractive to banks at first glance.
The specific features of the sector should also be taken into account, especially the fact that Polish laws regulate the public party's activity in great detail, so the public party generally has to act within the framework of strictly regulated powers and obligations. This often restricts the public party's freedom of action. Difficulties are also caused by the problems mentioned earlier regarding unclear legal provisions, including the classification of local authorities' indebtedness in PPP projects and the related project bankability.
On the other hand, the use of the sale and leaseback scheme by local government units (LGUs) seems to be an interesting idea, particularly when used with respect to real properties owned by the LGU. They are often situated at attractive locations but have been underused so far. The sale and leaseback concept also underlies another financial scheme aimed at providing the final product (eg, a public facility) to local government as well as providing finance for the project implementation team, and without increasing the current liquidity of the local government. The financial partner (ie, the leasing company) may assume both the risk of project financing and the technical risk during the project implementation period. LGUs may implement turnkey projects based on project finance using the sale and leaseback scheme, thus transferring not only the obligation to provide finance for capital expenditures, but also all non-financial risks during the project period to the private partner.
GTDT: What are the major changes in activity levels or new trends you anticipate over the next year or so.
MS & TK: The trends in the near future may be set by the SSD objectives. This means that we can expect initiatives to be taken (though it is not entirely clear when and to what extent) to implement those objectives, including the further informatisation of Poland, energy projects, including geothermal ones, and transport infrastructure.
Amendments to the laws affecting the selection procedure for the private partner in PPP projects (the Public Procurement Act and the Act on Concessions for Construction Works and Services) entered into force in 2016. It is now easier to execute PPP agreements. The threshold of contractual security provided by the private partner was lowered, classification of expenses was changed, and execution of a PPP agreement was made less formal. In addition, EU directives concerning changes to a construction contract and contracts for services were transposed. The provisions of law are considered to have become clearer and more uniform. It is forecast that by 2020 the number of completed PPP projects will increase by 45 per cent and their value will be 11.5 billion zloty.
Notwithstanding projects implemented in recent years, the toll motorway network in Poland is still incomplete.
The Inland Waterways Development Programme (of approximately 60 billion zloty) is also supposed to be developed (as reported by the media). It would aim to restore the Polish parts of three international waterways (restoring the navigability of the Odra River, building the Odra‑Vistula Canal, and restoring the navigability of the Vistula River between Warsaw and Gdańsk). Funds for programme implementation are to come from a number of sources, including local governments and energy firms.
While this information on current activity is taken from reports in the media, and is not supported by any official statements, the projects in these areas may well be implemented using project finance in the future.
The Inside Track
What three things should a client consider when choosing counsel for a complex project financing?
When choosing a law firm for a complex project financing, the client should take into account its capacity to form a team of advisers with expertise in legal aspects of financing on the one hand and infrastructure projects and public law (public finance, state aid, etc), including experience of contacting public institutions on the other hand. Knowledge of legal aspects of activity in a given industry or sector is also necessary. Therefore, it seems that large multidisciplinary law firms would be preferable. The ability to work with analysts assessing risks for particular participants and understanding needs and financial mechanisms should also be taken into account. Project finance projects are rather time-consuming so the law firm should secure continuity of assistance and availability of lawyers over a long time. From this perspective, law firms with extensive experience and that have known the market for a long time should be preferred.
What are the most important factors for a client to consider and address to successfully implement a project in your country?
The complexity of projects and the lack of established practice seem to be the most important factors. Therefore, an investor should take it into account that negotiations will take a relatively long time and will involve many advisers, while the public institution may lack adequate expertise. A great portion of money for investment projects originated from the EU over the past few years, so it has not been necessary to use project finance on a wider scale in public investment projects so far. The public sector is only starting to learn about PPP and project finance now. The relatively high regulatory risk is also important.
What was the most noteworthy deal that you have worked on recently and what features were of key interest?
One of the most major noteworthy projects in Poland we have worked on recently was advising the Poznań City Hall and the Ministry of Regional Development on the 'Waste Management System for the City of Poland' project. The project involved designing, constructing and operating an incineration plant on a PPP basis using EU funds as part of an availability payment scheme. The project value exceeded 3 billion zloty, and capital expenditures amounted to approximately 700 million zloty. This is the only Polish and the largest European PPP project co-financed by the European Union (the amount of the EU grant was 352 million zloty). DZP provided comprehensive legal advice, including, for example, (1) preparing the legal and tax structure of the project, including obtaining favourable tax rulings for the City of Poznań; (2) structuring the project in terms of public debt classification, according to Eurostat methodology; (3) preparing necessary tender documentation and a draft PPP agreement; (4) advising the clients during the competitive dialogue and upon preparing the final project documentation, including the PPP agreement; (5) assisting the clients in preparing an application for EU financial assistance and updating the Feasibility Study; (6) representing the clients before the National Appeal Chamber; and (7) advising the clients in selecting the financing scheme and negotiating the allocation of risks in project finance documents.
Magdalena Skowrońska & Tomasz Kalicki
Domański Zakrzewski Palinka
Warsaw
https//en.dzp.pl