Ahmed Butt is a partner in Simmons & Simmons' Riyadh and Dubai offices. He specialises in project finance, contractor finance and real estate finance. He has practised in the Middle East since 2006 and has been based in Saudi Arabia for over five years. He has advised regional and international project and contractor financiers on both conventional and shariah-compliant transactions in the Middle East, Africa and Pakistan, and advised on prestigious projects such as the expansion of the Grand Mosque in Makkah, Saudi Arabia and development of the hotel complexes surrounding the Grand Mosque. Ahmed has also advised on projects in the mining, power, steel, telecommunications and transport sectors.
Adrian Nizzola is a partner in Simmons & Simmons' London office and previously in the firm's Abu Dhabi office from 2010 to 2016. He has over 30 years' experience in the oil and gas industry. He was general counsel to Qatar Petroleum (QP), its affiliates and subsidiaries, and to other Qatari entities, providing senior legal support for over 17 years. He continues to advise QP and the State of Qatar. Chambers recently listed Adrian as a leading authority on oil and gas projects in Qatar.
Philip Stevens is a supervising associate based in Simmons & Simmons' London office, specialising in international energy and infrastructure project development and project finance. He was based in Simmons & Simmons' Abu Dhabi office from 2012 to 2014. He has advised regional and international developers, governments and financiers on transactions in the Middle East, Europe, North America and Africa. Philip has advised clients in the power, oil and gas, renewables, transport and waste sectors.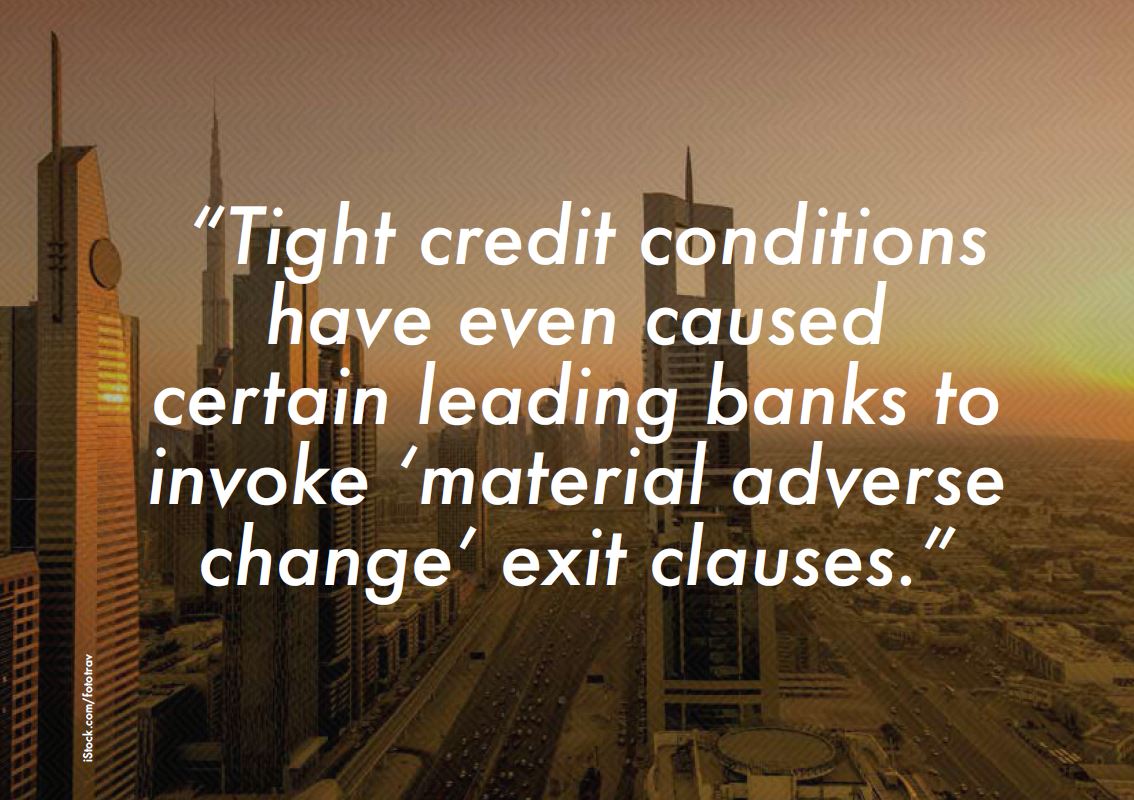 GTDT: What have been the trends over the past year or so in terms of deal activity in the project finance sector in your jurisdiction?
Ahmed Butt, Adrian Nizzola & Philip Stevens: The main trend over the past year has been the continuation of low oil prices. This has placed significant pressure on the major oil producers in the region. We understand that all five of the major producers in the region (Iran, Iraq, Kuwait, Saudi Arabia and the United Arab Emirates (UAE)) ran a fiscal deficit in 2016. According to market sources, the deficits ranged from 4 per cent of GDP in Iran, to around 20 per cent of GDP in both Saudi Arabia and Iraq.
We have seen multiple knock-on effects in the local project finance market, the most significant of which has been the general tightening in local liquidity, which is largely the result of a reduction in government deposits in local banks, as well as a delay in government tranches in ongoing project financings. The trend began in 2015 and continued into 2016. Interest rates have also continued to rise. For example, the overnight Emirates Interbank Offered Rate rose from an average of 0.095 in January 2015 to 0.218 in January 2016, before reaching 0.509 in January 2017. In Saudi Arabia, the three-month Saudi Interbank Offered Rate rose from 0.862 in December 2014 to 1.333 in December 2015 and 2.041 in December 2016.
This has translated into higher interest rates, shorter tenors and reduced debt-to-equity ratios on offer from lenders.
Despite this, the local project finance market remained robust in 2016. While market sources report fewer deals reaching financial close that year (23 as opposed to 34 in 2015), total deal value actually increased from US$22.8 billion to US$27.2 billion.
"The local project finance market remained robust in 2016. While market sources report fewer deals reaching financial close that year, total deal value actually increased."
This demonstrates the resilience of the local market, particularly for well-structured deals in traditional sectors such as energy. Continued demand for project finance is largely due to the critical need for expansion of local infrastructure and diversification of local economies to meet the needs of a rapidly expanding population – these trends remained unchanged in 2016. Further, the reduced ability of governments to self-fund major projects themselves has opened a space for private sector involvement (including through project finance). In particular, Saudi Arabia's Vision 2030 and National Transformation Program have been announced to transition the Saudi economy away from over-reliance on oil revenues and towards more private sector involvement. A key element of this initiative is the ambitious government proposal (announced in January 2016) for an initial public offering of shares in state-owned Saudi Aramco, a move that would be likely to make the company the most valuable listed company in the world.
The largest regional deal in 2016 was the US$23.7 billion financing of the Barakah nuclear plant in the UAE. Emirates Nuclear Energy Corporation (ENEC) and Korea Electric Power Corporation (KEPCO) are the sponsors of the project with 82 per cent and 18 per cent respectively. Abu Dhabi's Department of Finance will provide the bulk of the debt portion, lending US$16.23 billion. KEXIM (South Korea's export credit agency) will provide US$2.5 billion of debt. An additional US$250 million of commercial debt will be lent by First Gulf Bank, National Bank of Abu Dhabi, Standard Chartered and HSBC.
As for key players in 2016, Japan's Sumitomo Mitsui Financial Group was the leading project finance arranger in 2016, arranging US$3.1 billion – this is up from US$2.3 billion in 2015 and builds on a trend in recent years of increased Japanese involvement in Middle Eastern transactions.
GTDT: In terms of project finance transactions, which industry sectors have been the most active and what have been the most significant deals to close in your jurisdiction?
AB, AN & PS: We have seen significant project activity in the energy and infrastructure sectors. As we said before, this activity is due to the continued rapidly expanding demographic in the Gulf Cooperation Council (GCC) countries, placing increased demands on critical infrastructure such as the supply of power, water, transportation, public housing, and healthcare and education facilities.
The market has also continued to evidence an increased willingness by governments to fund projects through public-private partnerships (PPP), as the public sector alone can no longer independently fund the necessary infrastructure development, particularly in light of the continued decline in oil prices.
We expect to see a continued commitment to PPPs in the GCC and to see further significant PPP projects in the future, as PPP models are becoming increasingly sophisticated and robust. For example, at the start of 2017, Saudi Arabia appointed HSBC to advise on the privatisation of the construction and management of school buildings. Tatweer Buildings Company, an affiliate of the Saudi Ministry of Education, intends to begin offering PPPs worth over US$12 billion for educational buildings in 2017.
In terms of recent deals, it is worth highlighting the US$3 billion Facility D independent water and power project (IWPP) in Qatar, in relation to which we advised Mitsubishi Corporation as lead project developer. The transaction closed in April 2016. The combination of a well-established asset class (power or water infrastructure), strong government support and Japanese involvement (in both developer and lender roles) make this an excellent example of the type of deal that has continued to attract project finance in 2016.
GTDT: Which project sponsors have been most active in driving activity? Which banks have been most active in providing debt finance?
AB, AN & PS: Local, regional and international sponsors and banks have been active in investing in and lending to GCC projects.
Japan's Sumitomo Mitsui Financial Group was the leading project finance arranger in 2016. The top five regional sponsors by deal value were KEPCO, ENEC, Oman Oil Refineries and Petroleum Industries, Kuwait Petroleum Corporation and Abu Dhabi National Oil Company. The most active sponsor in terms of deal volume was ACWA Power, which sponsored five deals with a total value of US$2.5 billion.
More generally, Saudi Binladin Group is probably one of the most active GCC sponsors in the Saudi market in terms of the value of contracts under execution, followed by the Al‑Shoula consortium. Saudi Aramco, SABIC, ACWA Power and Saudi Electricity Company are also very active.
In terms of international sponsors, South Korean sponsors (such as Daelim, SK Engineering & Construction, Samsung Engineering and Doosan Heavy Industries & Construction) dominate the Saudi market, followed by Spanish and Italian sponsors.
In the UAE, local sponsors such as Mubadala, Masdar, the International Petroleum Investment Company (IPIC) and many of the government-related entities, such as Abu Dhabi National Oil Company (ADNOC), dominate the local sponsors or UAE-headquartered joint-venturers list. That said, the downturn in the construction market in previous years has seen many international sponsors exit the market, allowing local sponsors to gain prominence.
In Qatar, the likes of Qatar Petroleum, Kahramaa and Qatar Electricity & Water Company lead the local sponsor list.
As to international lenders, HSBC, BNP Paribas, Société Générale, Standard Chartered Bank, Deutsche Bank and Bank of Tokyo-Mitsubishi remain very active in the GCC.
As for GCC lenders, Riyad Bank, is the biggest project lender in the GCC countries. Local banks in the UAE are also very prominent, with the likes of Emirates NBD and Dubai Islamic Bank winning key roles.
In Saudi Arabia, the top local project finance lenders include Banque Saudi Fransi (Credit Agricole's local operation), National Commercial Bank, Saudi British Bank (SABB – HSBC's local operation), Riyad Bank and Arab National Bank.
The top international project finance lenders in Saudi Arabia include Credit Agricole, Société Générale, Standard Chartered Bank and KfW. That said, US dollar lending is on the decline, largely driven by the sophistication of the local banks and the country's need for Riyal‑funded projects.
In Jordan and Egypt, international sponsors such as First Solar International, SunEdison, and ACWA Power continue to be very active. In terms of banks, development finance institutions such as the IFC, EIB and EBRD are very active on a number of development and renewable projects.
GTDT: What are the biggest challenges that your clients face when implementing projects in your jurisdiction?
AB, AN & PS: The ability to secure and maintain true long-term 'project finance' (ie, fully non‑recourse) is becoming more challenging.
In recent years, loans granted by regional and foreign banks to provide PPP infrastructure financing have been significant, largely due to the government's willingness to back these loans.
However, global liquidity issues have meant that the credit markets have lost their appetite for long-term project finance deals. Tight credit conditions have even caused certain leading banks to invoke 'material adverse change' exit clauses in recent times, seeking to walk away from deals that have become less viable.
As a result, banks are increasingly becoming more selective with the projects that they will fund and are seeking risk-sharing arrangements that will satisfy all parties. These risk-sharing arrangements include short-term lending with guarantees from the project sponsors, as well as revenue guarantees from governments. This means that to secure financing, sponsors are increasingly reaching out to governments to secure sovereign guarantees or putting their own balance sheets at risk by deviating from fully non‑recourse project finance schemes.
With dependence on external funding for the development of essential infrastructure, we have seen that GCC governments are becoming receptive to the commercial realities facing banks and sponsors alike and are increasingly willing to grant sovereign guarantees and, in some cases, to make favourable secured offtake commitments in concession agreements to secure financing and ensure bankability.
Other key challenges include: (1) sovereigns now seek to cap their exposure and liabilities (for example, when providing government guarantees) in respect of projects they are sponsoring, which is obviously not well received by international banks and, in particular, export credit agencies; (2) successful government sponsors are becoming more aggressive by pushing for uncommercial terms, which has led to a number of transactions being delayed (for example, delay and cost overrun risk being passed to the bidder); (3) significant bottlenecks continue to delay projects in obtaining regulatory approvals – building and construction permits, and environmental impact assessment approvals being the most noteworthy; (4) international and local banks and international sponsors imposing compliance with Western‑style codes of conduct and practices, including compliance with the Equator Principles, the Foreign Corrupt Practices Act, the Office of Foreign Assets Control and the UK Bribery Act; (5) delays in being able to move equipment through ports and securing labour force in some jurisdictions – an issue that has resulted in calls for the introduction of a GCC initiative to facilitate freedom of movement for equipment and labour force; (6) enforcement of foreign judgments, particularly in jurisdictions that have not put in place clearly defined laws and regulations to give effect to this; and (7) the inability to create certain types of liens on certain types of assets (such as general fixed and floating charges over future assets, or even a share pledge in certain jurisdictions), which then necessitates introducing heavily structured alternative security structures.
GTDT: Are there any proposed legal or regulatory changes that may give rise to new opportunities in project development and finance? Do you believe these changes will open the market up to a broader range of participants?
AB, AN & PS: As government revenues continue to be squeezed by lower oil prices, PPPs are once again being considered as a way to finance large-scale development projects, particularly in the energy and infrastructure sectors.
However, there are currently significant barriers to the broader adoption of PPPs in the GCC, in part because of a lack of international investor and lender confidence, and an absence of comprehensive PPP-specific legislation and policy.
Many PPP projects have been successfully executed in the absence of dedicated PPP laws. However, jurisdictions such as Saudi Arabia, the UAE and Qatar, where there is a need for PPP infrastructure development, may benefit from the increased investor confidence that a clear PPP legal regime can attract.
PPP laws enhance investor confidence by, among other things: (1) establishing a clear legal basis for a project by eliminating the potential for conflicting laws and legislation; (2) establishing clear procurement rules and procedures – transparent eligibility criteria reassures potential bidders that they may have a reasonable chance of winning the bid; (3) requiring the relevant authority to carry out an analysis of the economic benefits of the project and its technical and economic feasibility, prior to tendering a project, giving investors confidence that the government is not going to pull out of the project halfway through the tendering process, as it has thoroughly considered the need for the project prior to tendering; and (4) regulating how project agreement disputes are settled, and allowing for waivers of sovereign immunity. A significant area of concern for investors is the enforceability of contracts against the government. Investors will usually require certainty that foreign judgments and arbitral awards given in accordance with a PPP project agreement won't be litigated again in the courts of the host country.
In the GCC, Oman, Bahrain and Kuwait have the most developed PPP laws, while the regimes in Qatar, the UAE and Saudi Arabia are less developed.
Despite this, Saudi Arabia has long implemented informal PPP projects under its Procurement Law, such as the Madinah Airport PPP with Al Rajhi Holding Group, TAV Holding and Saudi Oger, and it is now ramping up its PPP projects pipeline. This is clearly demonstrated by the fact that, while Saudi Arabia has completed US$6.2 billion worth of PPP transactions since 2010, almost half of this was in 2016 alone. As a clear sign of a shift towards a more formal PPP market, the National Center for Privatization was established in Saudi Arabia as an affiliate of the Ministry of Economy and Planning (MEP) to state, consider and specify policies, strategies, programmes, regulations, plans, tools and organisational frameworks related to privatisation projects and PPP projects. The Center also evaluates the readiness of the entire economy for privatisation programmes and initiatives, manages risks and trains people to carry out privatisation initiatives. The Center will determine the directions and activities for privatisation in 2017 in various sectors such as public utilities, sports, health, education, transport and municipal services. Through this initiative, 17 government agencies laid out 85 opportunities and projects for cooperation between the public and private sectors and it is expected that the MEP will issue guidelines on PPP in 2017.
While there is no federal legislation across the UAE that applies specifically to PPPs, several of the emirates have specific legislation relating to procurement of works and projects by government entities, and in September 2015 Dubai passed the first PPP law in the UAE. In implementing this law, Dubai benefits from the multicultural nature of its professional population and particularly their experience of PPP in their home jurisdictions; as the host city for Expo 2020, it is anticipated that Dubai's increased infrastructure demands will be sufficient to utilise this experience to the full.
As we said earlier, Kuwait has one of the more developed PPP regimes, having enacted a dedicated PPP law in 2008. Kuwait passed a new PPP law in 2014 to improve gaps in the existing PPP regime and implement lessons learned during PPP projects executed in previous years. This provided for the establishment of two new bodies governing PPP law, as well as various incentives, such as targeted tax exemptions for foreign investors and relaxation of foreign ownership requirements. This demonstrated a drive both to align PPP law with international standards (and so increase investor interest in coming years in Kuwait) and to make the law more lender-friendly.
In some GCC countries, a number of initiatives were introduced requiring the use of local SMEs in respect of project developments, particularly for local content. While this is a welcome step towards stimulating local economies, a number of concerns have been raised by project sponsors, including delays in the procurement process and general issues relating to meeting international best standards.
GTDT: What trends have you been seeing in terms of the range of project participants? What factors have influenced negotiations on commercial terms and risk-allocation? Are there any particularly innovative features?
AB, AN & PS: Generally, project finance in the region is becoming more complex as more diverse sources of funding are required for many projects.
In terms of traditional banking market financing, global banks that have historically been active participants in the GCC project finance market have now reduced lending because of their internal credit, liquidity and capital adequacy issues. Accordingly, although global banks are still involved, there is an increased reliance on credit and financial support from local and regional banks. However, as we already noted, local banks are now facing liquidity issues of their own in light of the continued decline in global oil prices.
International regulatory standards on bank capital adequacy, stress testing and market liquidity risk have reduced the willingness of many banks, both local and international, to allocate capital for project finance. The commercial banking sector's overall appetite to take and hold large project loan assets has reduced. Capacity and capital adequacy issues remain. Accordingly, with banks no longer able and willing to do all the heavy lifting on project financing, sponsors are now, more than ever, under increased pressure to generate project finance in a variety of forms.
Specialist energy and infrastructure funds, private equity firms and institutional investors are increasingly active as alternative private sector sources of capital. Policy banks, multilateral government agencies and export credit agencies are also playing an increased role in direct lending. For major projects, however, ECAs will continue to play a significant role.
Private sector investors are also looking to the capital markets to obtain additional and cheaper sources of financing and to reduce dependence on bank loans. One avenue for entering capital markets is to raise funds in capital markets through sale of corporate bonds or sukuk (a path that PPPs can also take with the project company issuing bonds or sukuk). In 2016, Dubai Islamic Bank (the UAE's largest shariah-compliant lender) planned to raise US$1 billion in international debt markets through the sale of senior sukuk, a sale that eventually went ahead at the start of 2017.
This is the latest example of GCC corporates and financial institutions shoring up liquidity through the international debt market. With Kuwait's Warba Bank having already appointed banks for an Islamic bond issue, we expect that 2017 will see several US dollar bonds and sukuk issued across the GCC.
GTDT: What are the major changes in activity levels or new trends you anticipate over the next year or so?
AB, AN & PS: We expect to see, in the coming years, a growing number of infrastructure refurbishment projects as assets built in the early to mid-2000s start to need upgrading. By way of example, a number of the early IPP/IWPPs in Oman and Abu Dhabi are already nearing the end of their original 20-year concession terms.
As mentioned earlier, we expect to see a continued trend in the GCC of the execution of projects by way of PPPs, particularly in the infrastructure space, as populations continue to expand and government ability to self-fund remains reduced because of lagging oil prices.
Again, as we said earlier, Qatar 2022 and Dubai Expo 2020 should also drive a number of project finance deals. In Qatar, we expect to see a major shift to implementation phases after many years of planning for development projects.
Resource competition (such as labour and goods) between UAE, Qatar and, naturally, Saudi Arabia is expected to put a lot of pressure on many of the projects developing at the required pace, particularly as the timings of the Dubai Expo and Qatar 2022 World Cup clash with each other.
We expect to see more of regional governments looking to achieve better cost efficiencies through restructuring and reorganising their state-owned investment companies. Recent examples are the reorganisation by ADNOC of its operating companies, the merger of Mubadala and IPIC (both in Abu Dhabi) and the merger of RasGas and Qatargas in Qatar. We would expect to see more of these rolled out in the next 12 months, particularly if the oil price remains flat and hovering around US$50 bbl.
Finally, we expect to see continued growing levels of interest in the opportunities created by the lifting of international sanctions on Iran, particularly in the oil and gas, power and transport sectors. However, this optimism is highly dependent on the West extending financing facilities into Iran, which, so far, has yet to materialise, largely because of current restrictions imposed by the US.
The Inside Track
What three things should a client consider when choosing counsel for a complex project financing?
Local regional knowledge, depth of PPP and project finance experience (both acting for lenders and borrowers) and negotiation skills.
What are the most important factors for a client to consider and address to successfully implement a project in your country?
An understanding and appreciation of local law and culture is imperative when structuring and executing projects in the GCC, particularly through PPPs. Given our 20 years in the region, presence in the UAE, Qatar and Saudi Arabia, and our multilingual capabilities, we are well placed to assist our clients in this regard.
What was the most noteworthy deal that you have worked on recently and what features were of key interest? 
We advised Mitsubishi Corporation and TEPCO on the project financing of the 2,400MW/130MIGD Facility D IWPP, Qatar. The project is the first of its kind in Qatar to utilise reverse osmosis technology on a large scale, and the first privately financed IWPP in Qatar to involve an international developer since 2009. It reached financial close in April 2016. Commissioning of the first phase of Facility D is scheduled for 2017, with commissioning of the entire complex planned for mid-2018.
Financing was provided by a consortium of international and local lenders led by the Japan Bank for International Cooperation. The project was awarded both Project Finance Deal of the Year at the IFLR Middle East Awards 2016 and PPP Deal of the Year for the Middle East and Africa at the PFI Awards 2016.
Ahmed Butt, Adrian Nizzola & Philip Stevens
Simmons & Simmons Middle East LLP
Dubai, London and Riyadh
www.simmons-simmons.com