-95.000000000000
60.000000000000
Canada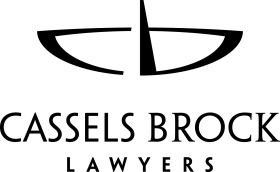 View profile
Cassels Brock Canadian law firm focused on serving the transaction, advocacy and advisory needs of the country's most dynamic business sectors. Our nimble platform allows us to work effectively with organisations of all sizes and types and to handle domestic and international engagements of every nature and complexity.
View more information about Cassels Brock & Blackwell LLP
---
Toronto
40 King Street West, Suite 2100
Ontario, M5H 3C2
Toronto
Canada T: +1 416 869 5960
F: +1 416 640 3154
---
---
Testimonials
We have received instruction from foreign counsel recently who found us through the publication
The comprehensive range of guides produced by GTDT provides practitioners with an extremely useful resource when seeking an overview of key areas of law and policy in practice areas or jurisdictions which they may otherwise be unfamiliar with.
My experience with GTDT Online so far has been wonderful. It is so useful when dealing with multijurisdictional legal matters. Two thumbs up for such a great tool and my congratulations to all of you for making my life easier.
Such a database is a fantastic tool to get access to the "basics" of many legal areas, almost everywhere. I do believe that GTDT has a real future and, according to me, it's one of the best legal database I've ever had access to in these last 10 years.
Briefing Signup
Sent approximately once a month, the free GTDT Briefing service alerts you of the latest titles to be published on GTDT Online.
Sign up to be notified of new content
Subscribe
---
Follow Getting the Deal Through for the latest updates on law and regulation worldwide
Follow us on LinkedIn